Our @whole30recipes Instagram feed brings you delicious, Whole30 compatible recipes all day, every day. And, in our series, The Best of @Whole30Recipes, we bring our favorites to the blog.
This is Day One of the #SeptemberWhole30 (PRAISE HANDS EMOJI HERE). Yes, that means you'll be staying Whole30 compatible on Labor Day. Never fear… you DON'T have to be "that person" at the cookout, picnic or party. Quite the opposite—Whole30 compatible food translates really well to a party menu. In fact, with these recipes from our @Whole30Recipe feed, your fellow party goers might not even realize you're doing a Whole30.
[Tweet "#SeptemberWhole30 during Labor Day? No problem. Big #Whole30 recipe roundup on the blog today!"]
We've rounded-up some delicious grilled dishes and yummy sides for you to try, but before we get to the recipes, let's have a chat about your party plan.
Your #SeptemberWhole30 Labor Day Plan
With a little planning and preparation, you'll rock your Labor Day plans with 100% Whole30 compliance. Here are a few of our favorite planning tips:
Brush up on your if/then planning: Anticipate any obstacle you might encounter during the party and make a plan for how you'll handle it. For example: If Uncle Jim offers me a beer, then I'll say 'No, thank you" and drink the fancy LaCroix refresher I brought instead. (See page 26 in The Whole30 for a more on if/then planning).
Make sure you'll have access to plenty of Whole30 foods: If you're hosting the party, make a menu from the recipes below, the Backyard Barbecue menu on page 356 in The Whole30, or any of the delicious options from the @whole30recipes Instagram feed. If you're a guest, call the host and inquire about the menu, then offer to bring a side dish or two that you know you can eat.
Have a Whole30 buddy: If you're Whole30'ing with a friend or family member, check in on Day 1 for encouragement and support. You might even want to establish a plan for what happens if one of you needs to send an "S.O.S., I might not make it through this party" text. Don't have a Whole30 buddy? Come find us on Instagram. We'll be your buddy!
And now, on to the recipes…
Hosting the Cookout? Try these Main Dishes.
Tomakawk Steak with Chimichuri Sauce and Shishito Peppers from Lena's Kitchen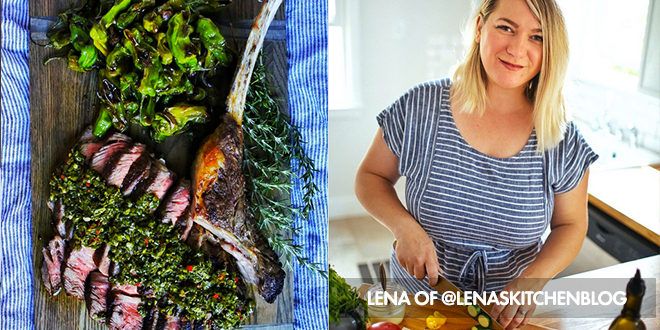 Ingredients
For the Steak
2½-pound tomahawk rib-eye steaks, about 2½ inches thick (or thick bone-in rib-eye steaks)
olive oil
sea salt
For the Chimichuri Sauce
See the recipe on Lena's Kitchen Blog
For the Shishito Peppers
6oz shishito peppers
1 tin of anchovies (optional) or 1 tablespoon of avocado oil instead for cooking
sea salt to taste
Instructions
For the Steak
RUB the steak with a little bit of oil and season liberally with salt. Pre-heat one side of a propane grill on high.
WHEN the grill is very hot, place the steak directly on the grill. Grill the steak until they're charred on one side, about 5 minutes, then flip them and sear the other side, about 5 minutes longer.
MOVE the steak to the cool side of the grill, cover and cook over indirect heat until a meat thermometer inserted near the bone reaches 130° F (medium rare), about 10 minutes. Remove the steak from the grill and let rest, tented under foil, for 10 minutes. Slice parallel to the bone and serve with the chimichurri.
For the Shishito Peppers
IF you like anchovies try cooking these with anchovy oil, add 1/2 of the oil that comes in the anchovy tin. Alternatively, use 1 tablespoon of avocado oil.
BLISTER the peppers on high heat, move them around often. Right before taking them off heat add a few ripped pieces of anchovies or add a sprinkle of sea salt.
Grilled Moroccan Chicken and Garlic Aioli from Perry's Plate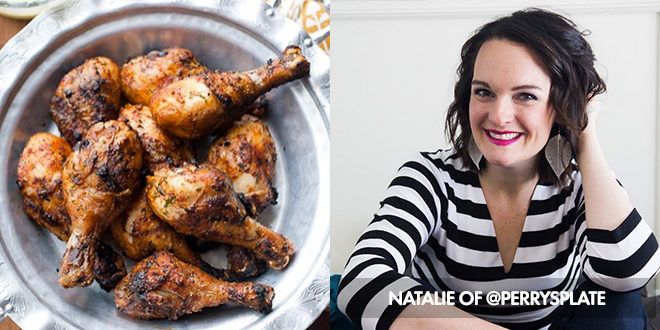 Ingredients
For the Garlic Aioli
4 garlic cloves, finely chopped
salt
1/3 cup olive oil
3 Tablespoons Whole30 compatible mayonnaise
For the Chicken
2 – 2 1/2 pounds bone-in chicken pieces (drumsticks, thighs, breasts)
2 garlic cloves, chopped
1/2 cup finely chopped chives or flat-leaf parsley
2 teaspoons ground cumin
2 teaspoons paprika
1/4 teaspoon crushed red pepper flakes
2 Tablespoons avocado oil
1 teaspoon salt
Instructions
For the Aoili
CRUSH the garlic and a pinch or two of salt with a mortar and pestle. If you don't have one, place the garlic on a cutting board, sprinkle with salt, and mash it with the side of a wide chef's knife. You'll want to form a paste-like consistency.
TRANSFER the garlic to a small bowl and gradually whisk in the oil. Whisk in the mayo gradually (very gradually) until mixture is emulsified. If it separates, just mix it well immediately before serving.
For the Chicken
PLACE chicken pieces in a large bowl and add garlic, chives, cumin, paprika, pepper flakes, oil, and 1 teaspoon of salt.
TOSS it around until mixture is combined. Allow it to marinate, chilled, for at least 2 hours.
PREHEAT BBQ grill or grill pan to medium-high heat. Grill chicken until cooked through, turning every few minutes. Cooking time varies depending on the cut of chicken. Juices should run clear and flesh should be fairly firm to the touch.
SERVE chicken with garlic sauce.
Pineapple and Pepper Shrimp Skewers from Paleo Paparazzi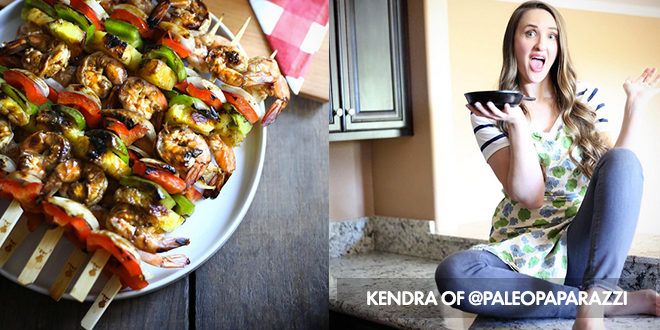 Ingredients
30-40 deviened shrimp
1 cup The New Primal Citrus Marinade (or your favorite compatible marinade), divided
One small pineapple, cut into uniform chunks
2 bell peppers, any color, cut into uniform slices
1 yellow onion, sliced into uniform pieces
Wooden skewers
salt and pepper to taste
Instructions
FOR at least one hour but as long as overnight, marinate shrimp in 1/2 cup of The New Primal Citrus Marinade. Soak wooden skewers in water for an hour before assembling kabobs.
WHEN you're ready to grill, thread shrimp, pineapple, bell pepper and onion onto wooden skewers, until all ingredients are used. Salt and pepper to taste.
ADD 1/2 cup of The New Primal Citrus Marinade to a sauce pan and set it over high heat. Bring it to a light boil, reduce the heat to low and allow it to simmer 15-20 minutes, or until thickened to create a finishing sauce.
GRILL kabobs over medium high heat for a few minutes on each side, or until shrimp is cooked through and veggies are cooked to your liking. Remove from grill, drizzle with the finishing sauce and enjoy!
Bringing a Side? The Hosts are Going to Love You For Bringing One of These!
Grilled Shrimp + Avocado Stacks from The Castaway Kitchen
Ingredients
1 lb jumbo shrimp, shell on
1/2 tsp salt, more to taste
1 tsp black pepper
1 tbsp onion powder
1 lemon
2 tbsp coconut aminos
2 tbsp avocado oil
2 ripe hass avocado
Chives
Instructions
CLEAN and peel your shrimp. Use a scissor to cut a slit into the top of them. Use your fingers to remove the little black vein in them. Then peel the shell outwards. It's like unwrapping them. Leave the last segment and tail on, this just makes them look pretty. Do this with all the shrimp and place them in a bowl. Add in the salt, pepper, onion powder, coconut aminos and juice of one half of the lemon. Toss to combine.
HEAT your grill, or your cast iron skillet on medium heat to temperature. Oil with a little more avocado oil and place your shrimp on the hot surface so they are all lying flat. Cook 3 minutes a side. Use tongs to flip. Remove the shrimp from the heat and let them cool while you prepare the avocado base.
SCOOP out your avocado into a bowl. Sprinkle in a little salt and the remaining lemon juice. Use a fork to gently mash up, leaving some chunks in the guac.
SET out three plates, or one serving platter. Use a cookie cutter or another 3″ round to shape the "guac cakes". Do this by filling the round with spoonfuls of the avocado mix and gently pressing down, then sliding the mold straight up.
ARRANGE your shrimp, 2-3 per guac round, tails up. Garnish with minced chives and lemon slices. Save the left over shrimp for lunch the next day. It is great on salads. Enjoy!
Shrimp Salad Stuffed Potatoes from Bazaar Lazarr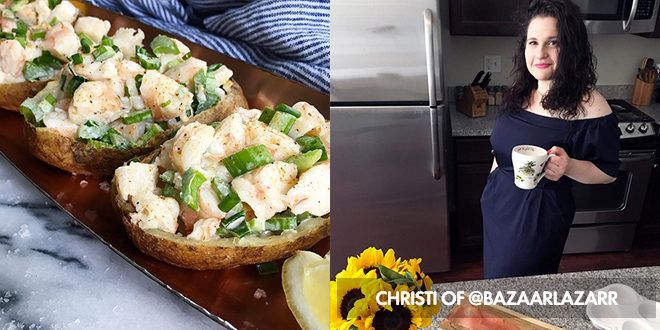 Ingredients
5 Baking Potatoes, scrubbed
Olive Oil
Kosher Salt
1 lb. Shrimp, peeled and deveined
3/4 Cup Chopped Celery
1/2 Cup Chopped Scallions
¼ Cup Paleo Mayonnaise, plus more if desired
1 tbsp. Lemon Juice
Salt, Pepper, and Smoked Paprika to taste
Lemon wedges for serving
Instructions
Preheat your oven to 400°F and line a large baking sheet with aluminum foil. Rub your potatoes with olive oil and kosher salt. Bake for one hour or until fork tender.
Remove from the oven and set aside until cool enough to handle. Once cool, cut the top ¼ off the potato. Using a spoon, scoop out the pulp from the potato and place in a bowl leaving a bit of pulp around the skin so the skin doesn't rip. You aren't going to use the pulp in this recipe. You can turn it into mashed potatoes using some compatible almond or coconut milk and ghee!
Bring a large pot of salted water to a boil and cook shrimp until cooked through (2-3 minutes). Drain and rinse with cold water until cooled down. Dry shrimp, remove tails, and cut into small chunks.
In a large bowl combine your celery, scallions, paleo mayo and lemon juice. Stir in shrimp and season with salt, pepper, and ground black pepper to taste. Stuff each potato evenly with shrimp filling. Serve with lemon wedges.
Grilled Vegetable Potluck Salad with Creamy Avocado Ranch from Perry's Plate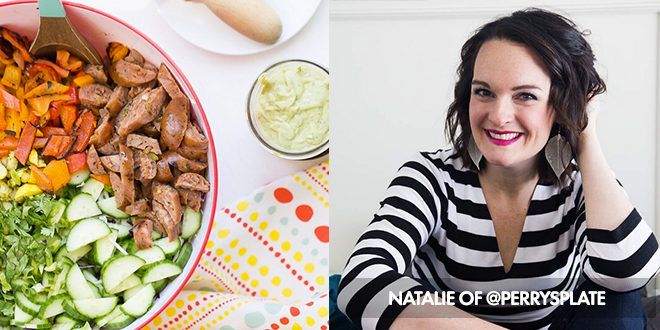 Ingredients
2 bell peppers, any color
2 medium zucchini or yellow squash
1 teaspoon ground cumin
1 teaspoon sea salt
2 Tablespoons avocado oil
3/4 pound of compatible pre-cooked sausage links, like Aidell's chicken & apple (optional)
3 heads of baby romaine lettuce, chopped
1 English cucumber, halved and sliced thinly
2 green onions, sliced thinly
1/2 cup fresh chopped cilantro
For The Dressing
1/2 cup of Whole30 compatible Ranch dresing
1 teaspoon ground cumin
1 1/2 avocados, peeled, pitted, and chopped
Juice from 1/2 of a lime (about 1 Tablespoon)
1/2 cup fresh chopped cilantro
1/2 teaspoon sea salt
Instructions
PREHEAT your grill to medium-high heat.
CUT the bell peppers into large pieces. Slice the squash into long, 1/2-inch thick strips. Spread all of the vegetables out onto a rimmed baking sheet. Sprinkle with cumin and salt and drizzle with avocado oil.
LAY the vegetables on the grill along with the sausages. Grill until dark grill marks form, about 3-4 minutes, then flip. Cook until the vegetables are soft but not mushy and the sausages are heated through.
TRANSFER the vegetables and sausages to a cutting board and let them rest for a few minutes.
MAKE the dressing by combining all of the dressing ingredients into a food processor. Process until smooth. Taste, and adding salt or lime juice, if necessary.
CHOP the grilled vegetables and sausages into bite-sized pieces. Put the salad greens into an extra large salad bowl. Top with the grilled vegetables, sausage, cucumbers, and green onions. Pour the dressing over the top and toss gently to coat everything. Sprinkle the rest of the cilantro over the salad and serve.
Save
Save
Save
Save
Melissa Urban
Co-Founder / CEO
Melissa Urban is a 7x New York Times bestselling author (including the #1 bestselling The Whole30) who specializes in helping people establish healthy boundaries and successfully navigate habit change. She has been featured by the New York Times, People, the Wall Street Journal, Forbes, The Today Show, and Good Morning America, and is a prominent keynote speaker on boundaries, building community, health trends, and entrepreneurship. She lives in Salt Lake City, UT with her husband, son, and a poodle named Henry.