Buffalo chicken is almost always a guaranteed win, and this easy-to-prepare Whole30 Buffalo Chicken Casserole is a lifesaver on busy weeknights. This flavorful and satisfying dish is perfect for anyone following the Whole30 program or anyone looking for a delicious gluten-free, dairy-free meal.
This casserole is made with cooked and shredded chicken breast, cauliflower rice, diced carrots and bell pepper, and shredded cabbage. These ingredients provide a balance of protein, vegetables, and satiating healthy fats. This makes for a well-rounded and nourishing meal.
To give the buffalo casserole a spicy kick, we use a Whole30-compatible buffalo hot sauce to adds bold, in-your-face flavor, tanginess, and depth.
To balance out the heat, we also used a compatible ranch dressing. Ranch adds a creamy element to the casserole, making it the perfect combination of spicy and cool.
Tips and tricks:
Grab a rotisserie chicken to save yourself from extra prep.
Make and bake a double-batch and pop one in the freezer for a rainy day!
Overall, this Whole30 Buffalo Chicken Casserole is a delicious choice for anyone participating in a Whole30 or simply looking to add a tasty and protein-packed meal that pleases the whole crowd. So why wait? Try it out today!
Whole30 Buffalo Chicken Casserole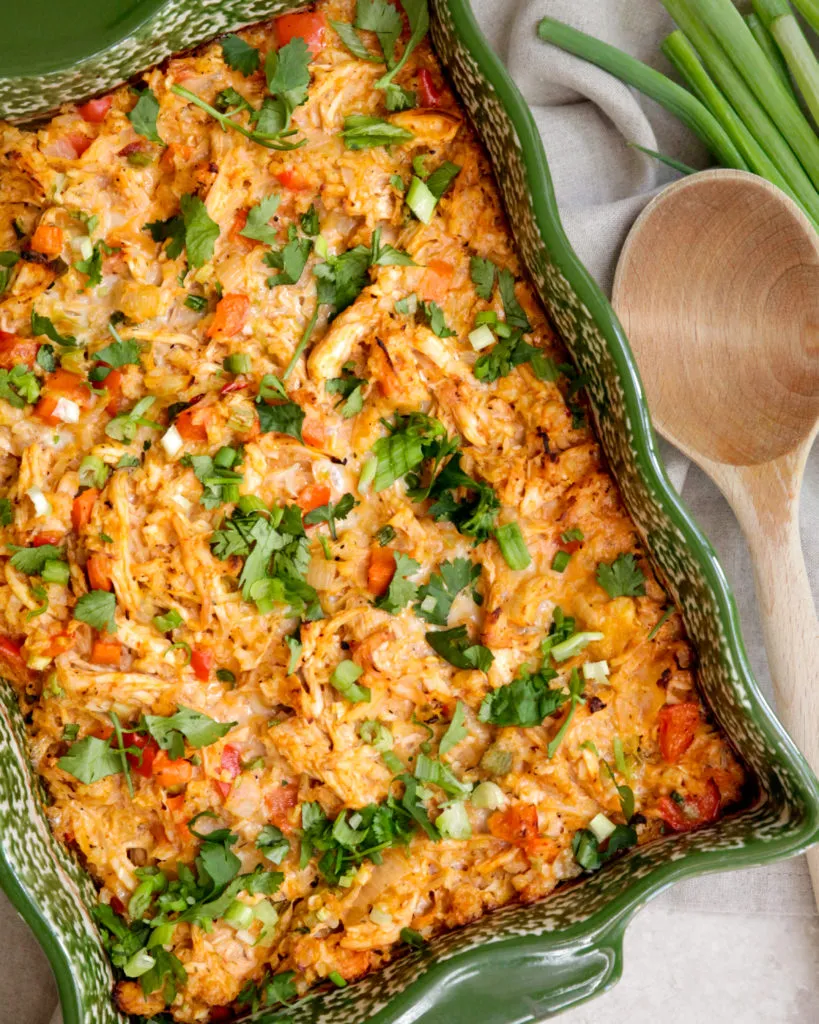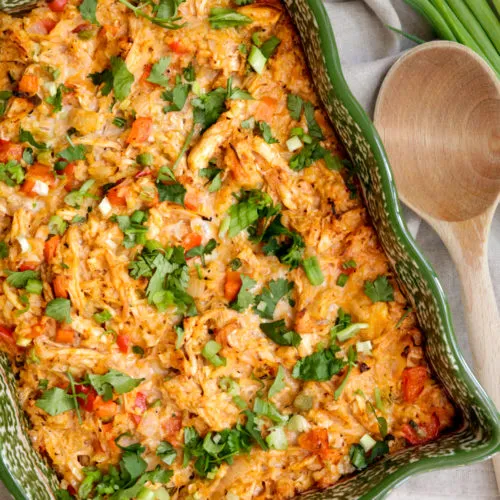 Whole30 Buffalo Chicken Casserole
Try this delicious Whole30 Buffalo Chicken Casserole
Ingredients
1 lb of cooked chicken breast shredded
1 tbsp ghee coconut oil or avocado oil
1 medium yellow onion peeled & diced
3 garlic cloves peeled & minced
1 tsp sea salt
½ tsp black pepper
1 tsp dried red pepper flakes
4 cups riced cauliflower
2 cups shredded green cabbage
1 medium red bell pepper seeded & diced
2 medium carrots peeled & diced
3 large eggs
½ cup full-fat canned coconut crème
2 tbsp tomato paste
4 tbsp buffalo sauce
½ cup compatible ranch dressing
Garnish
½ cup fresh cilantro or parsley chopped
1 whole scallion minced
Instructions
Preheat your oven to 400 degrees °F.

In a large Dutch oven pot or skillet, add cooking fat and bring to medium-low heat.

Add yellow onion and garlic and sauté with sea salt, black pepper and dried red pepper flakes until soft, about 5 minutes.

Add cauliflower, green cabbage, red bell pepper and carrot and continue to sauté until soft, about 5 minutes.

In a bowl, whisk together the eggs, coconut crème, tomato paste, buffalo sauce, and ranch dressing, then mix until well combined.

Reduce heat on the Dutch oven or skillet to low and stir in egg and sauce mixture to the veggies.

Stir in shredded chicken breast.

Pour into an oven-safe casserole dish and bake in the oven for 20 minutes.

Remove from the oven and serve between 4 with fresh cilantro or parsley and minced scallion, storing any leftovers in the fridge for up to 3 days. You can also freeze your leftovers in a freezer-safe container for up to 6 months.

Enjoy!
You Might Also Like…
---
Sarah Steffens
Recipe Developer
Sarah Steffens, our Recipe Developer, has a B.A. in Business Administration, Public Relations from The Master's University in Southern California. After years of experimenting with nutrition and recipes in her own kitchen, she now works as a Personal Chef and Food Photographer in Sacramento, creating meals that support her client's intention to physically and mentally thrive. She has catered several independent film sets, making it her goal to optimize the energy and well-being of each creative crew. You can find many of Sarah's recipes in various Whole30, Paleo and Keto cookbooks. When Sarah is not cooking and styling recipes, you can find her enjoying a long walk, working on creative projects with loved ones or exploring beautiful Northern California.