If you're in the U.S. or Canada this weekend, here's what you can expect: loud noises, social gatherings, heartfelt displays of patriotism, and lots and lots of food. For a Whole30 newbie (and even the seasoned Whole30'er), the upcoming holiday weekend might feel like a daunting challenge, but you'll be happy to know it's actually just the opposite! In fact, it's actually really easy to enjoy your Fourth of July or Canada Day weekend while staying Whole30 compatible.
We asked Kendra of Paleo Paparazzi to create some flavorful Fourth of July/Canada Day cookout or potluck dishes. She gave us three: one shareable bite, one crunchy salad, and one total crowd pleaser. Make all three for a festive and patriotic menu, or choose one to bring to your party this weekend. It's a win-win: you won't feel left out of the celebration, and your non-Whole30 friends will be none the wiser. (Bonus: if you're looking for even more firework-worthy Whole30 recipes, check out our Summertime Celebrations post from last year!)
And now, on to the recipes:
[Tweet "On the Blog today: #Whole30 4th of July or Canada Day recipes from @paleopaparazzi! #Whole30Recipes"]
The Shareable Bite: Red White & Blue Stuffed Strawberries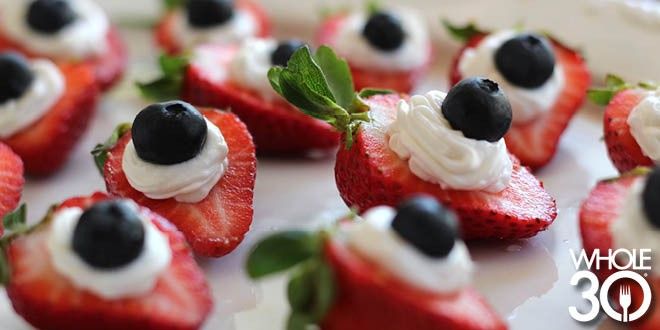 Ingredients
1-1 lb. package of strawberries
1- 6 oz. clamshell of blueberries
1 can full-fat coconut milk (using just the cream from top of can)
Instructions
WASH and slice your strawberries in half.
SCOOP just the cream from the top of your coconut milk can (not the liquid) and place into a ziplock bag.*
SNIP off one corner of the bag and pipe a small amount onto the sliced strawberry.
TOP with a blueberry and transfer to a serving platter.
*If your house is warm, you'll need to place your can of coconut milk in the fridge the night before, so the cream hardens at the top.
The Fresh and Crunchy Salad: Patriotic Coleslaw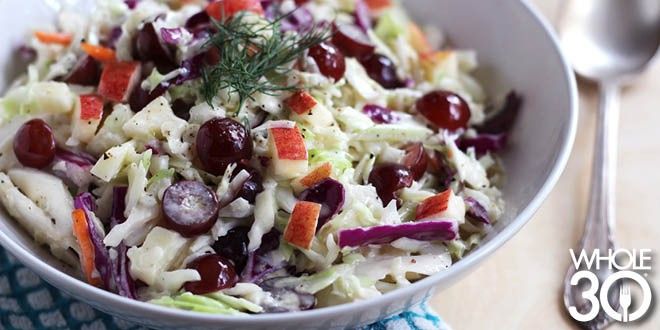 Ingredients For the Salad
1 bag (14 oz.) coleslaw cabbage mix
1/2 cup red grapes, halved
1/2 cup apple, diced
Ingredients For the Dressing
3/4 cup compatible mayo
1 teaspoon salt
1-½ teaspoon Pepper
2 Tbs. Apple Cider Vinegar
Instructions
ADD all dressing ingredients into a small bowl first and whisk together.
PLACE salad ingredients into a larger bowl, drizzle dressing to combine, and mix until well incorporated.
The Crowd-Pleaser: Firecracker BBQ Ribs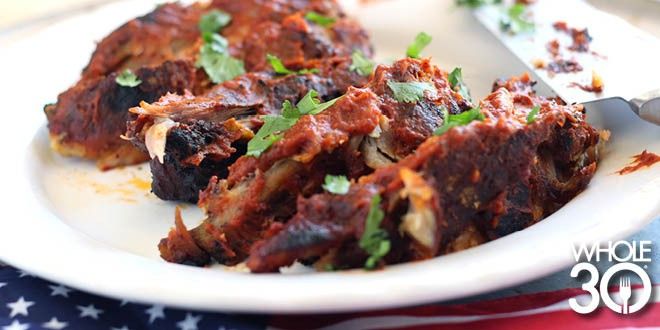 Ingredients For the Ribs
3 lbs of pork baby back ribs
3 tablespoons Barbecue Rub (I used Primal Palate)
2 teaspoon Spicy brown mustard (I used Trader Joes)
Ingredients For the BBQ Sauce
½ cup tomato paste
1-½ cups roasted tomatoes
½ cups water
2 teaspoons onion powder
1/4 teaspoon dry mustard
½ teaspoon hot sauce
1 tsp spicy brown mustard
½ tablespoon fish sauce
1 tablespoon coconut aminos
2-½ tablespoons apple cider vinegar
½ teaspoon garlic powder
¼ tsp cacao powder
4 tablespoons pineapple juice
1/4 teaspoon paprika
1/8 teaspoon ground cinnamon
1/8 teaspoon ground nutmeg
Instructions
PREHEAT oven to 200 degrees F.
REMOVE the membrane layer from the back of the ribs. To do this, start at the end of the rack, slide the tip of a small knife between the bone and membrane, and lift and cut through the membrane. Grasp the membrane with a paper towel and pull it toward the other end of the rack and remove it. Pat ribs dry and cover both sides with your BBQ rub (add a bit of salt and pepper if not already in your rub). Press into the meat to coat, then cover both sides with your spicy brown mustard, spreading and pressing it into the meat. Let marinate for at least 1 hour in the fridge.
COVER a large baking sheet with aluminum foil. Cut the ribs into smaller sized racks (whatever size you need so they will fit on the pan). Place ribs on pan meaty side up & cover with another piece of foil on top. Pinch the sides with the bottom layer of foil to create a packet. Fill the bottom of the pan with a small amount of water.
PLACE in oven to bake slowly for 4-5 hours, until tender.
WHILE the ribs are cooking, make your sauce. Add all BBQ sauce ingredients into a saucepan and whisk together. Bring to a boil over medium-high heat. Reduce the heat to low and simmer sauce for 30-35 minutes, or until the sauce has reduced by about half. Pour sauce into a blender and blend until smooth. Set aside.
HEAT a gas/ charcoal grill to medium (350°F to 450°F).
REMOVE ribs from oven. Let stand about 10 mins. Remove the ribs from the foil, place them meaty-side up on the grill, and brush them with some of the sauce. Cover the grill and cook for 3-5 minutes. Flip and brush the back of ribs and cook for another 3-5 minutes until the sauce has thickened and the ribs have grill marks and are heated through, about 10 minutes total grilling time.
TRANSFER grilled ribs to a cutting board and cut racks into individual ribs. Place extra sauce into a serving bowl to serve alongside ribs and enjoy!
[Tweet "Celebrate summertime with firework-worthy #Whole30 meals from @paleopaparazzi! #Whole30Recipes"]
---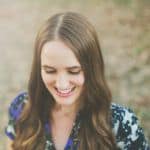 Kendra is a food blogger and Whole30 veteran who started her Whole30 journey in order to heal her own body and to help her husband heal from a stroke. She is a frequent contributor to the Whole30 community, and she blogs recipes at Paleo Paparazzi and on her Instagram feed.
Save
Save
Save
Save
Jen Kendall
Whole30 Approved Program Manager
Jen Kendall, our Whole30 Approved Program Manager, is a born and raised Floridian who now lives in Utah with her husband Quinn and their two-year-old boy Easton. She graduated the University of Florida in 2010 from the College of Journalism and Communications and has a strong interest in nutrition, health and exercise. Jen has an insatiable appetite for travel and adventure and also loves books, spending time in the kitchen cooking and experimenting with recipes, Crossfit, and enjoying as many days as possible in the outdoors year-round.