Our @whole30recipes Instagram feed brings you delicious, Whole30 compatible recipes all day, every day. And, in our series, The Best of @Whole30Recipes, we bring our favorites to the blog.
What kind of Easter person are you: Traditional, Fancy-pants, or Leisurely Brunch? Whatever you prefer, we've got a Whole30 menu for you. With recipes this good, you won't miss the Peeps, Jelly Belly and Chocolate Bunny bonanza (or the sugar crash later in the afternoon).
Instead, you'll enjoy a menu of flavorful, satisfying recipes that take advantage of fresh spring produce. We've organized some of our recent favorite recipes from @whole30recipes, and added suggestions from The Whole30 Cookbook, too. Follow our suggested menus, or mix and match your favorites to create a custom Whole30 Easter meal—with dishes like these, your guests will be like, "Easter candy who?"
[Tweet "Three #Whole30 Easter menus: traditional, fancypants, brunch. #Whole30Recipes"]
Familiar Favorites to Please Everyone: Traditional Menu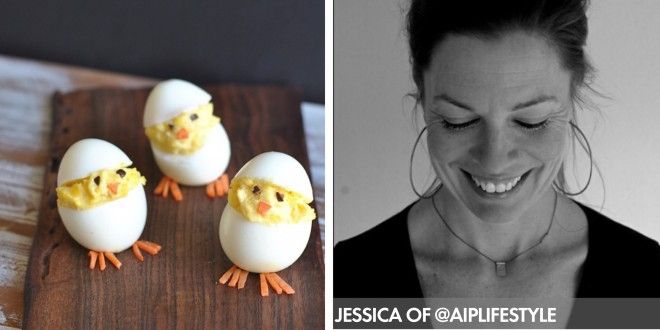 Appetizer: Easter Egg Chicks from AIP Lifestyle
Ingredients
6 eggs (this will make 6 chicks)
1/4 cup homemade mayo, or your favorite Whole30 Approved or compatible mayo
Salt and pepper to taste
1 Whole30 compatible olive, cut into tiny bits
1 carrot, cut into slivers
Instructions
CUT eggs crosswise, cutting off about one-quarter of the egg. This creates a larger egg white "bottom" and a smaller egg white "hat."
SCOOP out yolk. Combine yolk and mayo in a small bowl and add salt and pepper to taste.
FILL an egg white "bottom" with yolk mixture. Gently top with the"hat" and garnish with olive and carrot to create eyes, nose and feet. Continue until all six chicks have been created.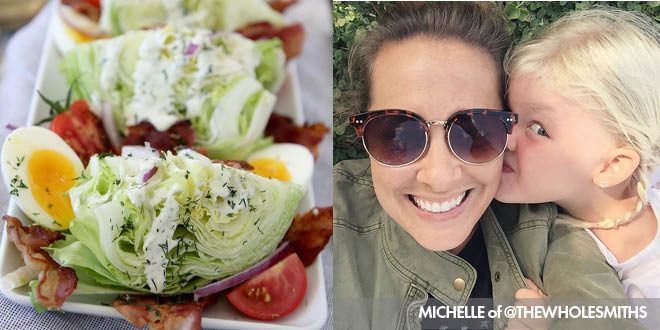 Salad: Wedge Salad from The Whole Smiths
Ingredients
1 head of iceberg lettuce
1/2 C. cherry tomatoes halved or one regular tomato diced
2 soft boiled eggs
4 slices of bacon cooked
1 Tbsp. chopped dill
Sliced red onion to top
Ranch (recipe below)
Ingredients for Ranch
1 C. mayo (see previous post)
1 clove garlic
¼ tsp. salt
¼ tsp. black pepper
¼ tsp. onion powder
¼ tsp. garlic powder
2.5 Tbsp. almond milk
1 tsp. chopped chives
1 Tbsp. chopped parsley
1 Tbsp. chopped dill
Instructions for Ranch
ADD mayo, garlic, salt, pepper, onion and garlic powders, and almond milk to blender. Blend on medium-high speed until combined and smooth. Add in chopped chives, parsley and dill and pulse until combined.
Instructions
CUT heart out of lettuce and slice into 4 sections / wedges. Place wedges on plate. Top with tomatoes, egg, dill, red onion and crumbled bacon. Sprinkle dill generously over salad and top with Ranch.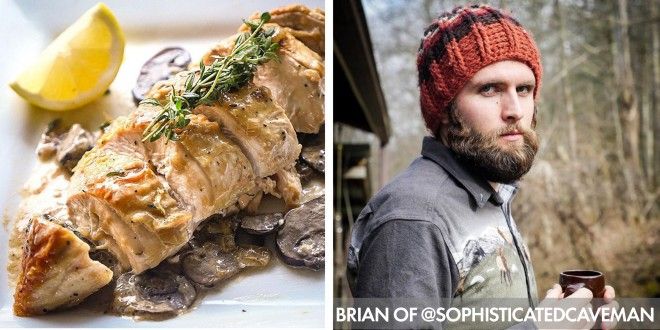 Entree: Pan Roasted Chicken Breast With Creamy Mushroom Sauce from Sophisticated Caveman
Ingredients
2 chicken breasts, bone-in and skin on
2 tablespoons coconut oil
1 cup chicken stock (homemade or Whole30 compatible)
1/2 cup full-fat coconut milk
1 shallot, diced
1 cup baby bella mushrooms, sliced
2 tablespoons fresh thyme
1 teaspoon arrowroot powder
2 teaspoons fresh lemon juice
sea salt
black pepper
Instructions
PREHEAT the oven to 350.
PAT chicken breasts dry with a paper towel and season liberally with sea salt and black pepper. Heat the coconut oil in a cast iron skillet over medium-high heat. Place the chicken skin-side down in the skillet and cook undisturbed for about 10 minutes, until skin is crisp and golden brown. Flip the chicken over and sauté for a few minutes on the other side.
TRANSFER the skillet to the oven. Roast the chicken until it is cooked through (when the thickest part registers at 165°), about 20-25 minutes. Remove the chicken breast from the pan and set aside. Return the skillet to medium-high heat and add the shallot. Sauté until it's translucent, about five minutes.
ADD the sliced mushrooms and thyme. Sauté until the mushrooms are tender, about 3 minutes. Pour in the chicken stock, scraping up any browned bits in the pan. Add the coconut milk, arrowroot powder, and salt and pepper to taste.
REDUCE heat and simmer until the sauce is thickened, about 8 minutes. Remove the sauce from the heat and squeeze in the fresh lemon juice. Serve the sauce over sliced chicken. Enjoy!
Side Dish: Pan-Roasted Brussels Sprouts with Bacon (The Whole30 Cookbook, page 236)

Pretty Plating and Creative Combinations: Fancypants Menu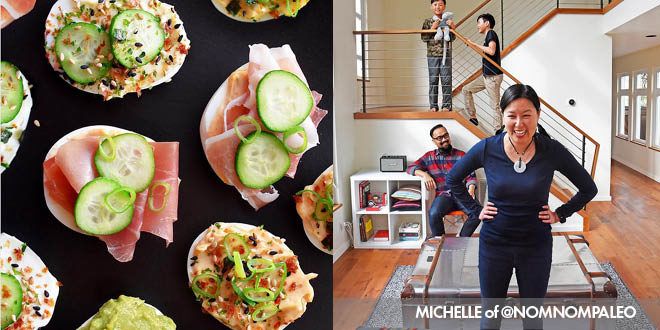 Appetizer: Instant Pot Lazy Devils from Nom Nom Paleo
Ingredients
8 large eggs
1 cup water
Optional topping combinations for Lazy Devils:
Guacamole + Sliced Radishes
Mayonnaise + Furikake + Sliced Persian Cucumbers
Chipotle Lime Mayonnaise + Furikake + Sliced Scallions
Chipotle Lime Mayonnaise + Prosciutto + Sliced Cucumbers + Scallions
Instructions
POUR 1 cup water in the stainless steel insert of your Instant Pot. Place a silicone steamer insert inside and arrange your eggs in a single layer on top. Interlock the handles of steamer before securing the lid. Set to high pressure for 6 minutes.
IN the meantime, fill a big mixing bowl with water and ice cubes. As soon as it's finished cooking, manually release the pressure by turning the vent on top to "Venting."
CAREFULLY grab the handles of the silicone steamer and deposit the eggs into the ice bath. Chill for 5 minutes. The shells should come off easily. You can store the cooked eggs in the shell for about a week.
ALTERNATELY, make hard boiled eggs using the method of your choice
ONCE cooked and shelled, cut the hard cooked eggs in half, slather on your favorite spread (e.g., mayo, guacamole, etc.) and adorn with your favorite toppings.
Note from Michelle: I coined these "Lazy Devils" in our first cookbook, Nom Nom Paleo: Food For Humans. They're kinda like deviled eggs, but you don't need any skills or time to make them.

Soup Course: "Cream" of Asparagus Soup from Sophisticated Caveman
Ingredients
2 pounds asparagus, trimmed into 2 inch pieces with a dozen tips reserved for garnish
1/2 head cauliflower, cored and chopped
1 onion, diced
3 clove garlic, minced
4 tablespoons ghee
1 tablespoon olive oil
4 cups chicken stock
1 bay leaf
1 lemon, quartered
sea salt and black pepper to taste
Instructions
BRING a dutch oven to medium high heat. Melt the ghee and add the onion. Sauté until the onion is translucent, about 7-8 minutes.
ADD the garlic and cook until fragrant, about thirty seconds. Add the chopped asparagus and a large pinch of salt and pepper. Sauté until the asparagus is slightly tender, 5-6 minutes.
POUR in the chicken stock and add the cauliflower and bay leaf. Add more salt and pepper to taste. Cover and simmer for 20-25 minutes until the vegetables are extremely tender. Meanwhile, heat the olive oil in a small skillet over medium high heat. Add the reserved asparagus tips and cook, tossing occasionally, until tender, about 5-6 minutes.
REMOVE the bay leaf from the soup and puree using an immersion blender or in batches using a standard blender. Ladle the soup into bowls and squeeze in some fresh lemon juice. Garnish with the sautéed asparagus tips.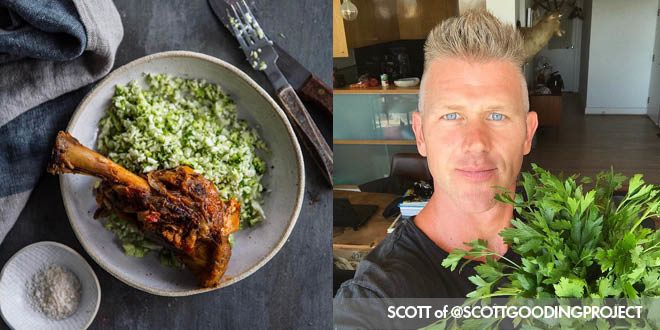 Entree: Roasted Lamb Shanks over Broccoli-Cauliflower "Rice" from Scott Gooding Project

Ingredients
4 lamb shanks
2 Tbs tallow or ghee, divided
4 small yellow onion, peeled and quartered
4 garlic cloves, peeled and roughly chopped
8oz of pancetta, roughly chopped
½ small jar of anchovies
1 bunch parsley, finely chopped
1 bunch oregano, roughly chopped
8oz bone broth
8oz tomato puree
2 cans diced tomatoes
Sea salt
Black pepper
¼ head of broccoli
¼ head cauliflower
1 tbs ghee
Instructions
PREHEAT oven to 300 degrees.
SET a large sautee pan over medium heat and add 1 Tbs cooking fat. Add the lamb shanks and fry until all sides of the lamb shanks are browned. Transfer to baking dish and pour in any pan juices.
RETURN the pan to the burner and sauté the pancetta until fat is rendered. Add this to the lamb. Cover the lamb with the tomato puree, tomatoes, broth, anchovies, oregano, parsley stalks, garlic, onions, pancetta and season lightly with salt and pepper. Cover with foil. Cook in the oven for 4-5 hrs or until the meat falls away from the bone. Remove from the heat and allow to rest.
PULSE the cauliflower and broccoli in food processor until it resembles rice-sized pieces. Set a sauté pan over medium high heat and add 1 Tbs cooking fat to the pan. Add the cauliflower and broccoli. Sautee until the vegetable begins to soften. Remove from the heat and season with salt and pepper to taste. Serve with the lamb shanks and enjoy.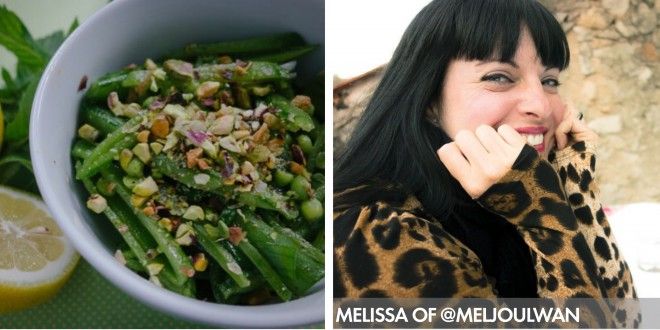 Side Dish: Snap Peas with Lemon, Mint, and Pistachios from Mel Joulwan
Ingredients
1 tablespoon extra-virgin olive oil
grated zest and juice of 1/2 lemon
1/8 teaspoon ground cumin
1/8 teaspoon salt
1/8 teaspoon ground black pepper
1 pint snap peas
2 scallions
7-10 mint leaves
1/8 cup shelled pistachios, coarsely chopped
Instructions
MIX olive oil, lemon juice, cumin, salt, and pepper in a large bowl. Set aside.
CUT the snap peas, scallions, and mint leaves into julienne slivers lengthwise and place in the bowl with the dressing. Add the pistachios.
TOSS to combine. Allow flavors to meld about 10-15 minutes before eating.
Mango-Mint Tea Spritzer from The Whole30 Cookbook (page 278)

Your Guests Show Up In Comfy Clothes: Leisurely Brunch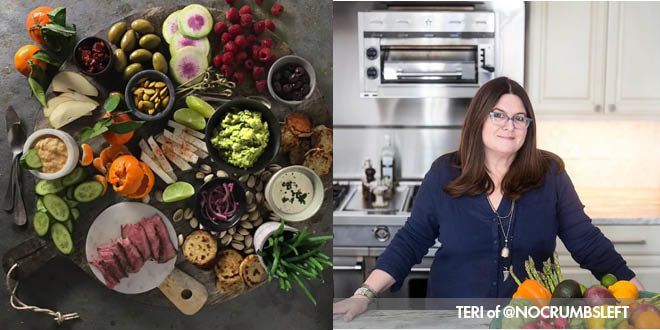 Appetizer: Snack Board, from No Crumbs Left
Ingredients
Steak
Marinated red onions
Sweet potato rounds
Nuts – almonds and pistachios
Fruit – raspberries, pear slices, oranges, and lime
Vegetables – sliced radishes, sliced cucumbers, sun-dried tomatoes, jicama with a sprinkle of chipotle, and blanched French green beans
Guacamole (homemade or compatible store bought)
Babaganoush
Paleo Ranch
Marinated Red Onions (see below for recipe)
Sweet Potato Rounds (see below for recipe)
Ingredients for Marinated Red Onion
1 small red onion
1 T dried oregano
1 T red wine vinegar
3/4 cup olive oil
Instructions for Marinated Red Onion
THINLY slice the red onion. Place the slices in a container and pour the olive oil and red wine vinegar over. Add the dried oregano. Gently stir to combine. Cover and let sit at room temperature to marinate for at least an hour.
Sweet Potato Rounds
2 Japanese sweet potatoes
2 T olive oil
Instructions for Sweet Potato Rounds
PREHEAT oven to 425. Slice the potatoes ½ inch thick. You want them thin enough to crisp up, yet substantial enough to hold up.
LINE a baking sheet with foil and coat it evenly with 1 T olive oil. Place sweet potato slices on the foil. Then brush the tops of the sweet potato slices with the remaining olive oil. Sprinkle with salt. Bake 15 minutes, flipping halfway through. Remove and serve.
Instructions
WHEN creating a Whole30 board of goodness, it's fun to make a couple of key items yourself and add other compatible store bought items. The sky's the limit, depending on how much time you have. My favorites include crudité, nuts, marinated red onions, sweet potato rounds, gorgeous vegetables, a bit of fruit, olives, jicama with a sprinkle of chipotle, a perfectly cooked steak, guacamole—and don't forget: babaganoush is your friend. Make this platter your own with your favorites!
Salad: Shredded Sprout Slaw from The Whole30 Cookbook (page 235)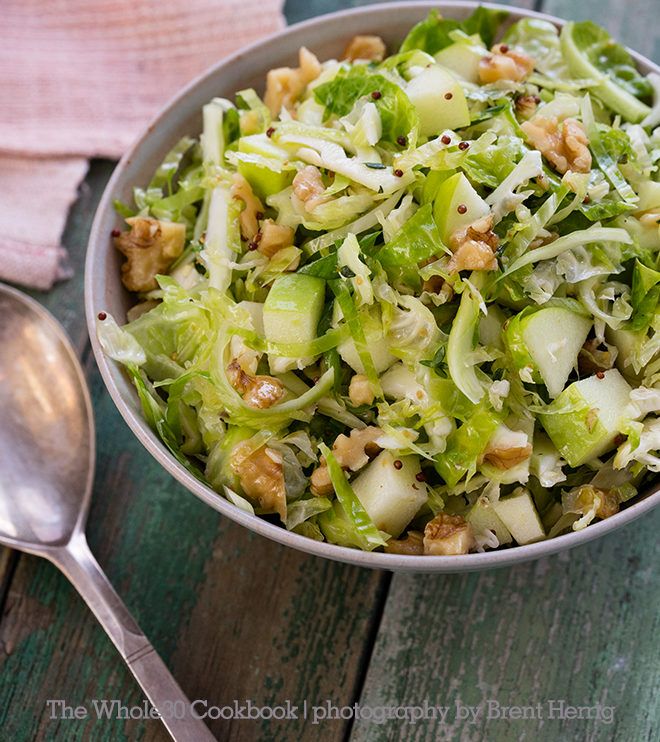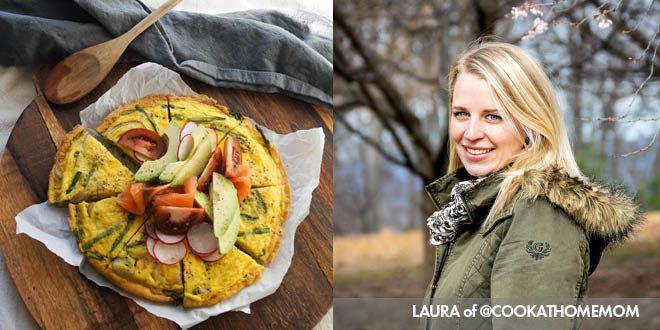 Entree: Lox & Asparagus Frittata from Cook At Home Mom
Ingredients
8 eggs
2 tbsp avocado oil or ghee
1 small bunch asparagus, stems removed and cut into bite-sized pieces
1 cup sliced baby bella mushrooms
1/4 sliced red onion
3 oz. compatible smoked salmon
1 avocado
2 radishes
1 medium tomato
Instructions
OVER medium heat, warm 1 Tbsp oil or ghee in a non-stick skillet. Add the mushrooms, onion, and asparagus and sauté together, stirring occasionally, for about 3 minutes. Season with salt and pepper to taste.
THINLY slice half of the salmon and add to the vegetables. In a bowl, crack each of the eggs and whisk. Drizzle the other Tbsp of oil around the pan, pour the eggs on top, and don't stir it anymore.
OVER medium heat, allow the bottom to set without stirring at all, then lower the heat and cover. Cook for another 5-6 minutes (you could also put it under the broiler) or until cooked through.
SLIDE it out of the pan and slice. Top with avocado, tomato, sliced radishes and the remaining lox. Enjoy!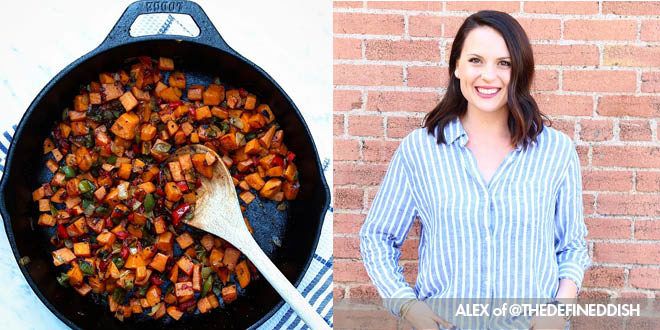 Side Dish: Sweet Potatoes O'Brien from The Defined Dish

Ingredients
1 large garnet sweet potato, peeled and diced small
1/2 yellow or white onion, diced small
1/2 red bell pepper, diced small
1/2 green bell pepper, diced small
1/4 tsp. garlic powder
2 tbsp. olive oil
Kosher salt, to taste
Coarse black pepper, to taste
Instructions
HEAT 2 Tbsp. oil in a large skillet (preferably cast iron). Add in the diced onions and peppers and season with salt and pepper. Sauté the onion and pepper mixture until tender, about 5 minutes.
ADD in the diced sweet potato and garlic powder and continue to sauté until sweet potatoes are cooked through and slightly crisp on the edges (about 10 minutes). Taste and add more salt and pepper, to taste, if needed.
Bonus Easter Dinner: The Whole30
For the original Whole30 Easter Dinner meal plan (complete with hour-by-hour preparation and cooking timeline), check out the Fancypants "Family Lamb Dinner" meal on page 374 of The Whole30.
Save
Save
Save
Save
Save
Melissa Urban
Co-Founder / CEO
Melissa Urban is a 7x New York Times bestselling author (including the #1 bestselling The Whole30) who specializes in helping people establish healthy boundaries and successfully navigate habit change. She has been featured by the New York Times, People, the Wall Street Journal, Forbes, The Today Show, and Good Morning America, and is a prominent keynote speaker on boundaries, building community, health trends, and entrepreneurship. She lives in Salt Lake City, UT with her husband, son, and a poodle named Henry.