Mashed potatoes are often the first thing on the table to get gobbled up and luckily, making them couldn't be easier. Boil the potatoes, add some ghee or coconut oil, and finish with coconut milk and a bit of salt and pepper. Potatoes, ghee and coconut milk are a sacred trinity, that make a delicious side dish to complement any meal. These Whole30 Mashed Sweet Potatoes give a twist to a classic recipe.
Try this: Whole30 Shrimp Stir-Fry over Cauliflower Grits
Try This: Whole30 Mashed Sweet Potatoes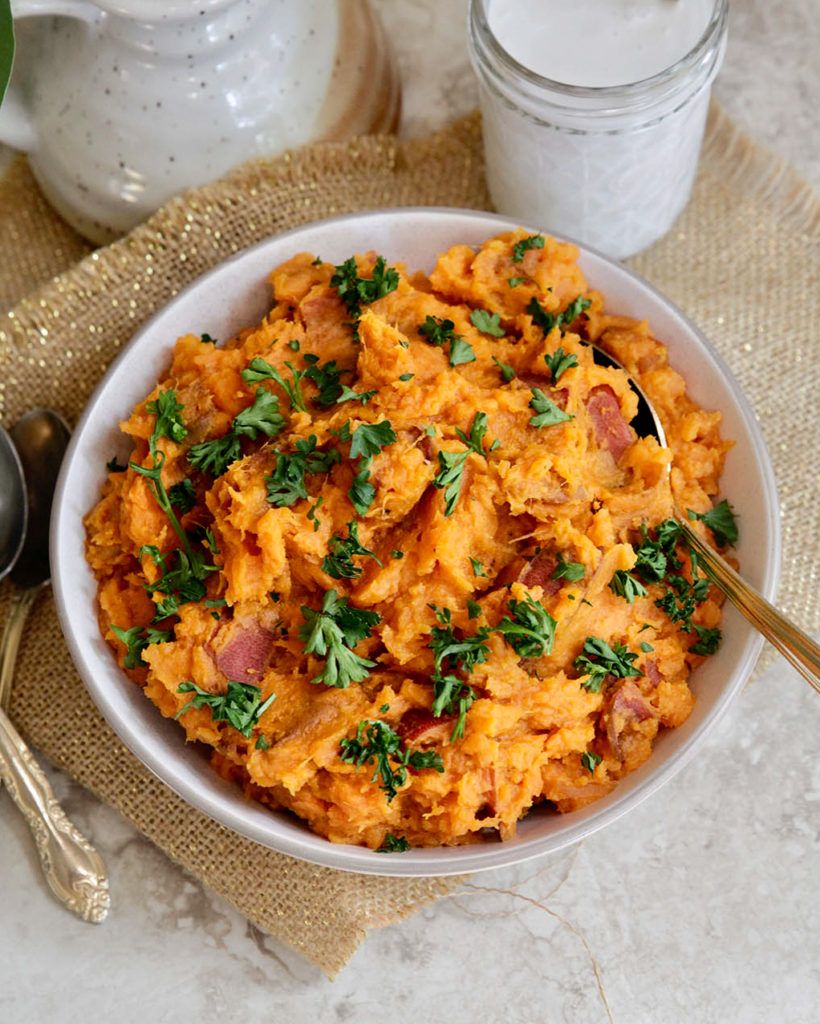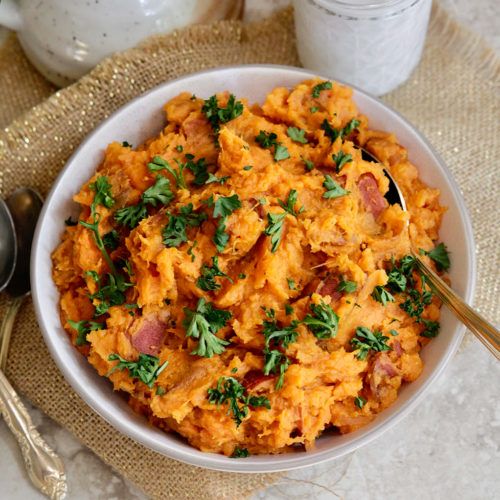 Whole30 Mashed Sweet Potatoes
A creamy bowl of mashed sweet potatoes will nourish your body and heart. We have already been enjoying this seasonal favorite and we can't wait for you to try, too! Jazz this up with some finely grated lemon or orange zest, a sprinkle of ground cinnamon or a generous portion of slow-roasted garlic.
Ingredients
4

large sweet potatoes

chopped in 1" pieces

4

tablespoons

of ghee or coconut oil

2

teaspoons

sea salt

1

teaspoon

black pepper

½

cup

full-fat canned coconut crème
Garnish
½

cup

fresh parsley

chopped
Instructions
In a large Dutch oven pot or soup pot, add chopped sweet potatoes and fill with water just until the sweet potatoes are covered.

Cover pot and bring to high heat and bring to a boil.

When boiling, remove lid and reduce heat to medium and simmer until sweet potatoes are fork-tender, about 12 minutes.

Turn off the heat and carefully drain the water from the pot.

When the water is drained, add ghee or coconut oil, sea salt, black pepper and coconut crème and mash with a potato masher (if you do not have a potato masher, simply mash it up as best as you can with a couple of big forks).

Serve between 4 with chopped parsley, storing any leftovers in the fridge for up to 5 days. You can also freeze your leftovers in a freezer-safe container for up to 6 months.

Enjoy!
You Might Also Like…
---
Sarah Steffens
Recipe Developer
Sarah Steffens, our Recipe Developer, has a B.A. in Business Administration, Public Relations from The Master's University in Southern California. After years of experimenting with nutrition and recipes in her own kitchen, she now works as a Personal Chef and Food Photographer in Sacramento, creating meals that support her client's intention to physically and mentally thrive. She has catered several independent film sets, making it her goal to optimize the energy and well-being of each creative crew. You can find many of Sarah's recipes in various Whole30, Paleo and Keto cookbooks. When Sarah is not cooking and styling recipes, you can find her enjoying a long walk, working on creative projects with loved ones or exploring beautiful Northern California.