This Whole30 carnitas recipe from The Whole30 Friends & Family are the centerpiece of the Adult Party Time menu—a Mexican-inspired menu that features 9 other tasty recipes for your next dinner party. It's one of the 22 menus for everyday social occasions included in The Whole30 Friends & Family. Each menu was carefully created to help you confidently host your friends & family—for BBQs, holidays, and even Oscar night—while sticking to your Whole30 commitment.
THE WHOLE30 FRIENDS & FAMILY
With four Whole30 cookbooks and thousands of free recipes, it's never been easier to make Whole30 meals at home, but navigating social gatherings can still feel daunting.
You can honor your health commitments while enjoying time with family and friends, and this book shows you exactly how. The Whole30 Friends & Family is packed with recipes for all of life's special moments, from birthdays to baby showers, barbecues to brunches. All of the recipes are Whole30 compatible, designed to mix and match to create the perfect menu whether you're hosting or contributing a dish as a guest. And in true Whole30 style, the recipes are creative, colorful, and so flavorful that your guests will never miss the added sugar.
The Whole30 Friends & Family will show you how to navigate gatherings, provide tips and tricks to make every social situation a success, and offer full menus for special occasions like dinner parties, date night, and Friendsgiving. These fun, creative meals will make social gatherings a breeze and let you effortlessly share your Whole30 experience with those you love.
DETAILS
Purchase: Amazon , B&N , Indie Bound , Powell's , BAM , Hudson , Indigo , Amazon.ca , iBooks , Google Play
Try These Whole30 Carnitas Today: Orange and Cumin Pork Carnitas in Celery Root Tortillas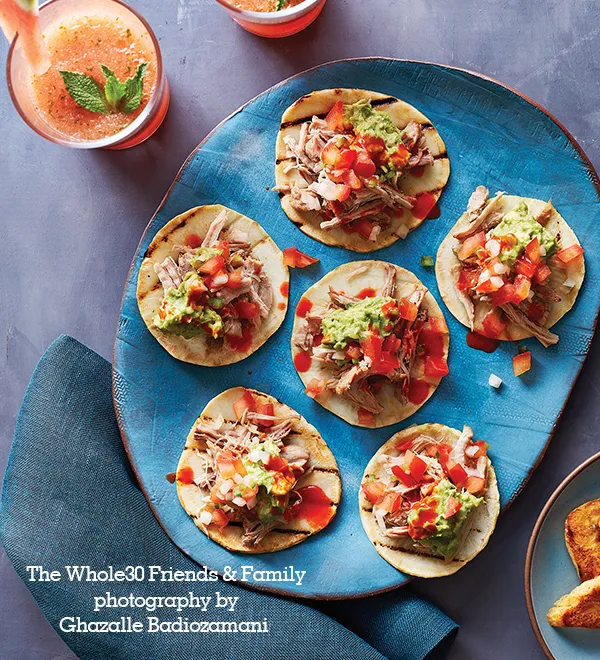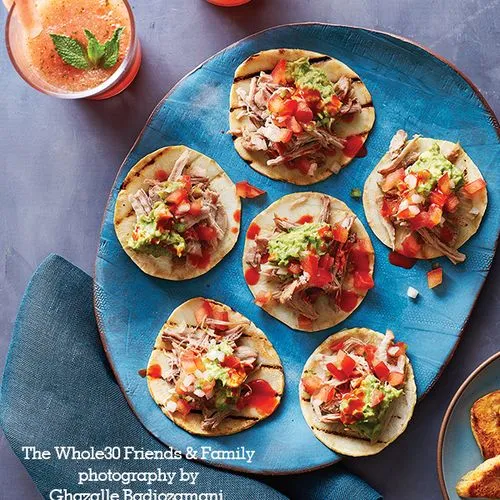 Orange and Cumin Pork Carnitas from The Whole30 Friends & Family
These Orange and Cumin Pork Carnitas are served on Celery Root "Tortillas" … if you've never tried celery root slices this way, you must. As they're grilled or griddled, they sweeten slightly, soften up enough for easy wrapping, and take on a beautiful golden color with lightly charred edges.
Ingredients
For the carnitas
1 ½ cups fresh orange juice
¼ cup fresh lime juice
2 tablespoons ground cumin
1 teaspoon smoked paprika
1 teaspoon ground coriander
2 cloves garlic crushed, skins removed
½ teaspoon salt
2 to 2 ½ pounds boneless pork shoulder trimmed and cut into 2-inch chunks
1 cup coarsely chopped fresh cilantro
For the tortillas
2 large celery roots about 1 pound each, ends trimmed, peeled
For serving
Guacamole
Whole30 compatible fresh salsa or pico de gallo
Whole30 Sriracha
Whole30 compatible hot sauce optional
Instructions
PREHEAT the oven to 350°F.

MAKE THE CARNITAS: In a Dutch oven or large ovenproof pot, combine the orange juice, lime juice,cumin, paprika, coriander, garlic, and salt. Add the pork and stir to combine. Bake,covered, until very tender, about 2½ hours.

USING a slotted spoon, transfer the pork to a cutting board. Use two forks to shred the pork into small pieces and return it to the pot. Simmer uncovered, over medium-low heat, until almost all of the liquid is gone, about 20 minutes.

MAKE THE TORTILLAS: Meanwhile, thinly slice the celery roots with a mandoline on the ⅛-inch setting or with a sharp knife. Choose the 18 largest slices for tortillas. (Store any leftover slices in an airtight container in the refrigerator for another use.)

HEAT a grill pan over medium heat. Cook, turning occasionally, until grill marks form and the tortillas are tender and pliable, about 5 minutes. (You may need to press gently on the tortillas with a spatula.)

TO serve, spoon about 1 tablespoon of the meat into each tortilla. Top with guacamole, salsa, and Sriracha, if desired.Tip: This recipe makes about 4 cups of carnitas, so you will have leftovers. Store the meat in an airtight container in the refrigerator for up to 3 days.
Melissa Urban
Co-Founder / CEO
Melissa Urban is a 7x New York Times bestselling author (including the #1 bestselling The Whole30) who specializes in helping people establish healthy boundaries and successfully navigate habit change. She has been featured by the New York Times, People, the Wall Street Journal, Forbes, The Today Show, and Good Morning America, and is a prominent keynote speaker on boundaries, building community, health trends, and entrepreneurship. She lives in Salt Lake City, UT with her husband, son, and a poodle named Henry.