By Brian Kavanagh of The Sophisticated Caveman
Looking for a cozy bowl of Whole30 goodness? You've found it. We collaborated with Brian Kavanagh of The Sophisticated Caveman and Teton Waters Ranch to create this tasty seasonal recipe. Bacon Ranch Kale and Potato Mash with Polish Sausage combines savory Teton Waters Ranch Polish sausage with our very own Whole30 House Ranch.
Teton Waters Ranch offers a Whole30 Approved line of delicious, 100% grass-fed and finished dinner sausages, hot dogs, breakfast sausages, and burger blends. All TWR products are Certified Humane, and they practice regenerative agriculture, resulting in a process that is better for the animals and the planet. Plus, their products are family-friendly and convenient, making dinner time a snap. Find Teton Waters Ranch dinner sausages at a store near you.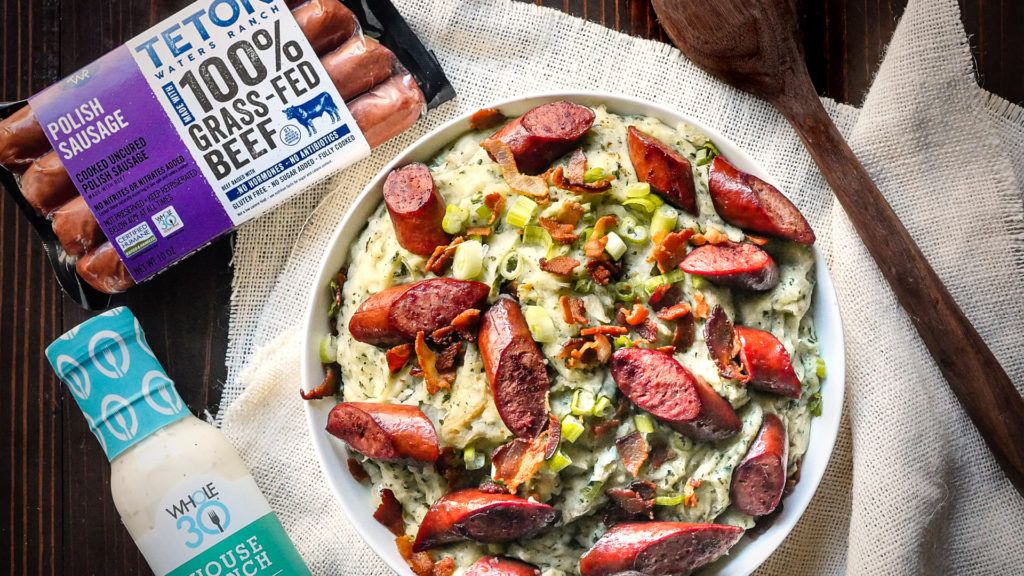 Try it: Bacon Ranch Kale and Potato Mash with Polish Sausage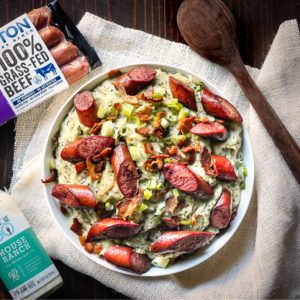 Bacon Ranch Kale and Potato Mash with Polish Sausage
This recipe is perfect for a winter night when you need something cozy, nutritious and filling. Plus, bacon, ranch, and potatoes is an irresistible combination.
Ingredients
2.5

pounds

Russet potatoes, scrubbed and cubed

4

slices

Whole30 compatible bacon, chopped

1

yellow onion, diced

3

garlic cloves, sliced

4

cups

curly kale leaves, finely chopped

1/2

cup

Whole30 House Ranch dressing

1

10 oz package

Teton Waters Ranch Polish Sausage, cut into 1-inch slices

3

green onions, sliced

sea salt and freshly ground black pepper, to taste
Instructions
PLACE the potatoes in a large pot and cover with a few inches with water. Add a large pinch of salt and bring to a simmer. Cook the potatoes for 10-15 minutes until they are tender.

MEANWHILE, heat a large skillet over medium heat. Add the bacon and cook until it is brown and crispy. Remove the bacon with a slotted spoon and transfer to a paper towel-lined plate, reserving about two tablespoons of drippings in the skillet.

ADD the onion and garlic to the skillet and cook until the onion is tender, about 5 minutes.

ADD the kale and cook until it has wilted, about 5-6 minutes.

DRAIN the potatoes and place them back into the pot. Add the kale and onion mixture, Whole30 House Ranch dressing, and salt and pepper to taste. Using a hand mixer, mash until smooth. Cover the pot to keep warm.

RETURN the skillet to medium heat and add the sausage. Cook, stirring occasionally until it is browned and heated through, about 5-7 minutes.

SCOOP the potatoes into a large bowl and top with the sausage, bacon, and green onions. Serve with more ranch.
This post was sponsored by Teton Waters Ranch. Thank you for supporting our Whole30 Approved partners!
You Might Also Like…
---