This four-part slow cooker series comes from Kelly Smith of The Nourishing Home. If you'd like to submit a recipe, helpful tip, testimonial, or Whole30 article for consideration, email it to [email protected].
Kelly Smith of The Nourishing Home is a Whole30 veteran who has used slow cooking to maintain her healthy habits during her life after Whole30. She's back in today's Part 2 to share some new strategies for incorporating slow cooking into family's meal rotation, along with some excellent tips for stretching your meals and ingredients out beyond just dinner.
A Tasty Weeknight Meal (with Leftovers!)
Welcome back to our slow cooker series. I love slow cooking because it allows me to enjoy my life after Whole30 with tasty, nourishing meals that allow me to spend less time in the kitchen and more time with my family and friends. (Be sure to check out part one of this series for my Savory Italian Beef & Chard Ragu recipe.)
This week, I'm excited to share another simple and delicious meal that your whole family will adore. The best part? The leftovers can be used to make even more quick and healthy meals.
[Tweet "On the #Whole30 blog: Slow-Cooker Rotisserie-Style Chicken from @NourishingHome! #Whole30Recipes"]
This simple slow cooker rotisserie-style chicken is one of my favorite weeknight dinners, which is why it frequently appears in my Whole30-friendly meal plans. It's such a huge time-saver, since you can toss everything into your slow cooker and go about your busy day knowing that a healthy dinner will be waiting for you and your family when the dinner bell rings.
Rotisserie-Style Chicken, Step-by-Step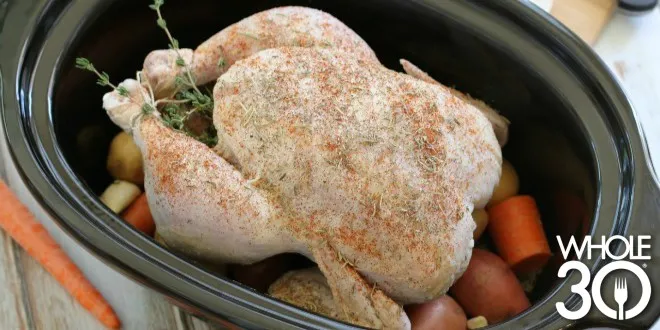 Step One: Create a tasty base for your bird
The secret to making rotisserie style chicken in your slow cooker is to use low heat and elevate the bird using your favorite root vegetables. The result is a moist and tender chicken with flavorful meat that's nearly falling off the bone. Plus, you'll have ready-made garlic-infused root veggies, too. It doesn't get easier than that.
Step Two: Dress your bird
Once you've created a veggie base, clean the bird and remove the giblets (save them for making stock). Stuff the chicken with garlic cloves and fresh thyme. Then season the bird and center it over the root veggies. Cover and cook on low. (See full recipe below.)
Step Three: Dinner is served… not once, but twice!
One five-pound whole chicken generally provides about six cups of shredded meat. This means the average family of four can enjoy not one, but two meals (or more) from just one roasted bird. Add the leftover meat to your favorite breakfast hash, use it to top a big green salad, or to make a quick soup; see my easy soup preparation at the end of this article.
Plus, once you've picked the carcass clean, the bones can be used to make a savory and nutritious slow cooker bone broth that can be used to create even more quick and nutritious meals.
Slow Cooker Rotisserie-Style Chicken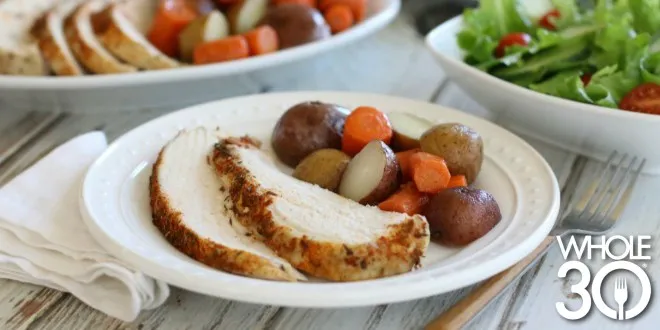 Ingredients
One 5 – 6 pound whole chicken
2 pounds baby potatoes
3 large carrots, cut into 3-inch pieces
1 head garlic, cloves smashed and peeled
4-5 sprigs fresh thyme
Savory Seasoning Mix
2 tsp sea salt
1 tsp dried thyme
1 tsp paprika
1/2 tsp onion powder
1/2 tsp dried rosemary
Instructions
COMBINE all of the seasoning mix ingredients in a small bowl; set aside.
IN a six-quart slow cooker, evenly distribute the baby potatoes, carrot chunks and half of the peeled garlic cloves along the bottom.
RINSE the chicken thoroughly under cool running water; trim away any excess skin. (Be sure to remove the giblets and neck; reserve for making stock.)
PLACE the bird breast side up on top of the root veggies. Sprinkle the seasoning mixture evenly over the top of the chicken. Then stuff with the remaining peeled garlic cloves, along with a few sprigs of fresh thyme. (Use kitchen twine to tie the legs together, if desired.)
COVER and cook on low for 7-9 hours until cooked through. Chicken is finished when an instant-read thermometer registers 165°F.
TO CRISP the skin, carefully transfer the bird to a broiler pan. Set oven to broil and position the bird about 12-14 inches from the heat source. Broil for approximately 4-5 minutes, just until skin browns and crisps. Enjoy! (Remember to save the chicken bones to make healthy homemade slow cooker bone broth.)
A Simple Idea for Using Your Leftover Chicken
Dinner couldn't be easier when you have leftover roast chicken on hand. One of my favorite ways to use it is to make a comforting bowl of Chicken Zoodle Soup.
Simply sauté 1/2 cup each of diced celery, onion, and carrots in a large stockpot over medium-high heat. Once the veggies soften, add 6 cups of homemade bone broth and 2 cups of leftover shredded roast chicken to the stockpot. Allow soup to simmer about 5 minutes. Then, toss in 2-3 cups of spiralized zucchini noodles. Enjoy!
Photos by Kelly Smith
---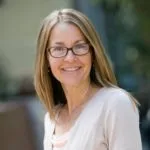 Kelly Smith is the author of the popular grain-free lifestyle blog The Nourishing Home. With a passion for healthy home-style cooking, she's on a mission to transform everyday familiar favorites into nourishing meals the whole family will love, whether they're grain-free or not. Connect with Kelly on Facebook and Instagram.
Jen Kendall
Whole30 Approved Program Manager
Jen Kendall, our Whole30 Approved Program Manager, is a born and raised Floridian who now lives in Utah with her husband Quinn and their two-year-old boy Easton. She graduated the University of Florida in 2010 from the College of Journalism and Communications and has a strong interest in nutrition, health and exercise. Jen has an insatiable appetite for travel and adventure and also loves books, spending time in the kitchen cooking and experimenting with recipes, Crossfit, and enjoying as many days as possible in the outdoors year-round.