This four-part slow cooker series comes from Kelly Smith of The Nourishing Home. If you'd like to submit a recipe, helpful tip, testimonial, or Whole30 article for consideration, email it to [email protected].
Your slow cooker is a little magic pot that takes individual ingredients and turns them into tasty Whole30 meals with minimal time and effort. It's like an electric personal chef who prepares dinner for you while you're busy at work or school (or overnight). Adding some Whole30-compatible slow cooker meals to your repertoire is a great strategy for Whole30 success, and can turn into a new, healthy habit in life after your Whole30.
Kelly Smith of The Nourishing Home is a Whole30 veteran who has used slow cooking to maintain her healthy Whole30 habits. In this Whole30 slow cooker series, she'll be sharing strategies for incorporating slow cooking into your weekly schedule, along with some of her favorite Whole30 compatible slow cooker recipes.
[Tweet "Follow our #Whole30 slow cooking series, by @NourishingHome (part 1 today). #Whole30Recipes"]
Kelly's Slow Cooker Success Tips
Delicious, healthy meals don't have to be complicated or time-consuming. With just a few simple whole food ingredients and your trusty slow cooker, you can create nourishing meals that your family and friends will love. Throughout this series, I'll share my favorite slow cooker recipes and tips for each delicious recipe.
The first tip for my Slow Cooker Italian Beef is to brown your meat before adding it to your slow cooker. This technique yields a richer dish, as browning meat lightly caramelizes the surface, intensifying the flavor. If you meal plan, you can schedule time to brown the beef ahead of time and then refrigerate it, so it's ready to go when you are – a definite time saver.
My second tip is to let your butcher do the hard work for you! Many butchers will cut your beef chuck roast into one-inch pieces (just ask nicely), which allows you to maximize your time and energy in the kitchen.
Happy slow cooking… now onto the recipe!
Slow Cooker Italian Beef & Chard Ragu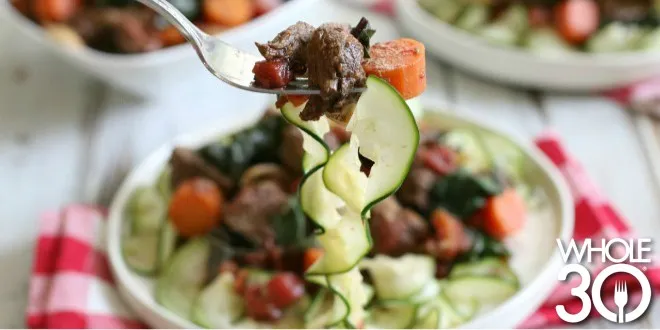 Ingredients
2 lbs boneless beef chuck roast, cut into one-inch chunks
1 large bunch of Swiss chard (or any greens you prefer)
6 small carrots, cut into one-inch pieces
1 large sweet onion, peeled and quartered
2 cloves of garlic, smashed, peeled and sliced
2 tsp sea salt
1 1/2 tsp Italian seasoning blend
1/8 tsp red pepper flakes
2 (14oz) cans fire-roasted diced tomatoes
2 Tbsp balsamic vinegar
Optional: 1 large zucchini per person for making "zoodles"
Instructions
ADD oil of your choice in a large cast iron skillet (or frying pan) over medium-high heat and brown the beef chunks about a minute on each side. You may need to do this in two batches, depending on the size of your skillet. Transfer browned beef to a 6-qt slow cooker.
REMOVE the tough stem from each leaf of chard. Cut the stems into one-inch
pieces and add to your slow cooker. Cut the leaves into large pieces; transfer to a bowl, cover and refrigerate.
ADD the carrots, onion, garlic and seasonings to your slow cooker. Then stir in the diced tomatoes and vinegar until ingredients are well combined.
COOK on low setting for 6-1/2 to 7 hours, until the meat and carrots are fork tender. Then stir in the chard leaves and cover. Increase the temperature to the high setting and cook for an additional 25-30 minutes until chard reaches desired tenderness.
SPIRALIZE zucchini, if desired, and steam for one minute to soften. Spoon ragu over the zoodles, or serve over mashed cauliflower (see the recipe on page 270 of The Whole30). Enjoy!
Recipe Variation: Butternut squash makes a tasty substitute for carrots. Just cut the squash into one-inch cubes and add in place of the carrot for a delicious creamy texture and mellow flavor.
Photos by Kelly Smith
---
Kelly Smit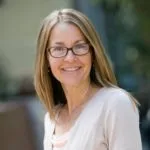 h is the author of the popular grain-free lifestyle blog The Nourishing Home. With a passion for healthy home-style cooking, she's on a mission to transform everyday familiar favorites into nourishing meals the whole family will love, whether they're grain-free or not. Connect with Kelly on Facebook and Instagram.