There's just something about the summertime that makes hot dogs extra appealing. And though compatible varieties may have been hard to find back when Whole30 was born, that's not the case now! These days, you can find Whole30-compliant hot dogs at many grocery stores or online to be delivered straight to your door — so embrace the nostalgia the next time that perfect summer evening (or backyard cookout with friends or family) rolls around. The beauty of hot dogs is that they're not only easy to whip up for a crowd, but they also make for a quick protein source when you need to throw together a last-minute meal.
And whether you're doing a Whole30 or living your Food Freedom, rest assured that there are plenty of satisfying ways to enjoy a good ol' hot dog that doesn't involve a bun. Don't believe us? Fire up the grill, make these Hot Dogs with Mango Salsa, and see for yourself. The two pair together beautifully and are easy to eat when nestled into crisp romaine lettuce leaves.
Plus, since this recipe comes together in just 20 minutes, it's a great go-to when you need a burst of fun in your meal rotation but don't have hours on end to cook.
You'll need just a handful of fresh ingredients for the mango salsa, which really pops thanks to red onion, cilantro, garlic, lime, jalapeño, and (surprise!) ginger. To cut down on prep time, you can always use a compatible premade salsa. Or, buy pre-chopped mango, red onion, garlic, and whatever other ingredients you can find.
Want to switch up the flavors?
You can always swap the mango for pineapple or peach for a fruity salsa with a slightly different twist. The same goes for your protein; Sausage links, shredded chicken breast, and ground beef all work perfectly well here. Even the Romaine can be swapped out for another leafy green vessel like Boston lettuce or kale. All equally delicious options! Just remember that "protein plus fruity salsa plus leafy green package" template and you'll have a fun summertime meal on the table in no time.
Grilled Hot Dogs with Mango Salsa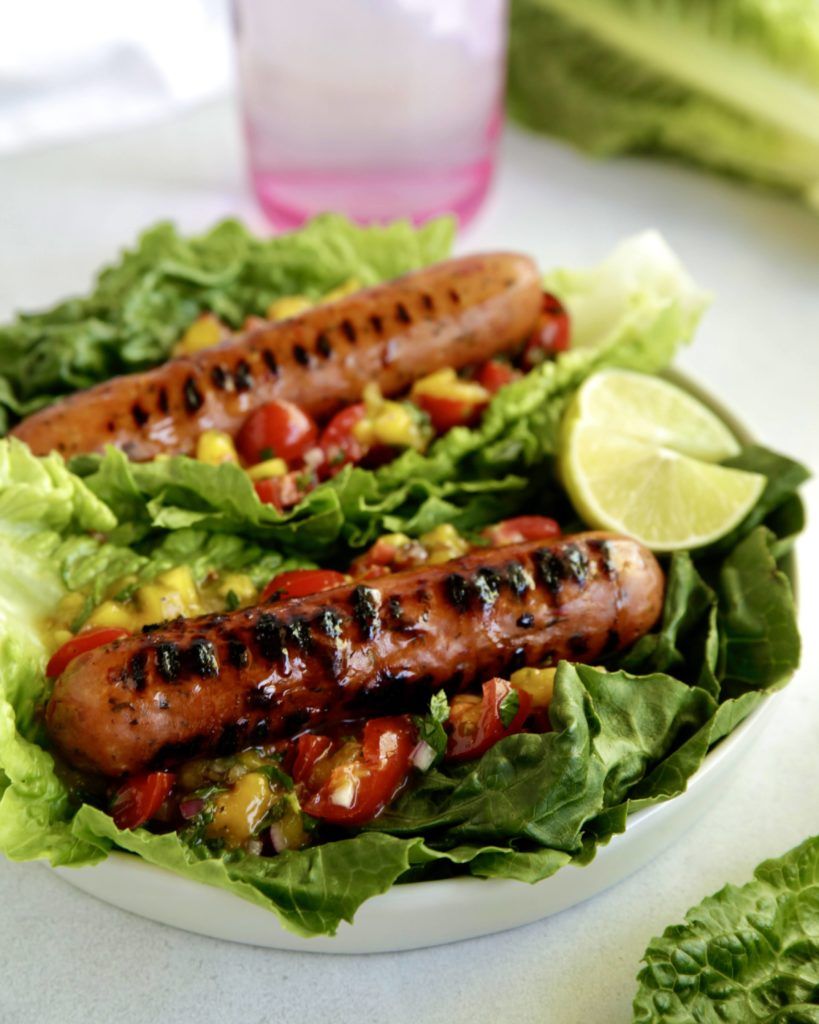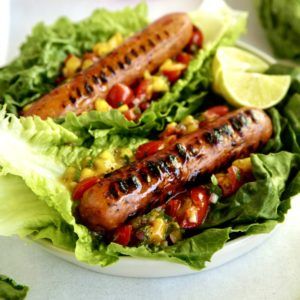 Grilled Hot Dogs with Mango Salsa
Equipment
1 heated grill or grill pan
Ingredients
Mango Salsa
1/2

cup

mango

diced

1/2

cup

cherry tomatoes

quartered

2

tbsp

red onion

peeled & minced

1/4

cup

fresh cilantro

minced

1

tsp

sea salt

1

medium garlic clove

peeled & minced

1/2

tsp

fresh ginger

peeled & minced

4

slices of jalapeño

seeded & minced

1/2

fresh lime

juiced
Hot Dogs
4

Whole30-compliant hot dogs

8

Romaine lettuce leaves
Instructions
TOSS mango salsa ingredients together in a bowl and set aside.

GRILL the hot dogs on a heated grill or indoor grill pan set to medium heat until fully cooked through and blackened to your preference, about 2 minutes per side. Rotate so that they have even grill lines.

ARRANGE Romaine lettuce leaves on a plate, two leaves per person, and fill with mango salsa.

SERVE grilled hot dogs on top of the mango salsa.

STORE any leftovers in the fridge for up to 3 days.
Sarah Steffens
Recipe Developer
Sarah Steffens, our Recipe Developer, has a B.A. in Business Administration, Public Relations from The Master's University in Southern California. After years of experimenting with nutrition and recipes in her own kitchen, she now works as a Personal Chef and Food Photographer in Sacramento, creating meals that support her client's intention to physically and mentally thrive. She has catered several independent film sets, making it her goal to optimize the energy and well-being of each creative crew. You can find many of Sarah's recipes in various Whole30, Paleo and Keto cookbooks. When Sarah is not cooking and styling recipes, you can find her enjoying a long walk, working on creative projects with loved ones or exploring beautiful Northern California.