For a steakhouse-style meal at home, serve these crispy fries (and very zippy ketchup!) with roast chicken or grilled steak.

Cooking Whole30 is the revised, updated, and enhanced version of The Whole30 Cookbook and is available everywhere books are sold. Click here for more information about this project.
Whole30 Herbed Rutabaga Oven Fries with Spicy Garlic Ketchup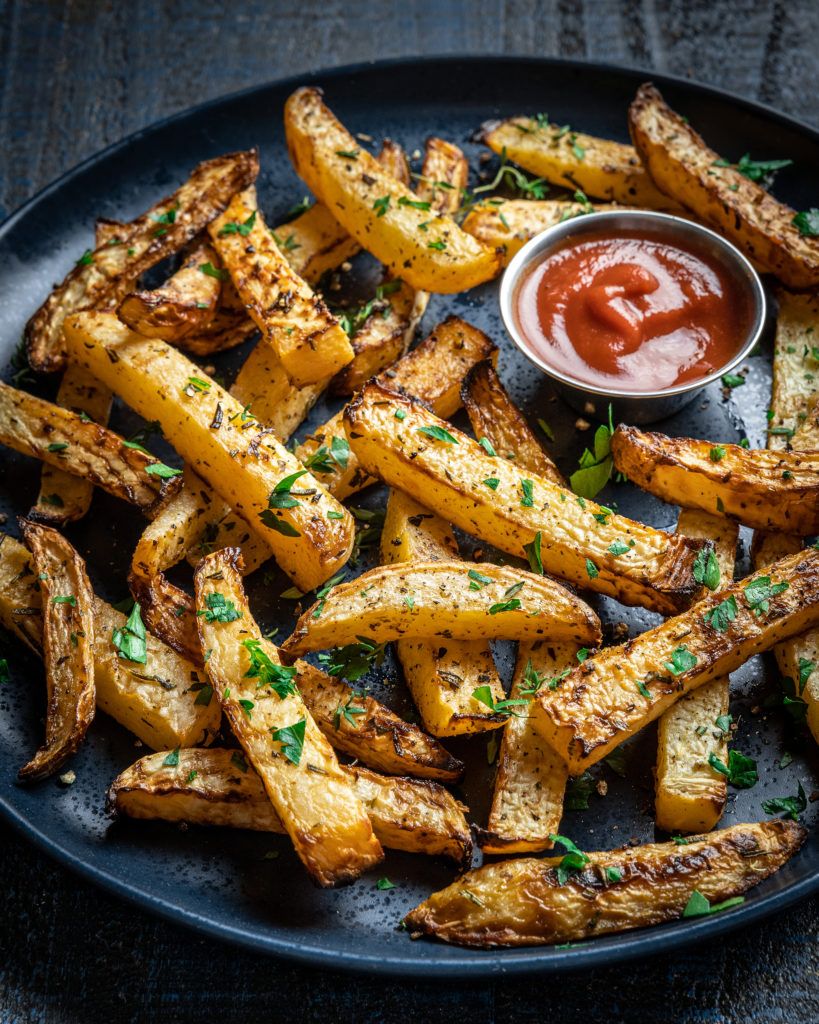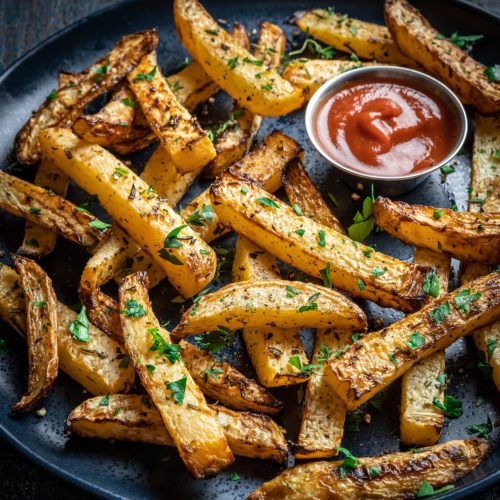 Herbed Rutabaga Oven Fries with Spicy Garlic Ketchup from Cooking Whole30
Ingredients
2

medium rutabagas or 1 large rutabagas

(about 1½ pounds)

3

tbsp

extra virgin olive oil

1

tbsp

chopped fresh rosemary

1

tsp

salt

½

tsp

dried oregano

crushed

½

tsp

garlic powder

½

tsp

black pepper

1

tbsp

finely chopped fresh parsley

1

tsp

fresh thyme leaves

2

tsp

ghee or compatible plant-based butter

1

cloves garlic

minced

½

cup

Whole30 Ketchup or Whole30-compatible ketchup

1-2

tsp

Whole30-compatible hot sauce
Instructions
Preheat the oven to 450°F.

Cut the rutabagas into 1⁄2-inch-thick sticks. Pat the sticks dry with paper towels and place them in a bowl. Add the olive oil, rosemary, salt, oregano, garlic powder, and pepper. Gently toss to coat the rutabaga with the oil and seasonings. Arrange in a single layer on a large baking sheet.

Roast for 20 to 25 minutes, until golden and crisp. Sprinkle with the parsley and thyme.

Meanwhile, in a small skillet, combine the butter and the minced garlic. Cook over medium heat, stirring, for 1 minute. Whisk in the ketchup and hot sauce; cook until just heated through.

Transfer to a small bowl and serve alongside the fries for dipping.
Cooking Whole30
Over 150 Recipes for the Whole30 and Beyond
Previously published as The Whole30 Cookbook, this bestseller is revised, updated, and available in paperback for the first time.
The groundbreaking Whole30 program has helped millions of people transform their lives by bringing them better sleep, more energy, fewer cravings, and improved digestion, creating a foundation of good habits and restoring a healthy relationship with food. In this cookbook (previously published as The Whole30 Cookbook) best-selling author and Whole30 co-creator Melissa Urban delivers over 150 recipes to help readers prepare delicious, healthy meals for their Whole30 and beyond. Cooking Whole30 has been completely revised and updated to be in line with Whole30's diversity, inclusion, equity, representation, and accessibility efforts.
A Whole30 refresher, including an updated introduction to the program, 5 steps to get you started, and tips for stocking your Whole30 kitchen.
More than 150 recipes for main dishes, sides, dressings, and sauces.
Easy tips that simplify meal planning and prep to save time and money.
Recipe Remixes designed to turn one dish into two or three different meals.
10 exclusive, new recipes from community recipe creators.
Whether you're doing your first Whole30 or coming back for another reset, Cooking Whole30 will help you change your life in 30 days with the Whole30 program.
"The Whole30 program has transformed the lives of millions of people around the world. It's completely in line with what I usually prescribe as a starting point for my patients, and I can't recommend it enough for those looking to radically improve their health and habits long-term." —Frank Lipman, MD and New York Times best-selling author
Details
Purchase: Amazon , B&N , IndieBound , Powell's , BAM , Hudson , Indigo , Amazon.ca , iBooks , Google Play
You Might Also Like…
---
Melissa Urban
Co-Founder / CEO
Melissa Urban is a 7x New York Times bestselling author (including the #1 bestselling The Whole30) who specializes in helping people establish healthy boundaries and successfully navigate habit change. She has been featured by the New York Times, People, the Wall Street Journal, Forbes, The Today Show, and Good Morning America, and is a prominent keynote speaker on boundaries, building community, health trends, and entrepreneurship. She lives in Salt Lake City, UT with her husband, son, and a poodle named Henry.