Get ready to feel like you're splurging on a takeout dish from your favorite Asian restaurant with this Asian-Inspired Crispy Chicken stir fry!
This Asian stir fry combines aromatic spices, crispy chicken, and a burst of flavors. Whether you're doing a Whole30 or simply craving a delicious meal, this recipe promises a well-rounded dish filled with umami, fragrant herbs, and a satisfying crunch.
I personally love to use boneless, skinless chicken thighs for this recipe as I believe it holds the most flavor. But, for those who prefer chicken breast, the directions for this recipe will remain unchanged and still taste great. This also works very well with shrimp, but the time for frying is much shorter.
To keep things easy, start by chopping all the necessary ingredients. During prep, you'll want to ensure the chicken is seasoned and well-coated in tapioca starch to achieve that irresistible crunch.
The star of the show is the remarkable sauce that ties everything together. The combination of chicken bone broth (Kettle & Fire is my personal favorite!) and flavorful teriyaki coconut aminos create a winning blend you'll want to use in future stir-fry dishes.
Once everything is prepped, air fry the chicken (generously spraying avocado oil on top) for a crispy texture. Simultaneously, you'll work on softening the vegetables on the stovetop, ideally in a cast iron pan. Adding the chicken when the vegetables are nearly done preserves its crispiness while allowing it to absorb the sauce's flavors.
Serve the stir fry over cauliflower rice, pan-fried, to add a nice texture that complements the dish's flavors.
Although there's some prep involved, trust me, this will be a beloved and satisfying meal that will surely become one of your favorites. It just so happens to be a weekly request from my partner, Trevor!
Recipe Notes
You'll see that this recipe purposefully calls for using your airfryer for the chicken versus pan-frying the pieces. This is because the crispiness is much better from an airfryer and uses less oil when cooking! If you don't have an airfryer, I highly recommend pan-frying the chicken in batches, ensuring the pieces don't touch to get a nice crisp versus the pieces sticking together!
The listed vegetables are merely suggestions. The beauty of a stir fry is oftentimes using what you have on hand, so feel free to sub any vegetables you have and want to use!
Asian-Inspired Crispy Chicken Salad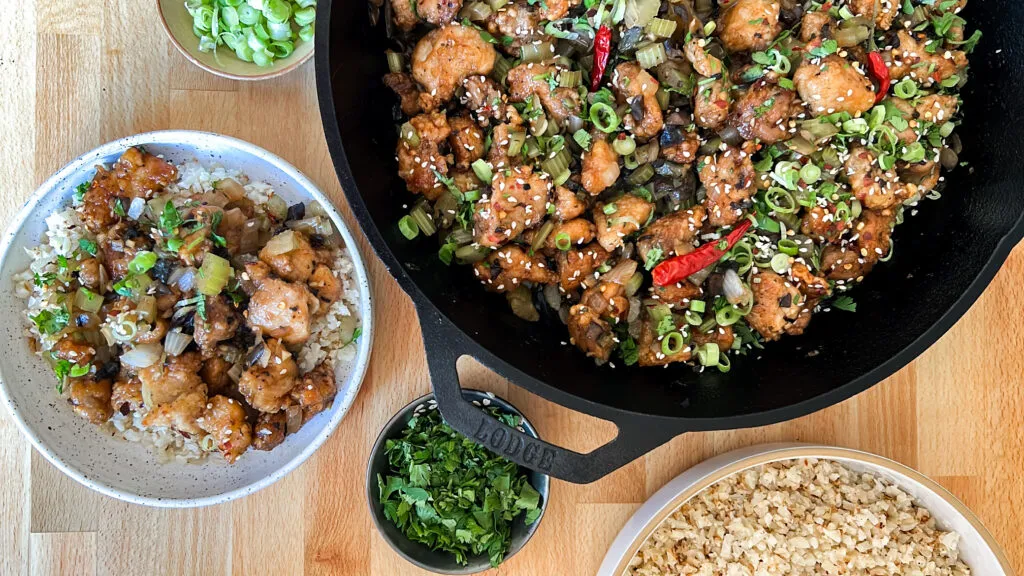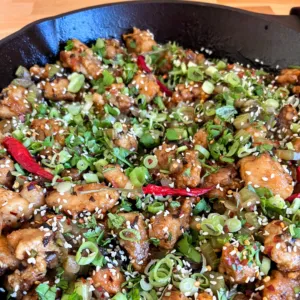 Asian-Inspired Crispy Chicken Stir Fry
Ingredients
For the stir fry:
1/3

cup

tapioca starch

2

lbs

boneless, skinless chicken thighs (or breast) cut into bite-sized pieces

sea salt and ground black pepper to taste

1/2

white onion, chopped

8

oz

pkg of mushrooms, cut into small pieces

4-6

celery stalks, cut into small pieces

20

oz

frozen cauliflower rice
Sauce:
1/2

cup

coconut aminos (for teriyaki flavor)

1/3

cup

Whole 30 compatible chicken bone broth

1

jalapeno

deseeded and chopped

3

garlic cloves

minced

1

inch

fresh ginger

minced

2

tbsp

rice vinegar

1

tsp

sesame oil

1

tsp

tapioca starch
For garnish:
scallions

thinly chopped

cilantro

chopped

sesame seeds

red pepper flakes
Instructions
COMBINE all ingredients for the sauce in a bowl. Set aside.

USING a large bowl, add salt, pepper, and tapioca starch together and add the chicken so that all pieces are well coated.

PREHEAT the air fryer to 375 °F, and spray the tray or basket with avocado or olive oil. Add the chicken in a single layer (making sure the pieces do not touch each other) and air fry for 10-12 minutes, flipping halfway through until golden and crispy. You will most likely need to do this in two batches. Don't be afraid to spray more oil onto the pieces!

HEAT a large cast iron pan (or saucepan) over medium-high heat and add avocado oil while the chicken is cooking.

COOK the onions, mushrooms, and celery for about 5-7 minutes until soft—season with salt and pepper.

ADD the air fryer chicken to your cast iron and mix with the cooked vegetables.

POUR in the prepared sauce and let it come to a boil. Simmer for 1-2 minutes until the sauce is thickened. Then turn off the heat.

SERVE over cauliflower rice and add the scallions, cilantro, sesame seeds, and red pepper flakes (if you like a little heat!) on top.
Jessica Sussman
Recipe Developer and Content Creator
Jessica Sussman (she/her) is a recipe developer and content creator specializing in gluten and dairy free meals. As a 9-5'er, Jessica knows the importance of striking the balance between nutritious meals and approachable recipes that anyone can do, regardless of their skills in the kitchen. When Jessica isn't creating new Whole 30 recipes that absolutely blow her friends and family away, she's spending time outdoors with her amazing partner, Trevor, chasing after their three furbabies (Tuna, Wasabi, Henley) and romanticizing her grocery trips by finding gluten-free, dairy-free treats. If you're looking for pretty and fun bowls of yummy food, follow Jessica on Instagram at @agranolacoconut.