Today we are sharing with you our Black pepper chicken bowl recipe, an everyday Indian chicken recipe that comes together with a few ingredients from your pantry. Enjoy it for a simple weekday meal, or take it to an outdoor potluck or picnic this summer. It has intense flavors despite using only a few spices and herbs. The chicken pairs beautifully with a simple cumin cauli fried rice and an Indian-style salad! This black pepper chicken bowl will surely be a show-stopper at your gathering!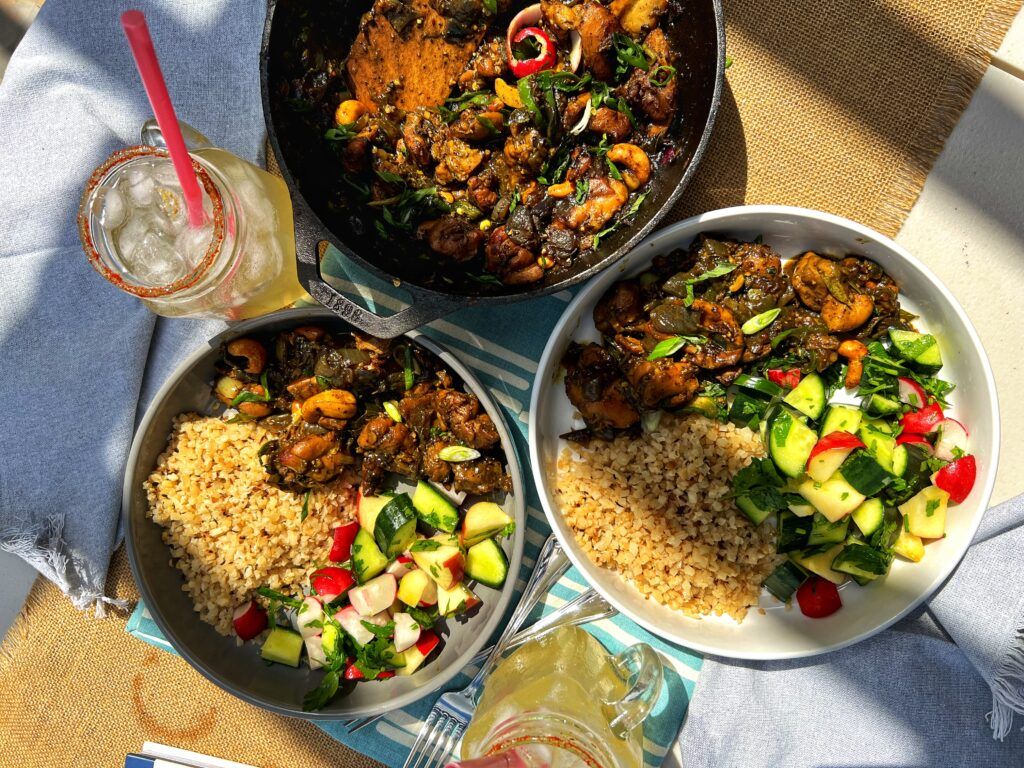 Black peppercorn is a key ingredient in this dish. It is native to the southern part of India, while red chili pepper was brought to India by the Portuguese. A lot of traditional recipes from the southern part of India are made with black pepper. Roasting the black peppercorns and the cumin is a crucial step to release the oil from the whole spices and enhance the flavors. You can also microwave the spices for a minute to help with the process, but nothing beats toasting up whole spices in a hot pan. The freshly-ground ginger and garlic add to the rustic flavors of this recipe.  Using chicken thighs for this recipe is preferable as they tend to stay juicy. Bone-in thigh pieces would be an excellent choice for this. 
We have also used curry leaves which is an herb used in South Indian cooking and has a very distinct flavor. You can find it in an Indian grocery store, but if you cannot find it, just skip it.
Whole30 Indian Black Pepper Chicken Bowl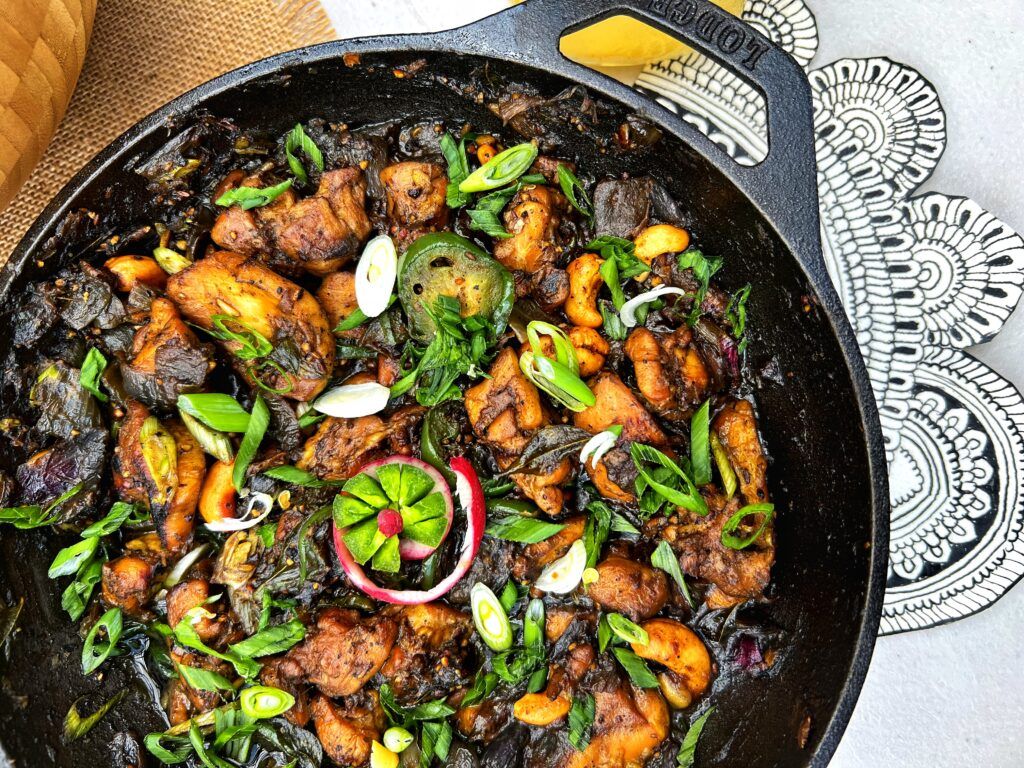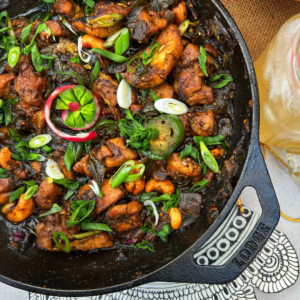 Indian Whole30 Black Pepper Chicken Bowl
Ingredients
Chicken
2

lbs

chicken thighs

cubed

2

large onions

diced into large pieces

1.5

piece of ginger

peeled

10

cloves of garlic

1/2

tsp

turmeric powder

3

tbsp

black peppercorns

1/2

tbsp

cumin seeds

1/3

cup

roasted cashews

2

sprigs green onions or scallions

1.5

tsp

salt

1

jalapeño chopped into rounds (optional)

10-15

curry leaves (optional)

3

tbsp

ghee or avocado oil
Cauli Rice
1

pack riced cauliflower

frozen

1/2

tsp

cumin seeds

2

tbsp

ghee or avocado oil

1/2

tsp

salt
Salad
1

cup

chopped cucumber

1

cup

chopped red radish

1

cup

chopped apple

3

sprigs parsley

1/2

whole orange

1/4

tsp

salt
Instructions
Chicken
HEAT a thick-bottomed pan and dry roast the black peppercorns till they puff up and set aside.

TOAST the cumin seeds till they turn slightly darker and fragrant.

GRIND the peppercorns and cumin into a coarse powder. You can also pulse it using a coffee or spice grinder to a coarse powder.

POUND or mince the ginger and garlic.

ADD ghee or oil to a hot pan.

SAUTE the onions in the pan for 5 minutes and add the curry leaves.

ADD the ginger and garlic and saute for 2 minutes.

ADD the turmeric and salt, followed by the ground peppers and cumin powder, and saute for 2 minutes.

ADD the chicken and give it a good mix, making sure that the chicken is coated with the spices.

COVER and cook the chicken till cooked, stirring it every few minutes. This should take 10-15 minutes.

ADD the jalapeños if you want to increase the heat and cook for a couple of minutes (optional).

ADD the roasted cashews and give it all a good mix.

GARNISH with chopped scallions and serve in a bowl with cumin cauli rice and an Indian-style salad.
Cumin Cauli Rice
HEAT Ghee or oil in a non-stick pan

ADD cumin seeds and let them bloom.

ADD cauli rice and let it cook for 10 minutes, stirring frequently.

SERVE along with the chicken in a bowl.
Salad
MIX the cucumber, radish, and apples in a salad bowl.

DRESS with orange juice and salt.

SERVE along with the chicken in a bowl.
Priya Anavarathan and Deepshikha Ganjoo
Recipe Creators | Masala Paleo
Masala Paleo is the brainchild of Priya Anavarathan and Deepshikha Ganjoo, also known as Pri and Dee! We met virtually through a health and fitness community on Facebook and now we both are part of the amazing team that leads and runs the group. Spreading the love for fitness and nutrition to women in our community is a passion we feel very strongly about. We both ended up trying the Whole30 in our journey to heal our bodies through food. One suffering from PCOS while the other with an autoimmune disease called Hashimotos, we started being our own advocates and exploring how certain foods were affecting our bodies. The Whole 30 was an eye opening experience for us, and made us realize that eliminating certain foods from our diet helped us heal in ways that actual medicines couldn't. Now we both are strong advocates of this food philosophy. Indian food is our soul food, so we have experimented and learnt how to make our soul food Whole 30 compatible. Through our food freedom, we also focus on gluten free Indian Food. During our Whole30, we realized there were very few resources out there for Whole30 India and Gluten Free food, so we decided to share what we learnt out through a lot of experimentation with you all. With Dee being from the very north of India and Pri being from the very south, we cover Indian recipes from Kashmir to Kanyakumari and everything in between. If you thought Whole30 Indian recipes were limited to just chicken tikka masala, you are in for a treat !