This 5-part freezer cooking series comes from Maria Barton of MariaMakes.com. If you'd like to submit a recipe, helpful tip, testimonial, or Whole30 article for consideration, email it to [email protected].
Welcome back to our Whole30 freezer cooking series, where I've been sharing original recipes and also showing you how to adapt recipes from the New York Times best selling book, The Whole30, for freezer cooking.
This week, we're tackling lunches to go. As part of my Sunday meal prep, I always prepare five lunches to take to work with me for the week. Today, I'll be sharing one of my favorite soup recipes, and showing you how to make freezer-friendly meatballs from The Whole30.
[Tweet "#Whole30 lunch-to-go freezer meals from Maria Barton, part 4 of our 5-part 'Freezer Cooking' series."]
Zucchini Spinach Soup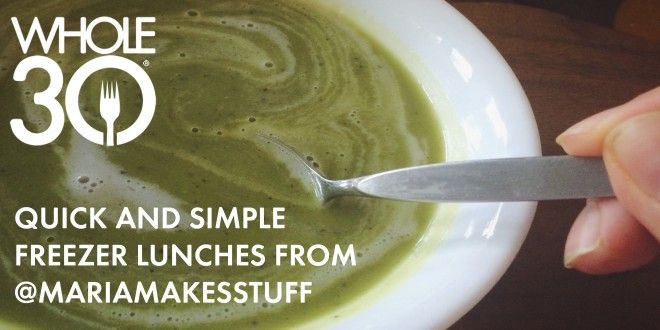 This Zucchini Spinach Soup is perfect for using up those end-of-season zucchini. It is light and fresh tasting, is packed full of veggies, and can easily be made vegan by subbing vegetable broth for the chicken broth. Enjoy it as a light lunch along with the meatball recipe from The Whole30, or make it more substantial by adding some shredded chicken.
Ingredients:
½ cup ghee
2 cups onions, chopped
6 cups baby spinach
10 cups chopped, unpeeled zucchini
2 32oz boxes organic chicken broth
1 can coconut milk
Dash of nutmeg
Salt and pepper
Instructions:
HEAT a large soup pot over medium-high heat.
ADD ghee to pot and saute onions and spinach until onions are translucent and spinach is wilted. Add chopped zucchini to the pot and stir to combine. Season with salt and pepper.
POUR in chicken broth, enough to cover the zucchini (you will probably not use both full boxes).
INCREASE heat to high and bring ingredients to a boil. Cook for 10-15 minutes or until zucchini is very soft.
BLEND using an immersion blender, or transfer in batches to a normal blender and blend until smooth. As you blend, add more chicken broth as needed until you reach desired consistency.
REMOVE from heat and stir in 1 can of full fat coconut milk. Sprinkle in a dash of nutmeg, and taste for seasoning. Add more nutmeg, salt, and pepper if desired.
Note: I don't use coconut milk very often, so I like to add it to the soup before freezing, using the full can at once. If you use coconut milk often and usually have it on hand, you can add it to the soup just before serving to avoid the risk of separation when freezing and reheating.
Freezing Instructions:
DIVIDE soup between freezer-safe plastic containers. I like to use a 2-cup size for each serving.
ALLOW to cool completely in refrigerator before moving to freezer for storage.
THAW in refrigerator overnight.
HEAT in microwave or on the stove top, and serve!
Whole30 Meatballs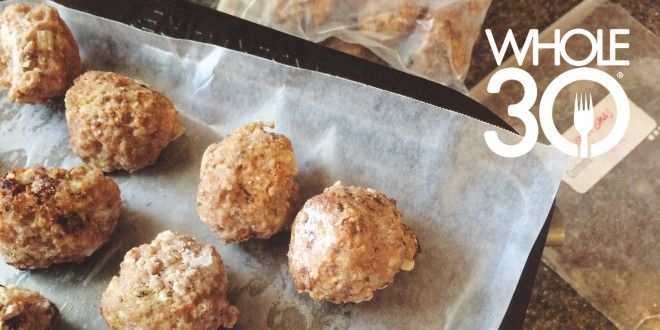 Now, for today's recipe straight from the pages of The Whole30! I started with the recipe for Chicken Meatballs on page 226, but I ended up using ground turkey that I bought in bulk for my freezer-cooking day. This is my favorite "blank canvas" meatball recipe by far. You can enjoy them plain along with my Zucchini Spinach Soup recipe (above) as a quick lunch-to-go, or you can pair them with your favorite sauce (like the Tomato Sauce from page 324 or Pesto on page 315). Now, let's make this recipe freezer-friendly!
Ingredients/Instructions:
REFERENCE pg 226 of The Whole30 for full ingredient list.
Note: I doubled the recipe to end up with 36 meatballs (which I froze in 3 separate packs).
LABEL three quart-sized zip-top bags with the date.
FOLLOW instructions as listed in the recipe, adjusting seasonings if you wish. I used Italian seasoning in place of the dried oregano, and I did end up adding ½ cup of almond meal as suggested.
SCOOP out meatballs using a large cookie dough scooper and cook as directed in a pan, then finishing in the oven.
TAKE meatballs out of the oven, allow to cool, and then transfer them onto a fresh wax-paper lined cookie sheet. Place cookie sheet in the refrigerator until meatballs are completely cooled.
Freezing Instructions:
MOVE cookie sheet to freezer and once meatballs are frozen solid, split them into 3 quart-sized zip-top bags (12 meatballs each).
REMOVE as much air as possible, and lay flat to freeze.
To Serve:
THAW meatballs overnight.
REHEAT in the microwave or in a saucepan with sauce of your choice.
Keep an eye out for the next (and final) post in the series, Multi-Purpose Proteins!
Article photos courtesy of Maria Barton.

---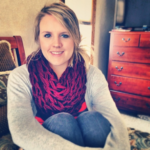 Maria Barton is a fledgling blogger, Whole30-er, home chef, DIY-er, gardener, wife, dog mom, soon-to-be former "fat kid for life." You can find more delicious recipes at http://mariamakes.com and connect with her at @mariamakesstuff on Instagram.
Shanna
Chief Content Officer
Shanna Keller, our Chief Content Officer, hails from Boise, Idaho, where she lives with her husband Alan and a poorly-behaved terrier named Olly. She has spent her career telling stories of life transformation on social, web, e-mail and print media platforms. In addition to celebrating Whole30 successes and stories online, Shanna loves to cook, read, and climb.