From Whole30 Headmistress Melissa Urban: Welcome to the TENTH ANNUAL January Whole30! That's right, 2019 marks a decade of helping you change your health, habits, and relationship with food. Today, I hope you're ringing in the new year with friends and family… but you've still gotta eat.
We're sharing a sneak-peek recipe from the new Whole30 Slow Cooker here; just prep, set, and go about your day, because ain't nobody got time for slaving in the kitchen on New Year's Day. Or, add these Taco Turkey Stuffed Peppers to your #JanuaryWhole30 meal plan this week. It's a great one-dish meal, and we've include slow cooker AND Instant Pot instructions, so you can use that new gadget you got over the holidays. XO
Taco Turkey Stuffed Peppers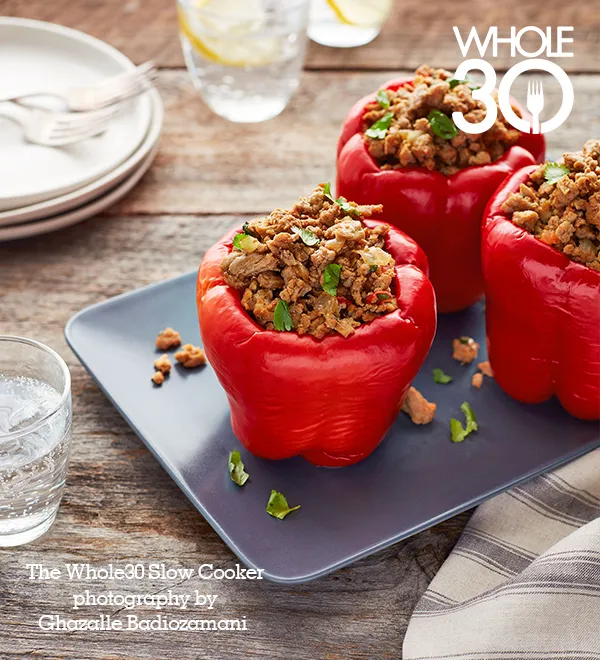 SERVES 4 | PREP: 15 minutes | SLOW COOK: 2 1/2 hours | TOTAL: 2 hours, 45 minutes
Ingredients
1 tablespoon extra-virgin olive oil
11⁄2 pounds ground turkey
1⁄2 cup chopped onion
3 cloves garlic, minced
1 tablespoon Whole30-compatible taco seasoning (see Tip)
3⁄4 cup Whole30-compatible salsa
4 medium red or yellow bell peppers
Chopped fresh cilantro
Note: Mix up the colors of the bell peppers you use for the prettiest finished dish.
Instructions
IN a large skillet, heat the oil over medium-high heat. Add the turkey, onion, garlic, and taco seasoning and cook, stirring with a wooden spoon to break up the meat, until browned. Stir in the salsa.
PLACE a small rack in a 5-to 6-quart slow cooker. Add 1⁄4 cup water to the slow cooker. Cut a thin slice from the top of each pepper to remove the stem. Use a small, sharp knife to cut out the seeds and membranes, keeping the peppers intact. Set the peppers, cut sides up, on the rack in the cooker. Spoon the turkey mixture into the peppers. Cover and cook on low for 21⁄2 to 3 hours, until the peppers are tender.
CAREFULLY transfer the peppers to a serving platter. Discard the cooking liquid. Serve, topped with cilantro. TIP If you can't find a Whole30-compatible taco seasoning, it's easy to make your own: In a container with anairtight lid, combine 2 tablespoons chili powder, 21⁄2 teaspoons ground cumin, 11⁄2 teaspoons sea salt, 11⁄2 teaspoons ground black pepper, 1 teaspoon each garlic and onion powder, 1 teaspoon paprika, 1⁄2 teaspoon crushed red pepper flakes, and 1⁄2 teaspoon dried oregano. Store in a cool, dark place for up to 6 months. Stir or shake well before using.
INSTANT POT VARIATION Follow the directions in the first two steps using a 6-quart Instant Pot. Select Sauté and adjust to Normal/Medium to cook the turkey. After stuffing the peppers, add 1⁄4 cup water and a trivet to the pot. Place the peppers on the trivet. Lock the lid in place. Select Manual and cook at high pressure for 5 minutes. Use quick release. Follow the remaining directions.
The Whole30 Slow Cooker
All-New Recipes for Your Slow Cooker and Instant Pot
Designed to get you out of the kitchen fast, so you can enjoy all the benefits of your Whole30
Co-creator Melissa Urban is making it even easier to achieve Whole30 success, with delicious slow cooker and Instant Pot recipes that turn ingredients into delicious, hearty meals while you're out and about. You'll find delicious no-fuss dinners that cook while you work; roasts that transform into tacos, salads, and soups for easy meals throughout the week; and satisfying one-pot dishes that make prep and clean-up a breeze.
Details
Excerpted from The Whole30 Slow Cooker. Copyright © 2018 by Melissa Urban. Used by permission of Houghton Mifflin Harcourt. All rights reserved. Photography by Ghazalle Badiozamani. Whole30 is the legally registered trademark of Thirty & Co. LLC.
Melissa Urban
Co-Founder / CEO
Melissa Urban is a 7x New York Times bestselling author (including the #1 bestselling The Whole30) who specializes in helping people establish healthy boundaries and successfully navigate habit change. She has been featured by the New York Times, People, the Wall Street Journal, Forbes, The Today Show, and Good Morning America, and is a prominent keynote speaker on boundaries, building community, health trends, and entrepreneurship. She lives in Salt Lake City, UT with her husband, son, and a poodle named Henry.