Our @whole30recipes Instagram feed brings you delicious, Whole30 compatible recipes all day, every day. And, in our series, The Best of @Whole30Recipes, we bring our favorites to the blog.
Trust us on this one: you cannot just "wing it" when it comes to lunches on your Whole30. When the lunch hour rolls around you don't want to be caught unprepared, desperately trying to cobble together a compatible meal at the soup-salad-sandwich spot down the block from your office. The key is to make a regular habit of packing delicious Whole30 options that you can easily grab from the fridge as you zoom out the door in the morning. This will keep you happy, satisfied, and on track for a successful Whole30.
Good lunch-packing skills initially take some practice, especially if you're used to buying lunch at a restaurant or office cafeteria. Our suggestion is to batch cook and portion out several days worth of lunches during one big meal-prep session, and then supplement those meals with a piece of fruit, some fresh cut veggies, and a tasty Whole30-compatible beverage for variety each day.
In this post we've compiled some of our favorite lunch ideas, ranging from simple salads to one-pot meals that can easily be prepared in batches, portioned out, and packed up for the week.
[Tweet "Creative, flavorful, packable lunch ideas for your #Whole30. #Whole30Recipes"]
Paleo Lemon Tahini Tuna Salad from @stupideasypaleo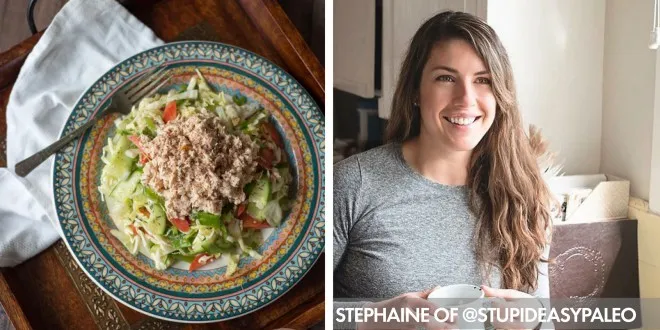 Whole30 says: Chop and combine your desired salad greens and veggies, and portion them out into individual containers. Make a batch of the dressing and portion it out into portable dressing containers (like this one). Each morning grab a container of greens, a container of dressing and a can of tuna and you're good to go!
Ingredients
The quantities in this recipe make one serving; increase ingredients as needed
3 to 4 cups chopped mixed veggies or salad greens
1 Tbsp tahini
Juice of 1 lemon
¼ tsp garlic powder
1 can tuna or salmon packed in water
Sea salt and black pepper, to taste
Instructions
ARRANGE the veggies on a plate.
MIX the tahini, lemon juice, and garlic powder in a medium bowl.
WHISK until well combined. The dressing will be on the thicker side. If it's really too thick, like a paste, whisk in a bit of water, 1 teaspoon at a time, until it thins a bit.
ADD the tuna to the dressing and mix gently until it's well coated. If needed, add sea salt and pepper to taste.
SPOON the tuna on top of the veggies.
ENJOY chilled!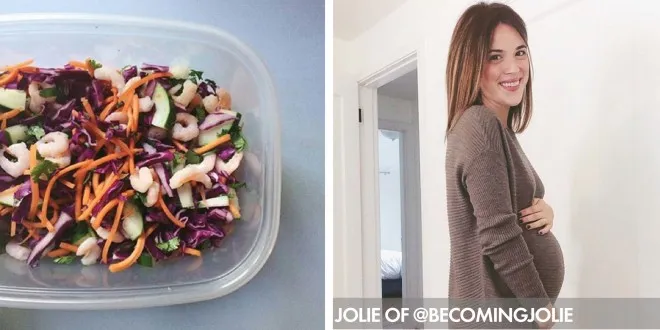 Whole30 says: Combine veggies and protein and portion out into individual containers. Make a large batch of dressing and portion out into portable dressing containers. Combine one of each when you're read for lunch.
Ingredients
1 cup shredded red cabbage
1 cup shredded carrots
½ cucumber diced
Handful of fresh cilantro chopped
Juice of 1 lime
1-3 tsp red curry paste (to your liking) (check labels! I use Thai Curry Kitchen)
Salt and pepper to taste
Meat of choice (I like to use shrimp, but chicken or strips of steak would be delicious)
Instructions
COMBINE all veggies.
WHISK together lime juice, red curry paste, and salt and pepper.
POUR over other ingredients and toss.
SERVE cold and enjoy.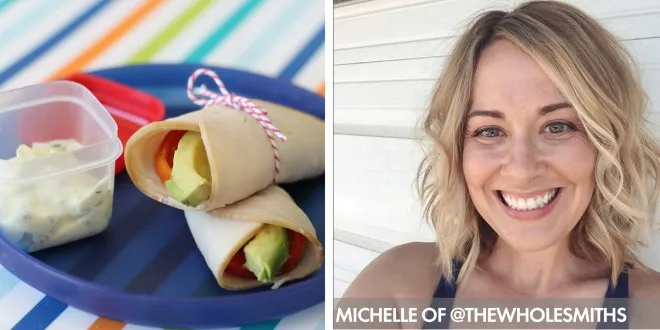 Whole30 says: Compatible deli meat can be difficult but not impossible, to find. This thread in our Whole30 forum has good information on sourcing deli meat; your local Whole Foods Market also usually carries compatible turkey and roast beef to slice on the spot in the deli.
Ingredients
Compatible deli meat of choice (check labels!)
Avocado slices
Veggies of choice: tomato, cucumber, peppers, carrot shreds, sprouts, pickles, etc. These can be varied based on what you have on hand
Compatible ranch or other compatible dressing to dip into (We love Whole30 Approved Tessemae's dressings, or see page 302 in The Whole30 for an entire chapter of Whole30 dip, dressing, and sauces recipes)
Instructions
LAY the sliced turkey out flat and add the ingredients to the center.
ROLL the turkey up and tie with a piece of twine or string.
DIP into Ranch or dressing of choice.
Chicken Club Sweet Potato Sandwich from @dollyessfit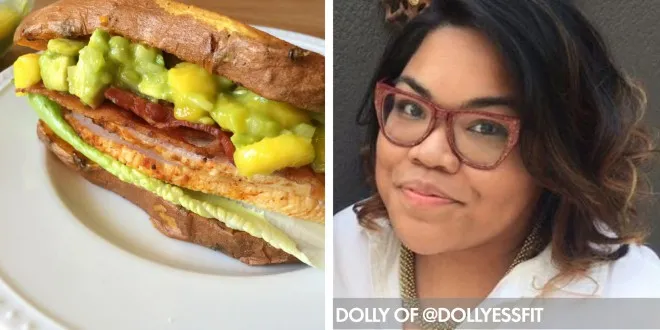 Whole30 says: Pack up a some fresh, crunchy veggies with this "sandwich," and you've got a fantastic Whole30 meal. Looking for even more Whole30 sandwich ideas? Check out this post.
Ingredients
3-4 slices of roasted chicken
1 large sweet potato, thinly sliced length wise
Guacamole (mix with some diced mango for a unique flavor!)
Bacon (make sure it's Whole30 compatible; I use Pederson's Natural Farms)
Lettuce
Tomato
Salt and pepper
Instructions
PREHEAT oven to 400°F. Season sweet potatoes and place on a lightly greased baking sheet. Bake for about 10-12 minutes on each side or until golden brown and crispy.
ASSEMBLE your stack, layering all ingredients between two slices of roasted sweet potatoe.
Bison Sweet Potato Chili from @meg_mcgrane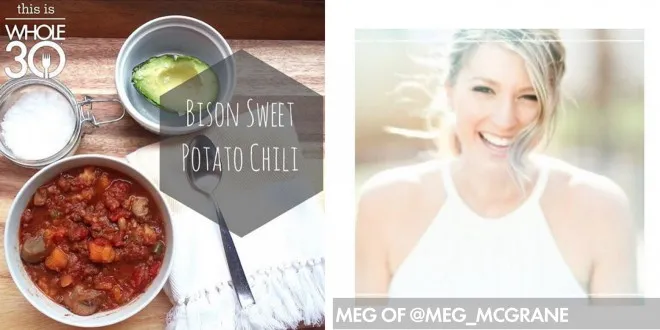 Whole30 says: A yummy, hearty chili or stew might be a perfect Whole30 lunch option for you. It's a nourishing, satiating one-pot recipe that combines your protein and veggies in one delicious dish. Add some healthy fat by tossing diced avocado on top.
Ingredients
2 lbs ground bison
1 sweet onion, diced
2 medium sweet potatoes, diced
1 green bell pepper, chopped
1 red bell pepper, chopped
1/2 cup carrots, chopped
2, 12 oz containers of mushrooms, sliced
1 small can diced, no-salt-added organic tomatoes
1 large can crushed San Marzano tomatoes
2 cloves garlic, minced
2 tbs olive oil
1 cup water or (compatible) beef broth
1 tsp sea salt
1 tsp ground black pepper
1 tsp crushed red pepper flakes
1/2 tsp cumin
1/2 tsp smoked paprika
1/2 tsp thyme
Instructions
PREHEAT oven to 375 F.
PLACE sweet potato and carrot on baking sheet and drizzle with olive oil.
ROAST for 20-30 minutes until pieces are soft. While veggies are roasting, sauté onion, garlic, and bell peppers until onion is translucent in a large stock pot or dutch oven.
ADD bison to the pot, crumbling it so it breaks up, then add the dry seasonings and sauté until bison is cooked through and no longer pink.
ADD the tomatoes, mushrooms, and water/broth to the pot and bring to a simmer. As soon as the roasting vegetables are soft, remove from the oven and add to the simmering chili.
COVER and continue to simmer for 1 hour, stirring occasionally.
SERVE with guacamole or sliced avocado.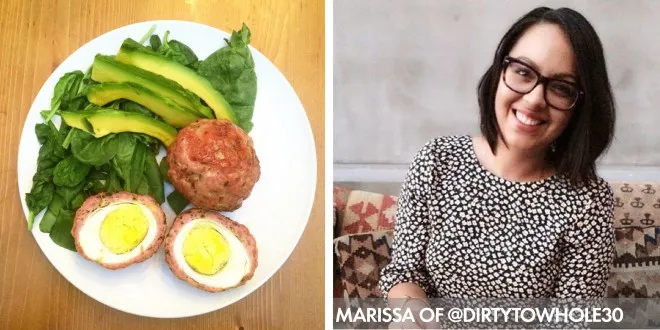 Whole30 says: Fair warning … a batch of these Scotch eggs served alongside your favorite veggies might cause your coworkers to feel intense jealousy.
Ingredients
1lb ground pork (or any meat you like)
1/2 tsp black pepper
1 tsp dried parsley
3/4 tsp dried Italian seasoning or Herbes de Provence (see previous post for recipe)
1/2 tsp garlic powder
red chili flakes (as much as you can handle!)
1/2 tsp paprika
1/2 tsp dried onion
1 tsp salt
Instructions
SEASON and mix the pork all seasonings.
REMOVE shells from 5-6 Hard boiled eggs. Break apart the sausage and mold into flat patties and begin to surround each egg until fully covered.
BAKE in a preheated 350 degree oven for 15-25 minutes or until fully cooked.
ENJOY hot or cold by themselves or over a tossed salad.
Meat and Spinach "Muffins" from @meljoulwan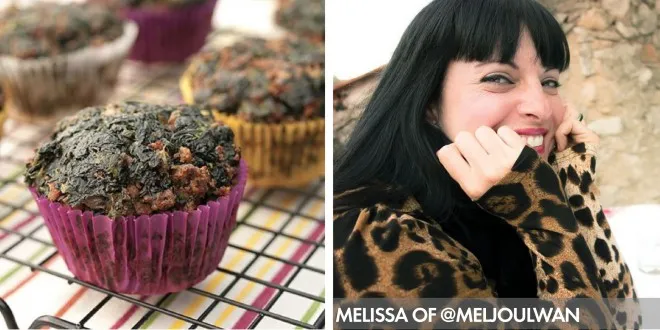 Whole30 says: These spinach-and-meat morsels are as close as you'll get to a "muffin" during your Whole30. They're actually mini-meatloaf cups that benefit from the portability provided by a muffin wrapper. We think they're great alongside a serving of roasted veggies.
Ingredients
3 (16-ounce) bags frozen chopped spinach, defrosted
1/2 tbs coconut oil
1/2 medium onion, diced
1 1/2 pounds ground beef
2 cloves garlic, minced
1/2 tsp salt
1/4 tsp ground black pepper
1/2 tsp ground cayenne pepper
3 large eggs
Instructions
PREHEAT the oven to 375 F.
SQUEEZE the excess water from the defrosted spinach. This is crucial! Place all the spinach in a colander or wire sieve and press out the water, then squeeze individual handfuls of spinach to wring out the remaining liquid. You should have about 4 cups of spinach when you're finished with squeezing.
HEAT a large skillet over medium-high heat, about 3 minutes. Add coconut oil and allow it to melt. Toss the onion in the pan & sauté until it's crisp-tender & translucent, about 5 minutes.
CRUMBLE the meat into the pan. Add the garlic, salt, black pepper, and cayenne and cook until the meat is browned. Stir in the spinach. Set aside to cool for about 15 minutes.
WHISK the eggs in a small bowl. When the meat is cool, add them to the meat; blend well.
PLACE muffin papers in a 12-count muffin pan. Pack the batter into a 1/2-cup measuring cup, then transfer it to the muffin pan, using your hands to pack the spinach tightly into the muffin paper. It should be slightly mounded on top.
BAKE for 40 minutes until lightly browned. Remove the muffins from the pan, cool, and store covered in the fridge for up to 6 days.
[Tweet "Looking for fresh #Whole30 office lunch ideas? We're here to help! #Whole30Recipes"]
Some links in this post are affiliate links, meaning Whole30 makes a small commission on items purchased via these links. Thank you for supporting our Whole30 Approved partners.
Save
Jen Kendall
Whole30 Approved Program Manager
Jen Kendall, our Whole30 Approved Program Manager, is a born and raised Floridian who now lives in Utah with her husband Quinn and their two-year-old boy Easton. She graduated the University of Florida in 2010 from the College of Journalism and Communications and has a strong interest in nutrition, health and exercise. Jen has an insatiable appetite for travel and adventure and also loves books, spending time in the kitchen cooking and experimenting with recipes, Crossfit, and enjoying as many days as possible in the outdoors year-round.