This is the first post in our Taco Tuesday recipe series. Maria Barton of Maria Makes shares some of her favorite taco-fied recipes to spice up your Tuesday.
YES … we know it's a Thursday, but we've heard there are quite a few people doing a Whole30 for Lent. What better way to kick off our #Whole30DoesTT series than with a fish recipe!? After all, Whole30 tacos are perfect for any day of the week.
Mexican-inspired flavor combos translate flawlessly to Whole30 compatible dishes, without skimping on any of the seasonings, flavors and ingredients you love. Check back for more entries in this series throughout the rest of this winter, and show us how you Taco Tuesday by using the hashtag #Whole30DoesTT.
[Tweet "First up in our taco series … Cilantro Lime Cod Tacos, perfect for your Lenten #Whole30"]
This Cilantro Lime Cod Taco recipe is a light and fresh dish featuring a whole fillet of cod that you bake and flake apart for your "tacos." Instead of classic shells, I went with sweet potato "tostadas" (i.e. thinly sliced sweet potatoes, baked, and topped with all the taco fixins). It's all topped off with a flavorful Baja Sauce (think cilantro-jalapeno-lime tartar sauce)!
There are lots of components and steps in this recipe, but don't let that intimidate you! All of the steps are super simple and the end result is so worth it. – Maria
Cilantro Lime Cod Tacos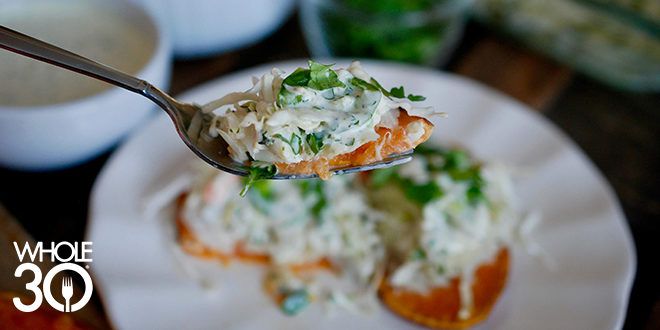 1 | Make the Sweet Potato Tostadas
Ingredients
2 large sweet potatoes (the fatter, the better)
Olive oil
Salt
Instructions
PREHEAT oven to 450 degrees.
SLICE sweet potatoes into rounds or slabs, between ¼" and ½" thick. The easiest way to do this is to cut off the ends, then slice off a thin piece from the side so you have a nice steady surface. Put that flat part against the cutting board and cut the potatoes into thin slices (either into rounds, or long-ways into slabs).
ARRANGE sweet potato slices on a parchment-lined baking sheet, then spray or brush very lightly with olive oil and sprinkle lightly with salt.
BAKE for 20-25 minutes, until the sweet potatoes are fork tender, flipping halfway through.
TIP: The sweet potatoes and cod bake at the same temperature so you can bake them both at the same time! Start the sweet potatoes first since they will likely take a bit longer to cook.
2 | Make the Cod Marinade and Sauce Base
Ingredients
¼ cup very finely chopped cilantro
Zest and juice of one lime
2 tsp olive oil
1 jalapeño, very finely chopped (leave seeds/rib in for a little heat)
1-2 cloves garlic, finely minced
½ tsp cumin
¼ tsp salt
Instructions
COMBINE all ingredients in a small bowl. It should look like a rustic chimichurri sauce.
SPLIT this seasoning sauce in half; one half to be used on the cod, one half to be used in the Baja Sauce.
3 | Prepare the Cilantro Lime Cod
Ingredients
2 lbs wild caught cod fillet
1/2 recipe of above marinade
Instructions
PRE-HEAT oven to 450 degrees. Arrange cod fillet in a 9×13 oven-safe baking dish. Spoon marinade mixture over cod, spreading it evenly to cover the whole fillet.
BAKE for 10-15 minutes or until fish is opaque in the center and flakes easily with a fork.
4 | Make the Baja Sauce
Ingredients
1/2 cup homemade Whole30 mayonnaise (pg XX of Whole30 book)
1/2 sauce base from above
2 tsp of your favorite compatible green hot sauce (I like Yai's Thai Ginger Garlic), optional
Instructions
COMBINE ingredients in a small bowl until sauce is well mixed and creamy. Refrigerate while you prep the rest of the meal to let the flavors come together.
5 | Assemble the Tacos (FINALLY!)
Ingredients
Cilantro-lime cod
Baja Sauce
1 14oz bag shredded coleslaw mix
2 jalapeños, thinly sliced
Fresh cilantro, for garnish
Instructions
LAY sweet potato tostadas on a plate. Flake the cod apart with a fork and place on top of the sweet potato tostada. Top with some of the slaw mix. Drizzle with Baja Sauce. Garnish with jalapeño slices and fresh cilantro.
ENJOY!
---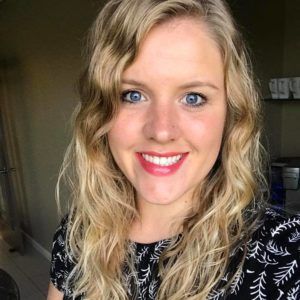 Maria Barton is a home chef, blogger, DIY-er, gardener, wife, and dog mom who is working on finding balance in her life after Whole30. You can find more delicious recipes at MariaMakes.com and connect with her at @mariamakesstuff on Instagram or on Facebook.
Melissa Urban
Co-Founder / CEO
Melissa Urban is a 7x New York Times bestselling author (including the #1 bestselling The Whole30) who specializes in helping people establish healthy boundaries and successfully navigate habit change. She has been featured by the New York Times, People, the Wall Street Journal, Forbes, The Today Show, and Good Morning America, and is a prominent keynote speaker on boundaries, building community, health trends, and entrepreneurship. She lives in Salt Lake City, UT with her husband, son, and a poodle named Henry.