Our @whole30recipes Instagram feed brings you delicious, Whole30 compatible recipes all day, every day. And, in our series, The Best of @Whole30Recipes, we bring our favorites to the blog.
If you and your sweetie intend to stay Whole30-compatible on Sunday, you won't be enjoying the Valentine's Day mainstays of chocolate, wine, or candy hearts. But don't worry, we actually got you a Valentine's Day gift this year: a batch of Whole30-compatible recipes that combine to make a romantic and tasty menu. (You're welcome! We love you too.) These dishes are just a little fancier than usual; start with an appetizer (soup or salad), choose one main dish (steak or shrimp), then add on your veggie side (carrots, sweet potato, asparagus, or a combination). Serve with a fizzy zero-proof refresher and your meal is complete.
We wholeheartedly believe you can enjoy a great meal with your Valentine without compromising your Whole30 program. The bonus? These recipes won't bring your Sugar Dragon roaring back to life or leave you feeling foggy the next morning.
[Tweet "Get romantic with the #Whole30. Valentine's Day-worthy recipes on the blog today. #Whole30Recipes"]
Create a Memorable Meal
With a little thought and planning, you can enjoy a delicious Whole30-compatible Valentine's Day meal.
Step 1: Prep your ingredients. Plan ahead so that you and your sweetie can enjoy a relaxed evening together. Once you decide on your menu, create a strategy for how you want to tackle the cooking. Consider chopping veggies and making the soup, salad, dressing, or sauce the day before. (Bonus: our Date Night fancypants meal on page 362 of The Whole30 walks you through your entire prep schedule hour-by-hour!)
Step 2: Add some special touches
Create a meal worth remembering: use the special tableware, pour a delicious refresher, shuffle a sexy playlist, and light candles to set the mood. Don't forget the fresh flowers!
Step 3: Cook together!
Bring your Valentine in on the action and finish preparing the meal together. Use this time to learn more about each other, share a funny story from your week, or fantasize about where you wish you were having this delicious meal (a yacht off the coast of Catalina, or at a streetside table in a bustling Paris arrondissement). Keep the lights dim, the mood light, and don't be afraid to lick a little sauce off your date's spoon.
Baked Blackberry Prosciutto Cups from @my_whole_kitchen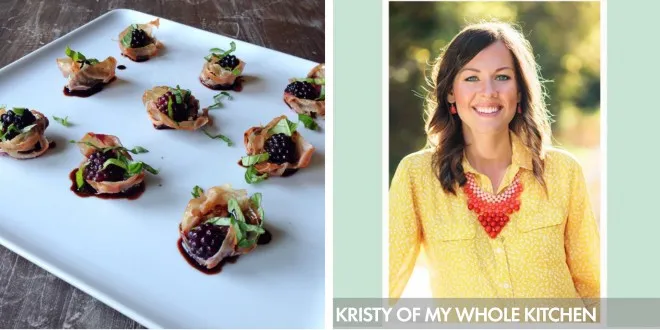 Ingredients
1 pkg. prosciutto (no sugar or nitrates added)
1 package blackberries (or other in-season fruit!)
1/2 C. basil, freshly chopped
Balsamic Reduction
1 1/2 cups balsamic vinegar
2 tbsp olive oil
In a small sauce pan, bring vinegar to a gentle boil. Allow it to reduce to 1/2 cup. Keep an eye on it; it can burn if it reduces too quickly. When reduced to a sufficient amount, pour it into a small bowl and add olive oil. Stir to combine.
Instructions
PREPARE the balsamic reduction ahead of time.
PREHEAT oven to 400 degrees.
LINE the cups of a mini muffin pan with oil, then line with pieces of prosciutto.
PLACE a blackberry in each cup and bake for 10 minutes. Remove from oven and let cool for about 5 minutes.
REMOVE from cups and drizzle with balsamic reduction and top with fresh basil. Easy & delicious!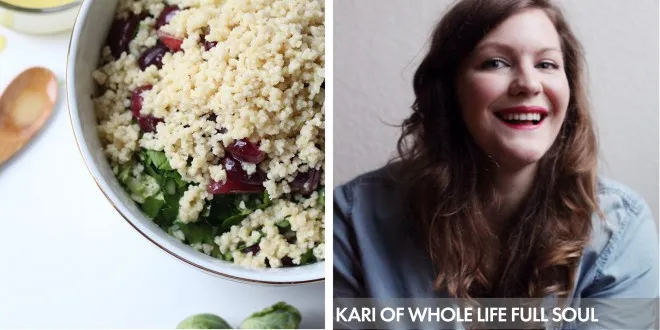 Ingredients
4 cups shaved/shredded Brussels sprouts
1 cup raw unsalted macadamia nuts
1 cup chopped Italian parsley
1/2 cup red grapes (halved)
1/2 cup olive oil
1 tablespoon apple cider vinegar
1/2 teaspoon garlic powder
1/4 teaspoon real salt
Instructions
WASH and chop the ends of the Brussels sprouts. Add them whole to a food processor or blender and roughly shred them until into shaven pieces. Place in a bowl.
CHOP the parsley and cut the grapes in half adding both into the bowl. Add the macadamia nuts into the food processor or blender. Pulverize until they become tiny crumbs. Then add salt and pulse again until finely ground and add them to the salad.
BLEND the olive oil, garlic powder, and apple cider vinegar together for the dressing in either a regular blender or immersion blender. Pour over the salad and mix together.
SERVE with a garnish of more macadamia nuts and parsley.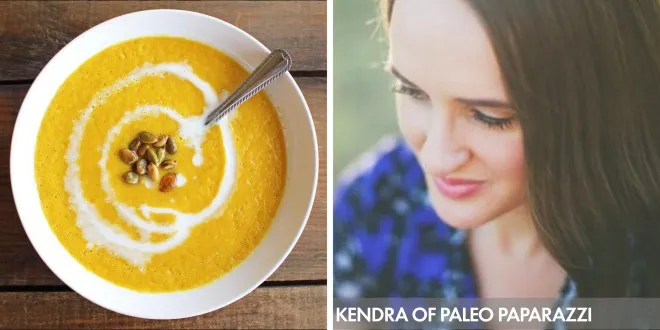 Ingredients
1 large butternut squash
2-3 stalks of celery
1 large handful of baby carrots
5 to 6 cloves of garlic, minced
1 onion
1/2 tsp Cinnamon
1/2 tsp Nutmeg
Dash of cayenne pepper or more if you like spicy (optional)
5 cups of chicken broth (bone broth)
1 tsp garlic powder
Salt and pepper to taste
Olive oil to cook veggies
Instructions
PREHEAT oven to 350 degrees
FILL a frying pan with enough olive oil to coat, add chopped onion celery carrots and minced garlic and cook until fragrant, set aside.
WHILE other veggies cooking, put a damp cloth under cutting board to stabilize while you cut squash in half. (Be very very careful when doing this) scoop out seeds. Pierce squash all over outside with a fork. Brush squash with oil.
COOK cut side down for 40-45 mins. Pull out of oven and let squash cool a bit.
SCOOP out squash with a spoon and set aside.
ADD 4 cups of the broth to a large pot along with the spices. Bring vegetables you cooked earlier to a boil on medium high heat. Turn down heat to a simmer.
ONCE veggies become soft enough, turn off heat & add the remaining cup of cold broth. When soup has cooled off a bit add to a blender/food processor and purée. Garnish with roasted pumpkin seeds, coconut milk and a dash of nutmeg. So tasty!
Tender Asian Marinated Flank Steak from @stupideasypaleo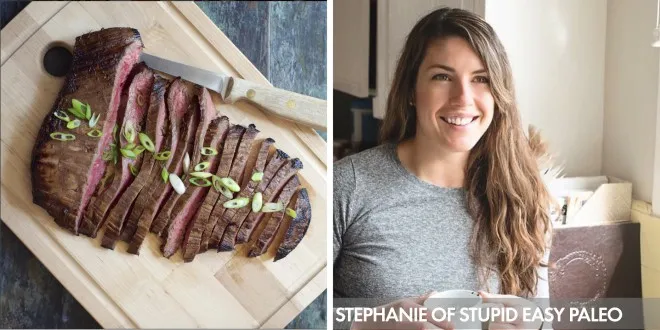 Plan ahead for this one – marinating for 2-24 hours will yield the finest steak
Ingredients
1 lb flank steak
2 garlic cloves, peeled and smashed
1" piece ginger, peeled and sliced into thin coins
3 green onions, white and light green parts, roughly chopped
¼ cup coconut aminos
2 tbsp lime juice
2 tsp dark sesame oil
1 tsp fish sauce (Red Boat is Whole30 Approved)
1 tbsp coconut oil
Instructions
COMBINE all the ingredients except for the coconut oil in a plastic zip-top bag or a medium bowl.
COVER and refrigerate for at least 2 hours. Longer is definitely better, up to 24 hours. Remove the meat and pat it dry. Discard the marinade.
HEAT a skillet to medium-high heat and add the coconut oil. When it shimmers, add the steak, and sear for 3 minutes until a golden brown crust has formed. Flip the steak and sear the other side for 3 minutes. Then turn the heat down to medium-low and cook until it's to your preference, about 4 more minutes for medium.
LET rest on a cutting board for at least 5 minutes before slicing. Cut into thin strips, against the grain (muscle fibers). It'll be really tender that way.
Sea Salt Roasted Chicken & Root Veggies from @human.resources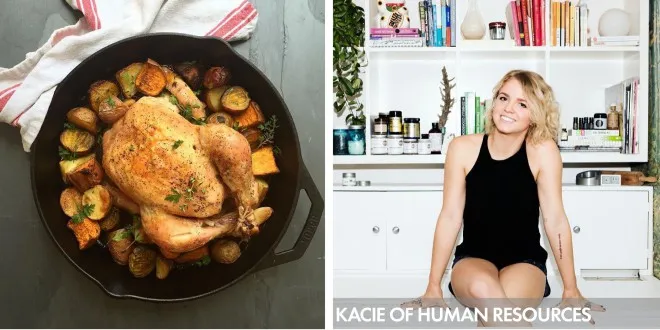 Ingredients
1 whole pastured organic chicken
4 tablespoons melted fat – coconut oil, avocado oil, or animal fat (I used@tinstarfoods brown butter ghee… OMG)
3 tablespoons course sea salt
cracked black pepper
5-6 chopped root veggies (I used sweet potatoes, potatoes and golden beets); washed, dried and chopped into large equal size chunks
optional: 4 garlic cloves, fresh rosemary
twine
Instructions
PREHEAT oven to 425.
DRY chicken with paper towels, and place in a large skillet or pan. Rub with 2 tbsp melted ghee and sprinkle liberally with salt and pepper.
TUCK wings underneath and tie legs with twine.
SLICE root veggies and coat in 2 tbsp of oil, but don't salt! They will get enough from the chicken. Crowd veggies around the bird.
ROAST for 45 minutes, rotating pan once, until bird reaches 160 F and juices run clear.
LET rest 10 minutes and carve. Don't forget to save all your bones in the freezer for bone broth! Enjoy!
Garlic and Basil Shrimp Scampi with Spaghetti Squash from @uprootedcuisine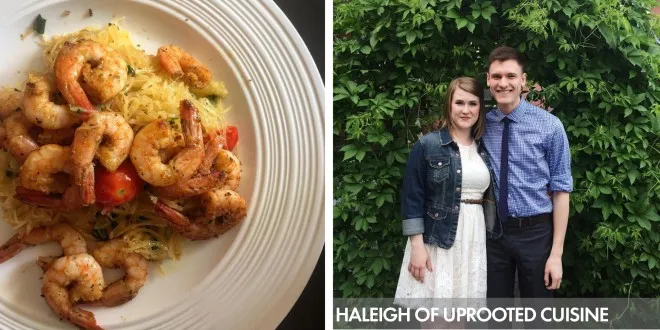 Ingredients
1 spaghetti squash
Ghee
Cherry tomatoes, halved (1/4 to 1/2 cup per person)
Fresh basil, chopped
1-3 garlic cloves, depending on preference
10 large shrimp per person
Salt and pepper to taste
Instructions
PREHEAT oven to 400F
SLICE spaghetti squash in half lengthwise and place in a glass baking dish with one ounce of water.
BAKE for 25-30 minutes until tender, take with a fork to separate pieces.
HEAT approximately 4 tbsp of ghee in a frying pan over medium heat, then add 1-3 cloves of garlic and sauté until fragrant. Add cherry tomatoes and allow them to soften a touch.
IF using pre-cooked shrimp toss them into the pan to warm for a few minutes before serving.
TOSS in basil and allow to cook another minute longer, then season with salt and pepper. Add shredded spaghetti squash to the pan to soak up some of the juices.
PLATE and enjoy!
Roasted Carrot Sticks & Chive Aioli from @wholelifefullsoul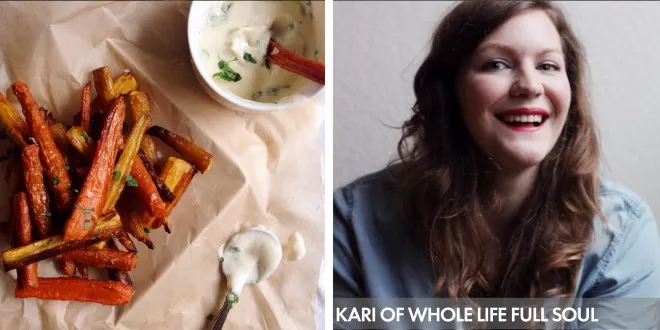 Ingredients
6 carrots (rainbow carrots are Kari's favorite)
1/2 tbsp of ghee or coconut oil
3 pasture raised eggs
1/2 cup olive oil
1/2 juice of lemon
1/2 tsp salt
1 tbsp fresh chopped chives
Instructions
PREHEAT oven to 400 degrees.
WASH and cut carrots into sticks. Coat the carrot sticks in coconut oil or olive oil then place on a baking sheet.
COOK for 30 minutes.
MEANWHILE, crack the eggs into a food processor and blend until smooth. Next, while blending slowly pour in the olive oil until it becomes thick and creamy, then add in the lemon juice and salt. STIR in the chopped chives.
ALTERNATIVELY, you could also use an immersion blender to make the aioli, just place all the ingredients in a jar and blend.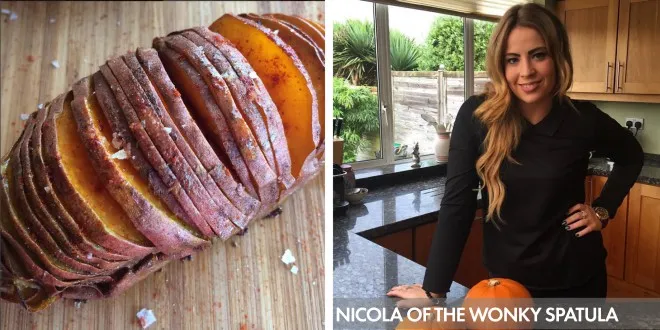 Ingredients
2 sweet potatoes
2 cloves of garlic, crushed
1/2 a red chili, chopped
2 tbsp olive oil
2 tbsp clarified butter or ghee
A sprinkle of smoked paprika
A sprinkle of coarse salt
Instructions
PREHEAT your oven to 200°c/392°F.
SLICE the ends and bottoms off the potatoes so that they lie flat.
WORKING from one end to the other make thin slices 3/4 of the way through the potato a few mm apart from each other.
PLACE the potatoes on a baking tray, mix the garlic, oil and chili together and pat onto the potatoes, ensure that some of the oil is on the bottom to stop them from sticking.
BAKE in the oven for 40-45 minutes until golden and crispy basting 1/2 way through with the ghee.
REMOVE from the oven sprinkle on the salt and smoked paprika and enjoy!
Bacon Wrapped Asparagus from @cookathomemom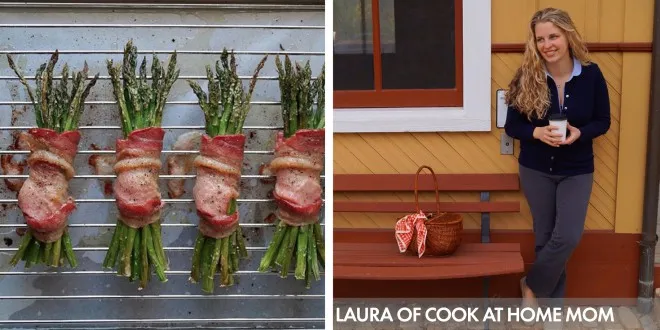 Ingredients
1 lb or 1 large bunch asparagus
4 slices bacon (be sure it's compatible!) or prosciutto
1 tbsp olive oil
1/8 tsp salt
1/8 tsp pepper
Instructions
PREHEAT oven to 400.
WASH and pat dry the asparagus. Separate into four equal sized bunches.
WRAP each with bacon, overlapping the bacon as little as possible. This will prevent undercooked parts of the bacon and allow as much fat to render as possible. Use a toothpick if necessary on the underside of each bunch to help hold the bacon together.
LAY each bunch on a slotted pan or use a cooling rack on top of a cookie sheet (this allows the fat to drip away from the bacon). Drizzle with olive oil.
PLACE in the oven for 8-10 minutes or until the bacon is cooked well and the asparagus is crispy. SPRINKLE with pepper and salt to taste and enjoy!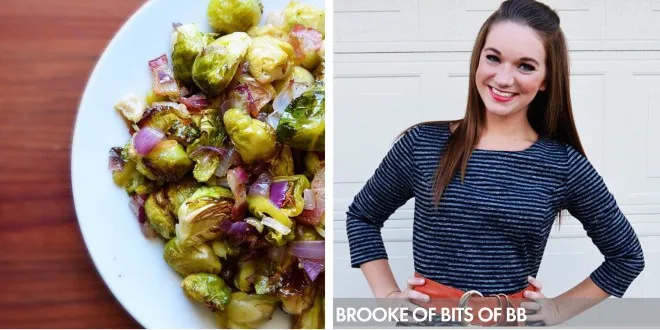 Ingredients
Brussels sprouts (I usually use around two pounds)
Whole30 compatible bacon (between 2-4 strips)
1/2 a red onion
Oil of choice (ghee or clarified butter is my preference for this dish though)
Instructions
PREHEAT oven to 400 degrees.
WASH Brussels sprouts, trim off ends that are too tough to eat and remove any outer leaves that may come off. Cut the brussels sprouts in half and place on a greased cookie sheet.
DICE the onion and add to the cookie sheet. Cut bacon into little quarter inch slices and also add to the cookie sheet.
MELT 2 teaspoons of oil and pour over cookie sheet. Mix the ingredients well to coat everything evenly.
PLACE in oven for 30 to 35 minutes until fork tender. Remove from oven, use as a side dish to your favorite meal and enjoy!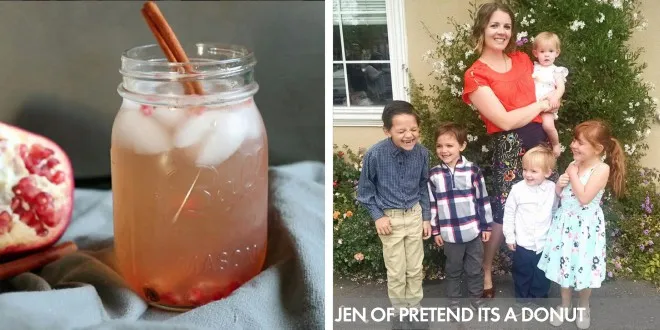 Makes 1 drink, adjust for the number of people you'll be serving
Ingredients
1 cup unfiltered apple cider
1/2 cup pomegranate juice or 1 pomegranate, seeds muddled
1 tsp cinnamon
2 cinnamon sticks
A couple splashes of sparkling water
Instructions
MIX apple cider, ground cinnamon, and pomegranate juice together.
TOP with sparkling water and cinnamon sticks.
ALTERNATIVELY, you can omit sparkling water and turn it into a hot beverage.
[Tweet "Whole30 recipe ideas for a romantic and delicious Valentine's Day at home! #Whole30 #Whole30Recipes"]
For even more Valentine's Day recipe ideas, check out the Fancy Pants "Date Night" meal on page 362 of The Whole30.
Jen Kendall
Whole30 Approved Program Manager
Jen Kendall, our Whole30 Approved Program Manager, is a born and raised Floridian who now lives in Utah with her husband Quinn and their two-year-old boy Easton. She graduated the University of Florida in 2010 from the College of Journalism and Communications and has a strong interest in nutrition, health and exercise. Jen has an insatiable appetite for travel and adventure and also loves books, spending time in the kitchen cooking and experimenting with recipes, Crossfit, and enjoying as many days as possible in the outdoors year-round.