We first made a connection with Ali Maffucci of Inspiralized when she posted a Whole30 Pinterest board dedicated to recipes using spiralized vegetables and fruits. We've been using our spiralizer to make veggie noodles, hash, and "rice" for a few months now, and loved Ali's creativity in combining nutritious ingredients with fun flavors and textures.
Wait, hold on. Never heard of a "spiralizer?" We are about to change your Whole30 life. Here's a great little Q&A with the author of the new book, Inspiralized: Turn Vegetables into Healthy, Creative, Satisfying Meals, so you can get caught up on this hot new kitchen trend and learn how to incorporate more veggies into your Whole30 meals.
What the heck is a spiralizer, and why will it make my Whole30 experience 32% more fun and delicious?
Great place to start! A spiralizer is a revolutionary kitchen tool that turns vegetables into noodles in merely seconds. It enables you to transform your favorite pasta, rice, and noodle dishes into healthier alternatives, using vegetables and fruits in place of grains. Not only is the act of spiralizing fun (for adults and children alike!), it's easy and quick. It's perfect for people who want a big bowl of meaty bolognese without a side of uncomfortable bloat and foggy brain.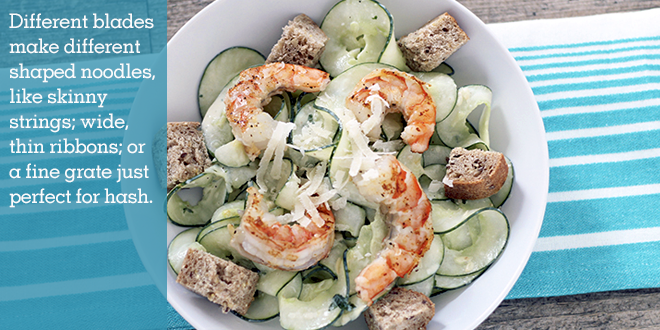 Why did you decide to start specializing your recipes around spiralizing?
Long story short, my mother is a type 1 diabetic and was trying raw veganism to help regulate her blood sugar levels, as suggested by a nutritionist. By chance, she discovered the spiralizer in the process and made me a raw vegan dinner. After one bite, the lightbulb went off and I thought, "This would taste even better with a warm pasta sauce!" I took her spiralizer that evening and the next day, I made a simple tomato basil and shrimp dish for my fiancé. He put his fork down and was just as blown away as I had been—we both couldn't believe that it tasted just like pasta, and that we hadn't known about spiralizing all our lives!
After about two months of experimenting with the spiralizer, I was so excited about it and wanted to build a community around spiralizing to help others eat healthfully using the tool. On June 25, 2013, I walked into my boss's office and quit my job. The next day, I went to a local coffee shop, opened up my laptop, and started blogging with no plan, just a vision and a passion!
What can (or can't) you spiralize?
There are some basic rules, and I've also made a YouTube video on this topic:
The vegetable cannot be hollow, seeded or have a tough core.
The vegetable must be at least 1.5″ in diameter for best experience.
The vegetable should be at least 2″ long for best experience.
The vegetable must have a firm, solid flesh (no squishy, juicy fruits or veggies.)
There is one exception: eggplant. Eggplant abides by the rules, but unfortunately, can't be spiralized, due to its fluffy, seedy interior. Here is a quick list of the most commonly spiralized vegetables and fruits:
Fruits/plants: apples, jicama, pears, plantains
Vegetables: beets, broccoli, butternut squash, cabbage, carrots, celeriac, chayote, cucumbers, daikon radishes, kohlrabi, onions, parsnips, potatoes, rutabaga, summer squash, taro, turnip, zucchini
For information on how to prepare and cook each of the above vegetables and fruits, click here.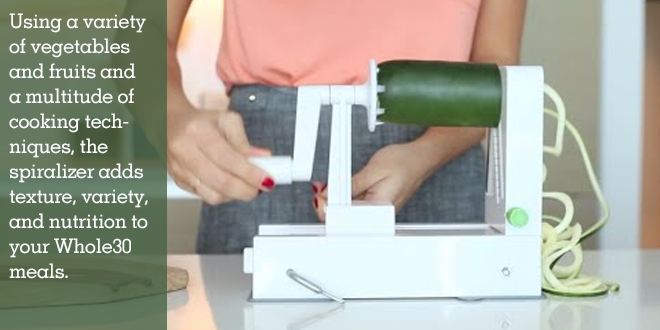 How easy is it to spiralize? Can you help us with some basic prep?
It's so easy! Basically, there are two steps to prepare a vegetable or fruit to be spiralized. First, if it has an inedible skin, peel it off. Then, make sure the ends are sliced off flatly and evenly. By doing this, the spiralizer can best secure to the vegetable or fruit for proper leverage. That's it!
Are there tricks for different shaped veggies, or very hard veggies like potatoes?
Yes, there's one exception: butternut squash. The end, bulbous part of the butternut squash cannot be sprialized, due to its seeded core. Therefore, you must slice it off (flatly and evenly!) and then prepare the long, tubular part of the butternut squash for spiralizing. I like to dice up that seeded bottom and save it for future use in the refrigerator or freezer.
For harder vegetables, just make sure those ends are flat and even and use some elbow grease and pressure when spiralizing! (Note from Melissa Urban: I put my potato in the microwave for 1 minute before spiralizing, to soften it up just enough to make cranking that handle easier.)
How do you cook your spiralized veggies?
It depends on the vegetable. You can enjoy some raw, or you can roast, bake, steam, pan-fry, or boil. One of my favorite ways to prepare zucchini noodles, for example, is to sauté them in a wok as a stir-fry with some shrimp, bok choy, garlic, sesame oil, and ginger. For more information on how to cook spiralized vegetables and fruits, click here.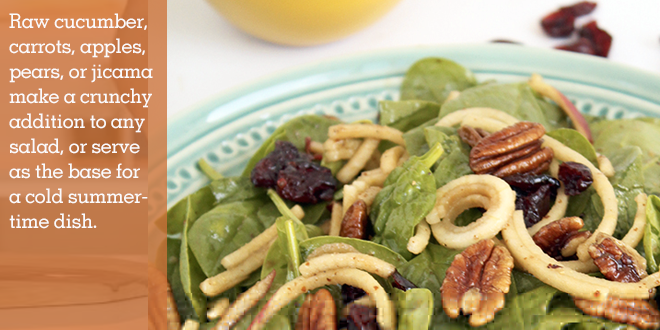 What other things can you make with a spiralizer besides noodles?
What's incredible about spiralizing is that it revolutionizes the way you view vegetables and fruits. Aside from noodles, they can be turned into rice; tossed in salads; baked into casseroles, fries and chips; or simmered in soups. For more information, click here.
Which tools do you like the best for spiralizing?
Well, funny you ask! For the past year, I've been developing my own spiralizer, aptly called The Inspiralizer! It will be available for pre-order starting March 1, 2015. Lately, I've been secretly using the Inspiralizer and cannot wait to finally make it available for everyone. Check it out:
Where can people find your Whole30-compatible recipes to road-test their new spiralizer?
You can find Whole 30 recipes here on my Pinterest board. Recipes in my new cookbook, Inspiralized, will be 30% Whole30-friendly. However, most of the recipes can easily be made Whole30 compatible with just a few tweaks, like omitting a cheese garnish. (You won't find any sugars in the book, which makes it easier.)
---

Ali Maffucci is the bloggess behind the popular website Inspiralized, the author of the new cookbook Inspiralized: Turn Vegetables into Healthy, Creative, Satisfying Meals, and the creator of the new Inspiralizer, available for pre-order starting on March 5th.
Melissa Urban
Co-Founder / CEO
Melissa Urban is a 7x New York Times bestselling author (including the #1 bestselling The Whole30) who specializes in helping people establish healthy boundaries and successfully navigate habit change. She has been featured by the New York Times, People, the Wall Street Journal, Forbes, The Today Show, and Good Morning America, and is a prominent keynote speaker on boundaries, building community, health trends, and entrepreneurship. She lives in Salt Lake City, UT with her husband, son, and a poodle named Henry.