Posole is a hearty soup popular in Mexico made with pork or chicken and hominy—dried corn that has had the hull and germ removed. This Whole30 version from Cooking Whole30 forgoes the hominy and is served with tostones—crisp, pan-fried slices of green plantains served as a side dish in the Afro-Caribbean.

Cooking Whole30 is the revised, updated, and enhanced version of The Whole30 Cookbook, and it's now available everywhere books are sold. Click here for more information about this project.
Whole30 Pork Posole with Tostones
Recipe from Cooking Whole30
Photos by: Brian Kavanagh | The Sophisticated Caveman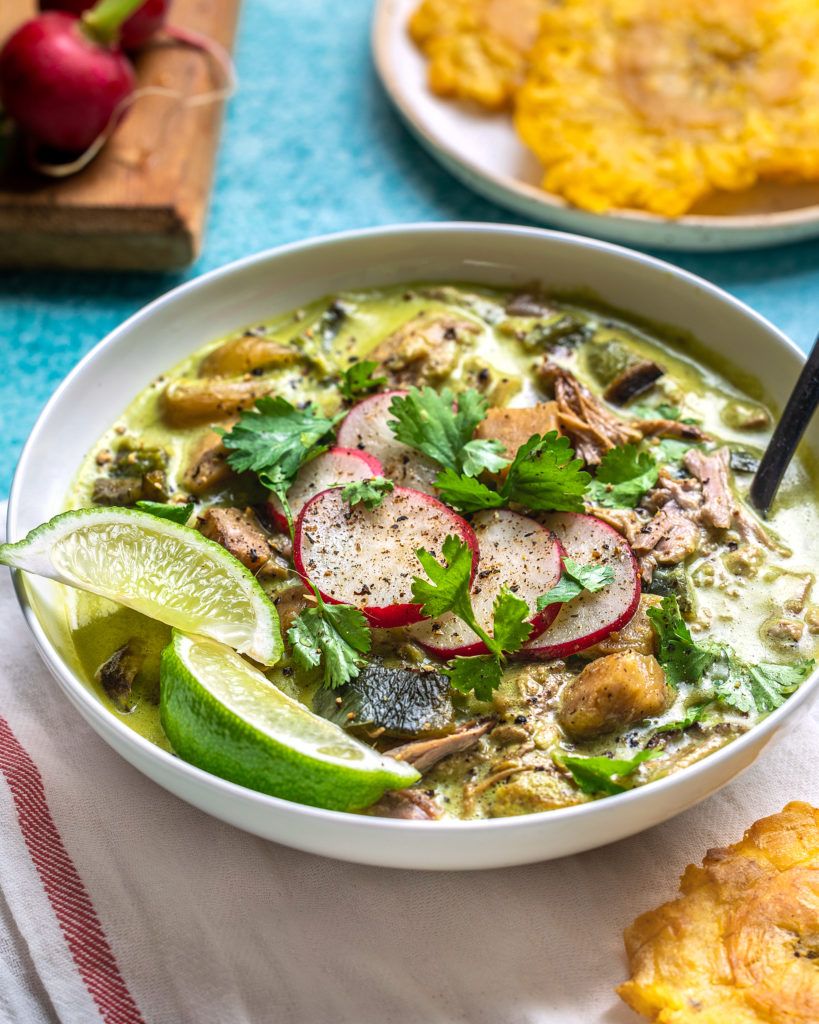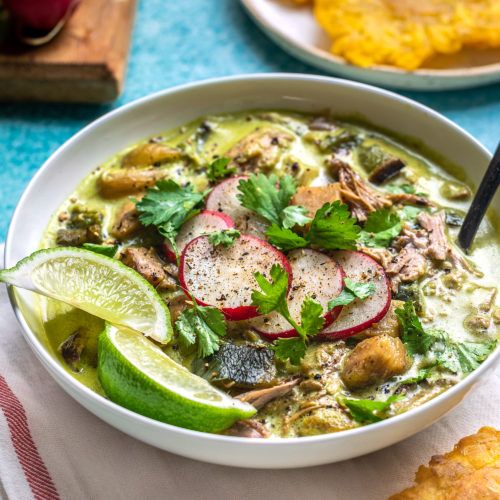 Whole30 Pork Posole With Tostones from Cooking Whole30
Cook Time: 9 hours (low) or 4 hours 30 minutes (high) plus 15 minutes (high)
Ingredients
For The Posole
1

boneless pork shoulder roast

(2 pounds)

2

tsps

dried oregano,

crushed

2

tsps

sweet paprika

1

tsp

coarse salt

1

tsp

ground coriander

½

tsp

ground cumin

¼

tsp

cayenne pepper

1

tbsp

extra virgin olive oil

1

cup

diced celery root or turnip

1

medium onion

,cut into thin wedges

½

cup

water

2

cloves garlic

,thinly sliced

1

fresh medium poblano chile

,quartered and seeded

1

small green bell pepper

,quartered seeded

1¼

cups

Chicken Bone Brother (page 284) or Whole30 compatible chicken broth

¼

cup

chopped fresh cilantro

1/2

cup

full-fat coconut milk

(see Tip)

1

tsp

salt
For The Tostones
2

tbsps

coconut oil

1

small green plantain

,peeled and cut into ¾-inch-thick slices

⅛

tsp

salt

Lime wedges

Thinly sliced radishes
Instructions
Make the Posole
Trim some of the fat off the pork. In a small bowl, combine the oregano, paprika, salt, coriander, cumin, and cayenne. Sprinkle the spice mixture all over the pork and rub it in with your fingers.

Heat the olive oil in a large skillet over medium heat. Add the pork and cook, turning to brown all sides evenly.

Combine the celery root, onion, water, and garlic in a 3[1⁄2]- or 4-quart slow cooker. Place the pork on top of the vegetables. Cover and cook on low for 9 to 10 hours or on high for 4[1⁄2] to 5 hours.

Meanwhile, preheat the oven to 450°F. Line a baking sheet with aluminum foil. Place the poblano and bell pepper quarters, cut sides down, on the baking sheet. Roast for 12 to 15 minutes, or until the skins are well charred. Carefully wrap the foil around the peppers to fully enclose them and let stand until cool enough to handle, about 20 minutes. Using a small sharp knife, peel off and discard the charred skin and cut the peppers into thin bite-size strips.

Using a slotted spoon, remove the meat from the slow cooker. Using two forks, coarsely shred the meat (discard any fat). Divide the meat into three equal portions (about 1 cup each). Return one portion to the slow cooker. Transfer the remaining two portions to two separate airtight containers to use for Apple-Cabbage and Pork Hash (page 90) and Shredded Pork Lettuce Wraps with Cashew-Coconut Cream Sauce (page 89); seal and refrigerate for up to 3 days or freeze for up to 3 months.

Combine half the poblano and bell peppers, the broth, and 2 tablespoons of the cilantro in a blender and puree until smooth. Add the pepper mixture to the pork in the slow cooker. Add the remaining roasted pepper strips. Stir in the coco- nut milk and salt.

Cover the slow cooker and cook on high to heat through, about 15 minutes.
Make the Tostones
In a heavy medium skillet, heat the coconut oil over medium heat. Add the plantain slices. Cook until lightly browned, turning once, 3 to 4 minutes. Drain on paper towels. Working with one plantain slice at a time, place the slice on a cutting board and use the bottom of a small heavy skillet to flatten the slice to 1⁄4-inch thickness. Use a thin metal spatula to lift and scrape the tostón off the cutting board.

In the same skillet, cook the flattened plantain slices, in batches, until golden brown, turning once, 3 to 4 minutes. Drain on paper towels. Sprinkle with the salt.

To serve, ladle the soup into two bowls. Garnish with the remaining cilantro, lime wedges, and radishes. Serve with the tostones alongside.
Notes
TIP: Canned coconut milk separates in the can, with the cream rising to the top. Make sure to whisk the coconut milk well before measuring the amount called for here.
Cooking Whole30
Over 150 Recipes for the Whole30 and Beyond
Previously published as The Whole30 Cookbook, this bestseller is revised, updated, and available in paperback for the first time.
The groundbreaking Whole30 program has helped millions of people transform their lives by bringing them better sleep, more energy, fewer cravings, and improved digestion, creating a foundation of good habits and restoring a healthy relationship with food. In this cookbook (previously published as The Whole30 Cookbook) best-selling author and Whole30 co-creator Melissa Urban delivers over 150 recipes to help readers prepare delicious, healthy meals for their Whole30 and beyond. Cooking Whole30 has been completely revised and updated to be in line with Whole30's diversity, inclusion, equity, representation, and accessibility efforts.
A Whole30 refresher, including an updated introduction to the program, 5 steps to get you started, and tips for stocking your Whole30 kitchen.
More than 150 recipes for main dishes, sides, dressings, and sauces.
Easy tips that simplify meal planning and prep to save time and money.
Recipe Remixes designed to turn one dish into two or three different meals.
10 exclusive, new recipes from community recipe creators.
Whether you're doing your first Whole30 or coming back for another reset, Cooking Whole30 will help you change your life in 30 days with the Whole30 program.
"The Whole30 program has transformed the lives of millions of people around the world. It's completely in line with what I usually prescribe as a starting point for my patients, and I can't recommend it enough for those looking to radically improve their health and habits long-term." —Frank Lipman, MD and New York Times best-selling author
Details
Purchase: Amazon , B&N , Indie Bound , Powell's , BAM , Hudson , Indigo , Amazon.ca , iBooks , Google Play
You Might Also Like…
---
Melissa Urban
Co-Founder / CEO
Melissa Urban is a 7x New York Times bestselling author (including the #1 bestselling The Whole30) who specializes in helping people establish healthy boundaries and successfully navigate habit change. She has been featured by the New York Times, People, the Wall Street Journal, Forbes, The Today Show, and Good Morning America, and is a prominent keynote speaker on boundaries, building community, health trends, and entrepreneurship. She lives in Salt Lake City, UT with her husband, son, and a poodle named Henry.