This Whole30 Grilled Romaine Caesar Salad is next-level good with little work. It plates beautifully and is perfect as an easy show-stopping dinner appetizer or refreshing side dish. It's gluten-free and dairy-free and comes together in 20 minutes. You'll love the combination of the smoky essence of the grill with the refreshing crunch of romaine.
Grilling lettuce?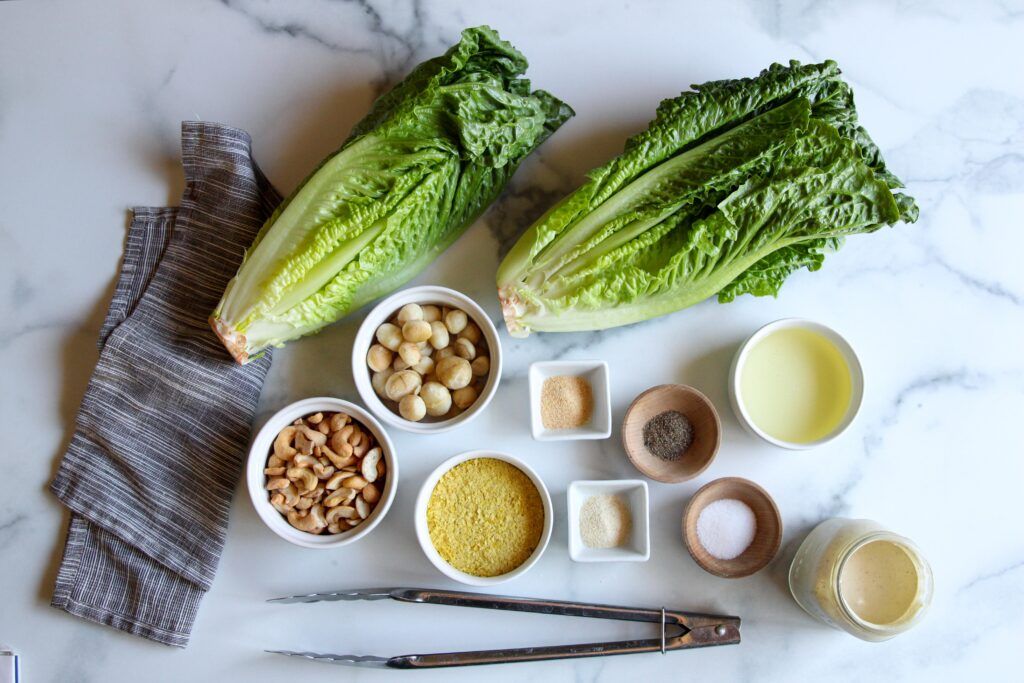 Yes, you heard right – we will be grilling our greens! Though it sounds counterintuitive, it levels up the salad in an easy way. The trick is to brush halved Romaine with oil, season with salt and pepper, and flash grill it. The goal is nice char and grill marks without wilting the lettuce. We do this with a short cook time, medium-high heat, and using tongs to press the lettuce onto the grill while cooking. This grilled twist creates a fun depth of flavor and textures to your romaine salad.
Vegan Parmesan "Cheese"
Caesar salad is a restaurant classic known for its tangy dressing and parmesan cheese. We make this happen in a Whole30 way, of course! First, we use our dairy-free Homemade Caesar Dressing. It's quick and easy to make, plus it's budget-friendly. Or, you can use any compatible dairy-free Caesar dressing that works for you.
Second, we create a faux parmesan cheese that is also quick to make and vegan. This is done by pulsing together macadamia nuts, cashews, nutritional yeast, salt, garlic powder and onion powder in a food processor. The nuts give it a crumbly texture, and the nutritional yeast provides a dairy-free cheese flavor. This results in a crumbly dairy-free parmesan "cheese" flavor that elevates this salad with a burst of texture and flavor. Using half macadamia nuts plus half cashews creates a full flavor for the parmesan cheese. But you can use all macadamia nuts or cashews if necessary.
This Grilled Romaine Caesar Salad is a flavorful sizzling twist on a beloved classic you will want to make all grill season-long!
Grilled Romaine Caesar Salad with Dairy-Free Parmesan Crumbles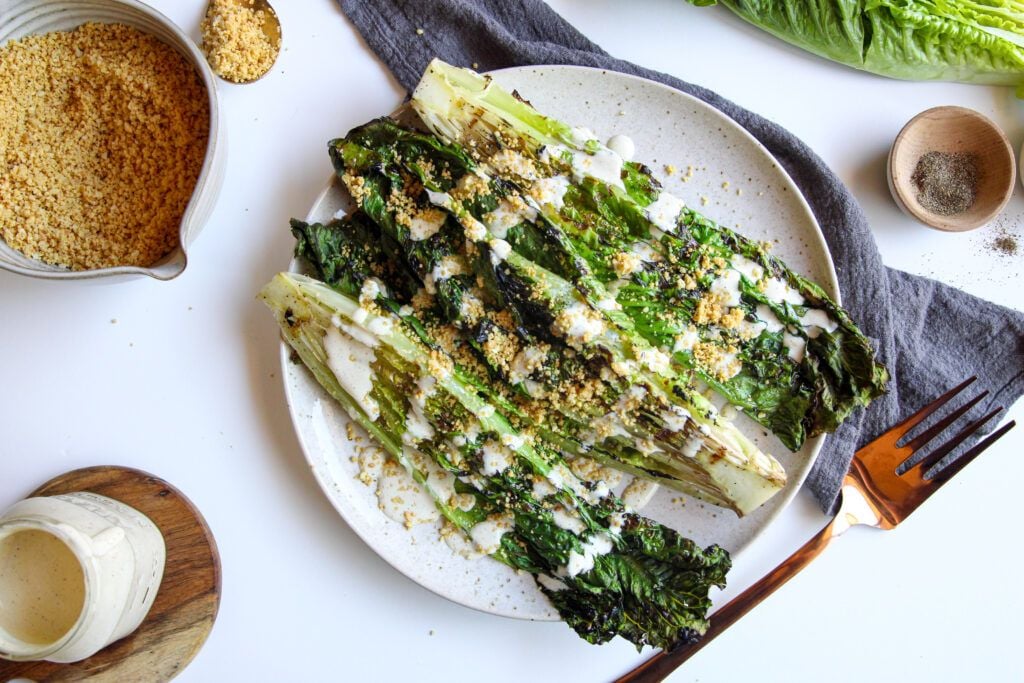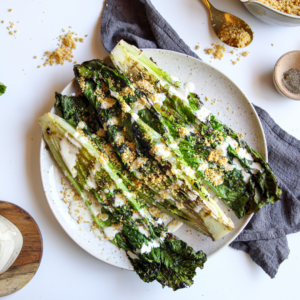 Whole30 Grilled Romaine Caesar Salad
Romaine is brushed with oil and grilled to perfection. Then we add our homemade dairy-free Caesar dressing and faux-parmesan cheese. Quick and delicious – a must-try!
Ingredients
2

hearts of Romaine

2

tbsp

olive or avocado oil

salt and pepper

Caesar dressing
Whole30 Parmesan "Cheese" (Plant-Based-compatible too!)
1/2

cup

unsalted macadamia nuts

1/2

cup

unsalted cashews

1/4

cup

nutritional yeast

1/2

tsp

garlic powder

1/2

tsp

onion powder

1/2

tsp

salt (omit if nuts are salted)
Instructions
HEAT grill to medium-high heat.

CUT romaine hearts in half vertically. Brush both sides of each cut heart lightly with oil. Sprinkle each with salt and pepper.

GRILL each romaine heart cut side down on the grill. Use the back of your tongs to press the lettuce down onto the grill to get that nice sear. Grill only for about 2-3 minutes – until it has a good sear and lettuce is soft but not wilted. Watch closely and don't overcook! Flip and grill 1 more minute on the other side.

REMOVE lettuce from heat immediately and place on a large platter.

MAKE the plant-based parmesan cheese by pulsing all the ingredients in a food processor until well combined. Don't over-blend, or you will be on your way to making nut butter.

TOP grilled lettuce with caesar dressing and sprinkle with parmesan cheese. Eat immediately and enjoy!