Sponsored by Fresh Press Farms. Recipe and Photo by Laura Miner of Cook at Home Mom.
This Creamy Potato and Leek Soup with EVOO Drizzle is cozy and hearty but not heavy or overly filling. The leeks give a mild onion flavor to the potato soup, and the olive oil drizzle adds a delicious richness to the finished dish. It's equally perfect for busy weeknights and special holiday meals. Serve it with roasted chicken, pork tenderloin, turkey, steak, or any main dish to make it a complete meal!

This soup is completed with a beautiful extra-virgin olive oil drizzle – and you know extra-virgin olive oil is a staple in all sorts of Whole30 recipes… It's incredibly versatile, delicious on everything, and famous for being rich in important healthy fats. The extra-virgin olive oil in this dish, from Fresh Press Farms, is even more impressive than your average oil because it's grown, cold pressed, and bottled onsite at Fresh Press Farms in Georgia. Plus, they are the only 100% vertically integrated oil producer in the USA!
Why does that matter?
Because Fresh Press Farms does everything from growing their es to distributing bottled oils, you know you're getting the freshest, highest-quality oil possible. That means unparalleled flavor and top-notch nutrition. And just in case you're not sold on the perks of cold-pressing oil, know this: the gentle process of cold-pressing preserves the olives' various nutrients and ensures the oil retains maximum flavor. Plus, it's more environmentally friendly than other processing methods, so you can rest assured that every bottle is good for you and the planet. And finally, each Fresh Press Farms can is made from infinitely recyclable aluminum. The aluminum is not only counter-worthy; but also the best way to keep light oxidation, causing oxygen out of the oil for freshness.
If you want to level up your EVOO game, you can order the Classic Olive Oil (try the Bold and Mild options, too!) directly from Fresh Press Farms' website and use code Whole30 for 10% off—or find them at your local Sprouts market.
Tips and Tricks:
You can substitute another type of starchy potato, like Yukon gold.
Be sure to wash your leeks well! First, slice and then wash them in a bowl of cold water, working the pieces apart with your hands to ensure you get the dirt out between each layer.
To make it Plant-Based Whole30 compatible, use vegetable broth.
If you don't have an immersion blender, carefully transfer the soup in batches to a blender or food processor and blend.
The amount of salt you add to the soup will depend on the saltiness of the broth you use and your taste. Taste the soup as you season it, starting with less, and adding more if needed.
Peeling the potatoes is optional but helps make the soup smooth and creamy. If you prefer to leave the potato skins on, the soup will be a little chunkier but still super delicious!
We recommend using full-fat canned coconut milk for the creamiest taste.
Creamy Potato and Leek Soup with EVOO Drizzle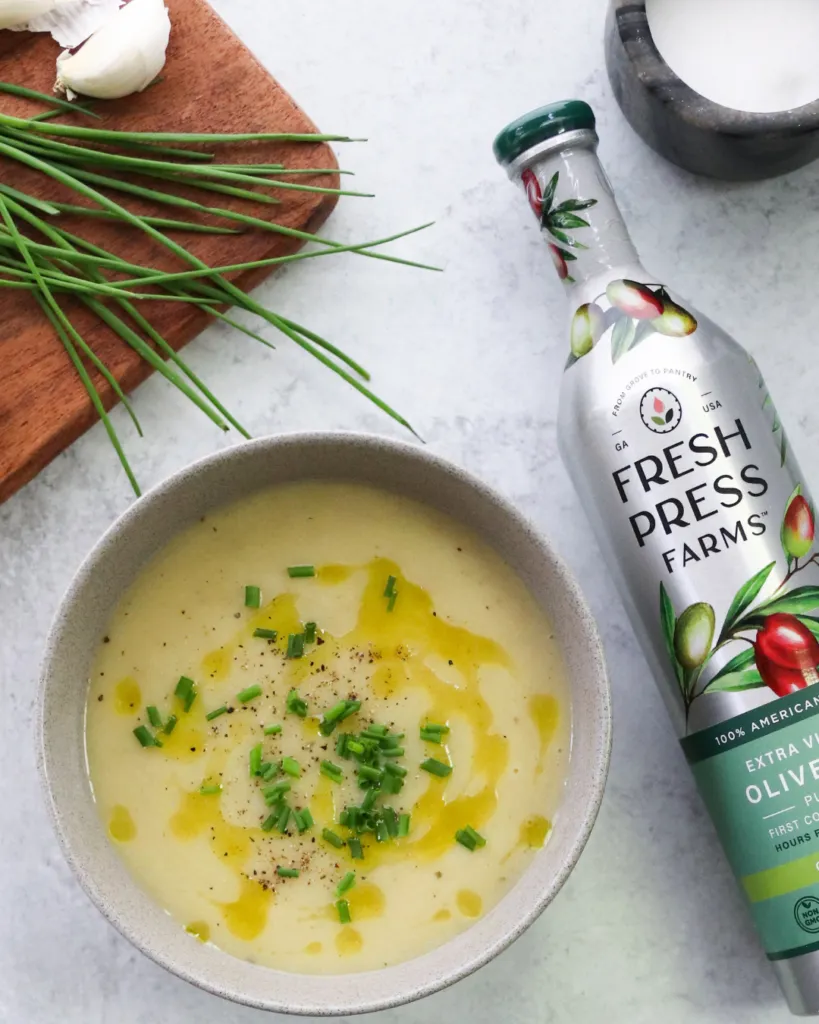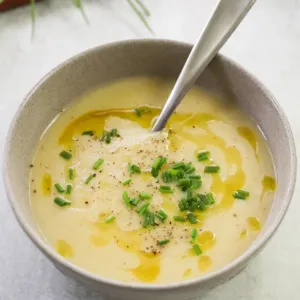 Creamy Potato and Leek Soup with EVOO Drizzle
Ingredients
5

medium russet potatoes

about 6 cups when diced

2

large leeks

about 3 cups when sliced

3

cloves garlic

3

tbsp

Fresh Press Farms Olive Oil

plus more for serving

5

cups

chicken or vegetable broth

1

cup

compatible coconut milk

1-2

bay leaves

1/2

tsp

dried thyme

1

tsp

salt

1

tsp

pepper

Fresh chives

for garnish
Instructions
WASH peel, and dice the potatoes. Cut off the roots and dark green parts of the leeks and set them aside, then slice and wash the white and light green parts of the leeks. Mince the garlic.

HEAT the oil in a large pot over medium heat. Add the leeks and saute for about 7-8 minutes, stirring occasionally, until softened. Add the garlic and saute for another 2-3 minutes.

POUR in the broth. Add the diced potatoes, thyme, and bay leaves, and stir. Bring to a simmer and allow it to cook for about 20 minutes, until the potatoes are fork tender. Turn off the burner. Remove the bay leaves and stir in the coconut milk.

USE an immersion blender to blend the soup until it's creamy, making it as smooth or chunky as you like! Season to taste with salt and pepper.

SERVE the soup in bowls, and drizzle each serving with more olive oil and sprinkle with a little pepper and minced chives.
Laura Miner
Recipe Creator | Cook at Home Mom
Laura is the recipe creator behind the food blog Cook at Home Mom. She lives in Lynchburg, VA with her husband and three kids.