Part 1 of this Whole30 summer meal series comes from Maria Barton of MariaMakes.com. If you'd like to submit a recipe, helpful tip, testimonial, or Whole30 article for consideration, email it to [email protected].
Summer is just around the corner, and that means turning off the oven and firing up the grill. My Grilled Over Greens series will feature fresh, delicious Whole30 meals for those hot summer days. Each post will include recipes for grilled protein, a perfectly-paired salad, and a killer dressing to top it all off.
So go check those propane tanks, because it's time to start grilling!

[Tweet "Part 1 of our #Whole30 Summer Meals Series: Grilled Over Greens. #Whole30Recipes"]
Cilantro Lime Shrimp Kebabs Over Mixed Greens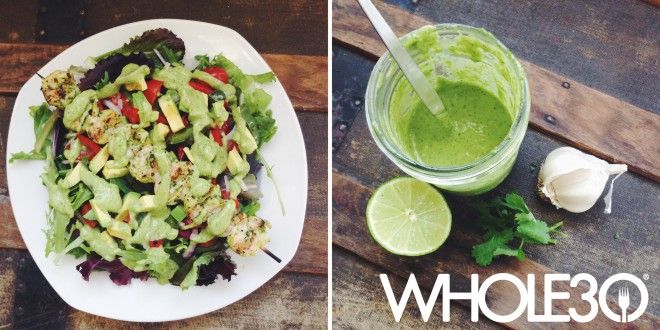 Ingredients
For the Grilled
1lb wild shrimp, peeled and de-veined
1 green bell pepper
1 red bell pepper
Olive oil or oil of choice
Salt and pepper
Shrimp Marinade
4 cloves garlic, peeled
2 jalapenos, halved and de-seeded
½ cup cilantro
Juice of 1 lime
½ tsp cumin
½ tsp salt
Note: This marinade is also fantastic for chicken
For the Dressing
¼ cup of marinade mixture from above
½ of an avocado
4 Tbsp olive oil
2 Tbsp vinegar of choice
2 Tbsp water
Salt and pepper to taste
For the Greens
12 cups mixed greens (or enough for 4 salads)
1 cup (or more) of halved cherry tomatoes
½ red onion, thinly sliced
1-2 avocados
Instructions
Make the Grilled
ADD garlic, jalapenos, cilantro, lime, cumin, and salt to the bowl of your food processor and pulse until everything is very finely chopped. The end result will resemble a pesto.
MEASURE out ¼ cup of this mixture and reserve it for your dressing.
POUR the remaining mixture over the shrimp and gently toss to coat. Set aside to marinate for about 15 minutes.
CUT the sides off of the bell peppers. Slice pieces that are wide, flat and good for grilling. Spray or brush them with a bit of olive oil and season with salt and pepper. Divide the marinated shrimp between four bamboo skewers.
PREHEAT the grill to medium-high heat and grease the grates with a bit of olive oil or coconut oil. Place peppers on the grill, flesh side down, and allow them to get a five-minute head start on the shrimp. After five minutes, flip them over to the skin side.
PLACE shrimp on the grill. They cook quickly, so keep an eye on them. Allow for about two minutes on each side. They are finished cooking when they've turned pink. Remove peppers and shrimp from the grill once both are cooked to your liking. The peppers should have nice grill marks and be mostly cooked through, with a tiny bit of crunch left to them.
Make the Dressing
ADD 1/2 of an avocado, 4 Tbsp olive oil, 2 Tbsp cider vinegar, 2 Tbsp water and the reserved marinade to the food processor.
BLEND until the dressing is smooth and creamy. Set aside.
Assemble the Greens
PILE four plates high with mixed greens. Top each salad with cherry tomatoes, red onion, and diced avocado. Slice the grilled peppers and distribute them up between the salads.
TOP each salad with one shrimp skewer, drizzle with avocado dressing, and enjoy!
Recipe note: No grill? No problem. You can cook the shrimp on an indoor electric grill or griddle, or just saute them in a skillet.
Header image via alanagkelly on Flicker
---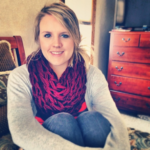 Maria Barton is a home chef, blogger, DIY-er, gardener, wife, and dog mom who is working on finding balance in her life after Whole30. Connect with Maria for more delicious recipes: Website | Instagram | Facebook
Jen Kendall
Whole30 Approved Program Manager
Jen Kendall, our Whole30 Approved Program Manager, is a born and raised Floridian who now lives in Utah with her husband Quinn and their two-year-old boy Easton. She graduated the University of Florida in 2010 from the College of Journalism and Communications and has a strong interest in nutrition, health and exercise. Jen has an insatiable appetite for travel and adventure and also loves books, spending time in the kitchen cooking and experimenting with recipes, Crossfit, and enjoying as many days as possible in the outdoors year-round.