Our @whole30recipes Instagram feed brings you delicious, Whole30 compatible recipes all day, every day. And, in our series, The Best of @Whole30Recipes, we bring our favorites to the blog.
The #SeptemberWhole30 starts ONE week from today, Monday, September 3. Yes, for our Whole30'ers in the U.S.,  that IS the Labor Day holiday, and it's common to be invited to (or host) an end-of-summer cookout or picnic.  Never fear … you DON'T have to be "that person" at the party just because you're doing a Whole30.
Quite the opposite—Whole30 compatible food translates really well to a party menu. In fact, with these recipes from our @Whole30Recipe feed, your fellow party goers might not even realize you're doing a Whole30. We've rounded up EIGHT tasty recipes that will dazzle your friends and family with seasonal flavors; we picked fun shareable dishes, incredible salads, satisfying main dishes, and even one sparkling beverage. But before we get to the recipes, a quick pep talk from Melissa Urban.
Your #SeptemberWhole30 Labor Day Plan
With a little planning and preparation, you'll rock your Labor Day plans with 100% Whole30 compliance. Here are a few of our favorite planning tips:
Start the day with your copy of The Whole30 Day By Day: Don't have a copy of this Whole30 "field guide"? Click here to snag your own. Spend a few minutes on Monday morning with the Day One materials in the book, taking the Melissa's Motivation note to heart. This will establish an encouraging and confident tone to carry you through whatever the day throws at you.
Brush up on your if/then planning: Anticipate any obstacle you might encounter during the party and make a plan for how you'll handle it. For example: If Uncle Jim offers me a beer, then I'll say 'No, thank you" and drink the zero-proof refresher (recipe below) or can of Spindrift, LaCroix or Waterloo that I brought instead. (See page 26 in The Whole30 for a more on if/then planning).
Make sure you'll have access to plenty of Whole30 foods: If you're hosting the party, make a menu from the recipes below, the Backyard Barbecue menu on page 356 in The Whole30, or any of the delicious options from the @whole30recipes Instagram feed. If you're a guest, call the host and inquire about the menu, then offer to bring a side dish or two that you know you can eat.
Have a Whole30 buddy: If you're Whole30'ing with a friend or family member, check in on Day 1 for encouragement and support. You might even want to establish a plan for what happens if one of you needs to send an "S.O.S., I might not make it through this party" text. Don't have a Whole30 buddy? Come find us on Instagram. We'll be your buddy!
And now, the recipes…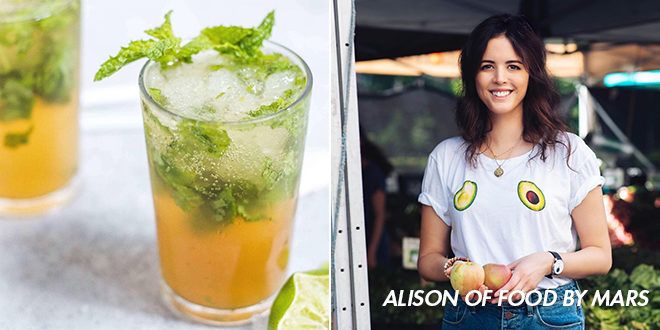 Ingredients
1 lime
1/2 cup hot water
2 Nettle Tea Bags (or tea of your choice)
1 cup crushed ice
1/2 cup sparkling water or cold water
1/2 cup fresh mint leaves (plus more for garnish)
Instructions
BREW tea all together with the 1/2 cup hot water and 2 tea bags in a cup according to directions on the package (approx. 5 mins). Split tea in half, pouring in each glass.
SQUEEZE half a lime in each glass and stir. Tear mint leaves up by hand a bit to release some of the oils and divide evenly amongst glasses, muddle with a spoon in the bottom of the glass.
ADD your crushed ice, followed by your sparkling or cold water to fill to the top with. Garnish with whole mint leaves and serve!
Bacon Wrapped Peppers with  Mac's Awesome Sauce | Healthy Little Peach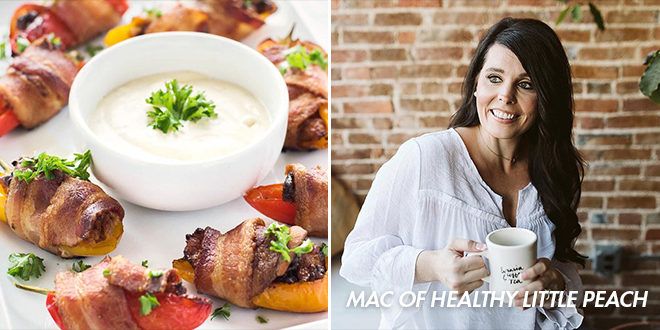 Ingredients
For the Bacon Wrapped Peppers
1 lb sausage
1 clove of garlic, pressed
1/2 vidalia onions, finely diced
1 tbsp olive oil
12 multi color mini peppers
6 slices of bacon
For Mac's Awesome Sauce
1 Cup of Compatible Mayo (1 cup of light olive oil, 1 egg, 1/2 teaspoon mustard powder, 1/2 teaspoon salt, 1/2 to 1 tsp lemon juice. Add all your ingredients to a mason jar and use your immersion blender to mix together until thick and creamy. Add to a mason jar).
1 tbsp chopped onions
1 tsp sea salt
1 tsp pepper
2 tsp coconut aminos
Instructions
HEAT a cast iron or nonstick skillet over medium heat with 1 tbsp olive oil. Also preheat oven to 400°F. Add the pressed or finely chopped garlic clove along with the diced onions to the hot skillet. Cook until onions are translucent.
ADD 1 pound of compatible sausage to the onions and garlic. Cook 7-8 minutes and transfer to a large mixing bowl. While the sausage is cooking, get the mini peppers ready and make Mac's Awesome Sauce.
CUT each mini pepper in half long way. Remove seeds and membranes. Place halved mini peppers on a baking sheet, cut sides up. Add 1 cup of compatible mayo to a mixing bowl along with the onions, coconut aminos, salt and pepper.  Mix with a spoon until combined.
ADD 1/2 cup of Mac's Sauce to the sausage and mix until combined. Using a spoon, add the sausage mixture into each half of the mini peppers. Take 6 slices of bacon and cut in half. Carefully wrap 1/2 slice of bacon around each mini pepper stuffed with the creamy sausage.
BAKE for 20 minutes. Serve with the remaining Mac's Awesome Sauce for dipping.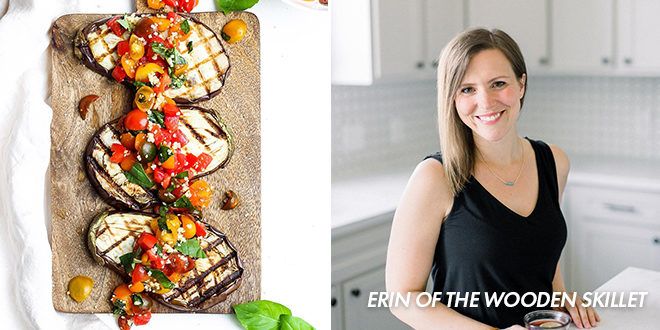 Ingredients
8 Roma tomatoes; de-seeded and diced
Approx. 30 yellow cherry tomatoes; quartered and de-seeded
1 Tablespoon + 1 Teaspoon chopped garlic
1 1/2 cup roughly chopped fresh basil leaves
3 Tablespoons + 1 Teaspoon high quality olive oil -1 1/2 Teaspoon kosher salt (more to taste)
2-3 medium/small eggplant cut lengthwise approximately 1/2 inch thick
Instructions
COMBINE Roma tomatoes, yellow cherry tomatoes, garlic, basil, olive oil, and salt in large bowl. Mix well and taste to determine if you want any additional garlic, basil or salt. Note: I recommend letting the mixture to sit for at least 30 minutes before serving.
TAKE  sliced eggplant and sprinkle salt on each side. Place in a colander and let sit for 15 minutes. Take a towel or paper towel and press each piece of eggplant to release excess water. Lightly brush with olive oil.
GRILL eggplant on high (approx. 450 degrees) for 3 minutes a side. Grilling time will be less if you are using smaller pieces of eggplant, so keep an eye on them. Serve eggplant immediately with tomato mixture on top.
Blackened Shrimp Salad w/ Citrus Mango Vinaigrette | First and Full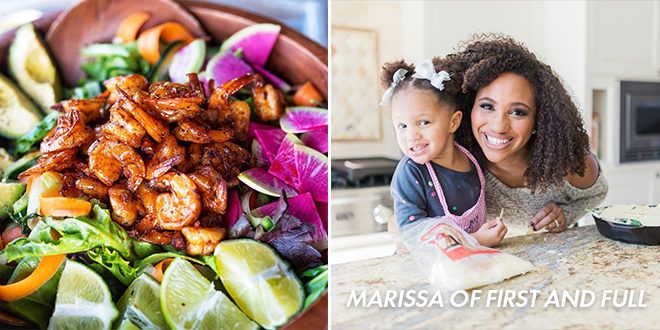 Ingredients
For the Shrimp
1 lb raw shrimp, peeled and deveined
1-2 tbsp tbsp blackened seasoning
For the Salad
2 tbsp avocado oil
2 C Spinach
2 C mixed greens
1 cucumber, sliced into ribbons
1 carrot, thinly spiced
1/4 watermelon radish, thinly sliced
2 avocados, cut into wedges
3 mangoes, diced and divided
For the Vinaigrette
1/2 small shallot, diced
Juice from 3 limes (or any combination of lemon, lime, and orange)
2 tbsp rice wine or champagne vinegar
1/2 C olive oil
1/4-1/2 tsp. salt, to taste
1/4 tsp pepper
Instructions
SEASON shrimp: make sure shrimp is dry and toss with blackened seasoning. Preheat cast iron skillet to medium high.
PREPARE vinaigrette. In a blender, combine half of the mangoes, the shallot, lime juice, rice wine vinegar, olive oil, salt and pepper. Pulse till smooth.
COOK shrimp in 2 tbsp of avocado oil on medium heat. About 5 minutes.
PUT everything together. Place mixed greens in a large bowl and top with cucumbers, carrots, watermelon radishes, remaining diced mango, and avocado wedges. Pile shrimp in the middle and serve dressing on the side!
Grilled Chicken Cobb Salad | BazaarLazarr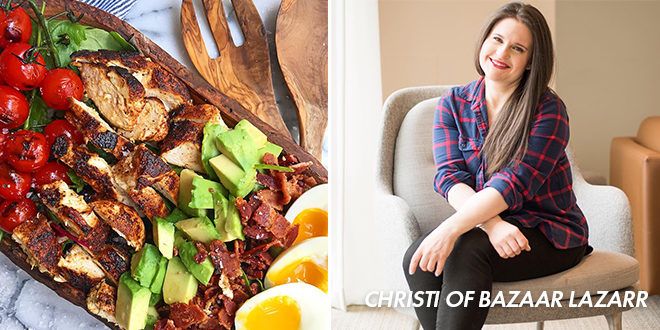 Ingredients
7oz. Baby Romaine Lettuce
1 Package Vine Cherry Tomatoes
1 Avocado, Cut into Chunks
6 Slices Paleo Bacon
1lb. Boneless Skinless Chicken Breasts
1/2 cup Olive Oil
1/4 cup Fresh Lime Juice
1.5 tbsp. Chili Powder
3 Garlic Cloves, crushed
1 tbsp. Ginger, chopped
2-4 Large Eggs, Room Temp
2 Tbsp. Distilled White Vinegar
1 Tbsp. Sea Salt
1/2 Medium Shallot, finely chopped
1 tbsp Whole Grain Mustard
2 Tbsp. Red Wine Vinegar
Olive Oil
Salt & Pepper
Flakey Sea Salt
Instructions
IN a lidded container large enough to fit your chicken mix your olive oil, lime juice, chili powder, garlic, and ginger together. Add your chicken and completely coat in marinade. Cover and refrigerate for at least an hour. Heat your grill to medium-high and oil your grate, leaving a clean area for your tomatoes. Grill chicken for about 6 minutes per side, or until internal temperature reaches 165°F. Remove and set aside.
COAT your tomatoes in olive oil and season with salt and pepper. Add them to the the grill and cook for a about 3 minutes, or until grill lines form, turning and doing this again on a second side. Remove and set aside.
ADD the vinegar and salt to a medium pot of cold water and bring to a boil. Add your eggs and cook for 6 to 7 minutes. Prep a bowl of ice water. Remove your eggs from the pot and place in ice bath for 5 minutes. Peel eggs and set aside.
PLACE bacon in cold pan, working in batches if needed. Cook bacon over low heat, flipping the pieces over when they start to curl. Keep flipping periodically until you've got good crispiness, and when done, transfer to a paper towel lined plate, and set aside.
ADD Lettuce to a large bowl, and then add your tomatoes. Slice chicken and add along with your avocado chunks. Roughly chop bacon and slice eggs in half and add in. Whisk shallot, mustard, and vinegar together in a small bowl. Then whisk in ¼ cup olive oil to complete the vinaigrette.
SEASON with flakey sea salt and serve.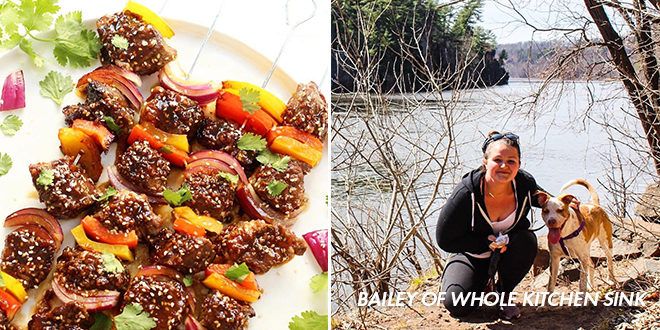 Ingredients
For the Steak
1 and 1/2 pound ribeye steak (or cut of choice), diced into 2 inch cubes
1 yellow pepper, cut into 1-2 inch pieces
1 red pepper, cut into 1-2 inch pieces
1/2 red onion, cut into 1 inch pieces
For the Marinade
3/4 cup coconut aminos
1/4 cup olive oil
1/4 cup sesame oil sesame oil
2 tablespoons minced garlic
2 tablespoons sesame seeds
1 tablespoon minced ginger
1 teaspoon onion powder
1/4 teaspoon salt
Instructions
ADD  all marinade ingredients to a medium bowl and mix to combine. Divide about 1/2 of marinade into a separate bowl or zip-top bag.
ADD steak cubes to the bowl or bag and mix to evenly coat, set aside. Let steak sit in the marinade for at least 20 minutes, or refrigerate overnight.
WHILE steak is marinating, chop veggies and heat grill to medium heat. Once done, skewer vegetables with meat, alternating between them. On a grill pan or grill, cook the skewers for 5 minutes on each side, or until steak is done to preference.
WITH the remaining marinade, heat in a small saucepan until it thickens (optional: add 1/2 tablespoon arrowroot to thicken sauce more), about 3 minutes.
POUR over grilled steak skewers, or use as sauce for a side of cauliflower rice, top with additional sesame seeds, cilantro or green onions.
Note: Double the recipe for a larger crowd or easy meal prep!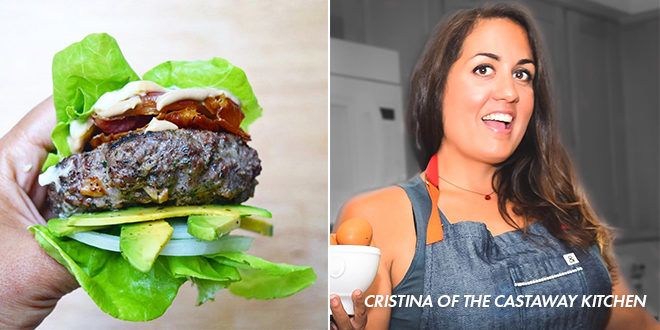 Ingredients
2 lbs pastured ground beef
1 tbsp ground shiitake mushroom powder (ground, dehydrated shiitakes)
1 tsp black pepper
1 tsp cumin
1/4 cup diced onion
2 tsp Pink Himalayan salt
2 tbsp olive oil
2 tbsp white wine vinegar
1 tsp garlic powder
1 tsp dried cilantro
Desired garnishes: lettuce, tomato, avocado, bacon, onion, mustard, ketchup, etc.
Instructions
IN a food processor pulse together the shiitake powder, black pepper, cumin, onion, salt, olive oil and vinegar. It will make a chunky paste. In a large bowl, mix this chunky paste with the beef until well combined. Use a large 4oz scoop to shape your patties.
MAKE the scoop, then press it down, smoothing out the sides until it's about an inch thick. Make an indent in the center with your thumb (so they cook evenly and don't become meatballs). Place them on a cutting board or sheet pan, sprinkle with a little garlic powder and cilantro.
HEAT your grill to 450F, closed. Have coconut oil spray and a spatula at the ready. Spray your burgers with coconut oil. Place your burgers on the grill, towards the back, oiled side down. Keep the lid open. Set timer for 3 minutes.
SPRAY the burgers again with coconut oil and flip them over. Cook another 3-5 minutes until desired doneness. Remove from heat and take to the kitchen to assemble.
Note: Set out your assembly area ahead of time: butter lettuce, mayo, avocado, bacon, or whatever you desire.
Caramelized Grape Chicken Kebabs | KitchFix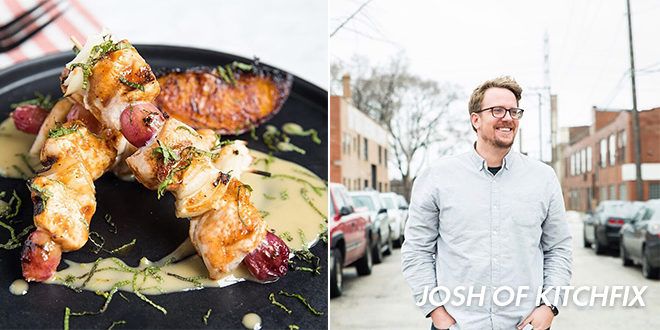 Ingredients
For the Skewers
8 wooden or metal skewers
1 yellow or red onion cut into big square pieces
1 lb Chicken Breast, cut into large pieces
1/2 bag of red grapes, picked from the stems
Optional: half of a package of Whole30 Approved bacon cut into 1 inch strips
For the Marinade
1/2 C Extra Virgin Olive Oil
2 cloves Fresh Garlic, sliced
1/4 C Chopped Parsley
1/2 Lemon, juiced
Instructions
SOAK your wooden skewers (if using) in water so that when you put them on the grill they don't burn as easily.
ORGANIZE your kebab station by placing all your ingredients in bowls or on a tray ready to skewer. Skewer the ingredients to your liking alternating as you go.
MIX the marinade ingredients together and pour over the complete skewers. You can let them sit in the marinade overnight, or just throw them on the grill right away. The longer you marinate them the more the flavors will infuse.
GRILL the skewers on a hot grill. I like to leave the ends of my kebabs off the grill as much as possible. You can also put a piece of foil on the grill and then I place the exposed end of the kebabs over the foil so they don't burn!
(Tip: I added grapes to my skewers because they caramelize on the grill and add a little sweet to this summer savory dish. Plus the grapes help to keep the chicken nice and moist. Add thick cut Whole30 Approved bacon to these for another layer of flavor!)
Melissa Urban
Co-Founder / CEO
Melissa Urban is a 7x New York Times bestselling author (including the #1 bestselling The Whole30) who specializes in helping people establish healthy boundaries and successfully navigate habit change. She has been featured by the New York Times, People, the Wall Street Journal, Forbes, The Today Show, and Good Morning America, and is a prominent keynote speaker on boundaries, building community, health trends, and entrepreneurship. She lives in Salt Lake City, UT with her husband, son, and a poodle named Henry.