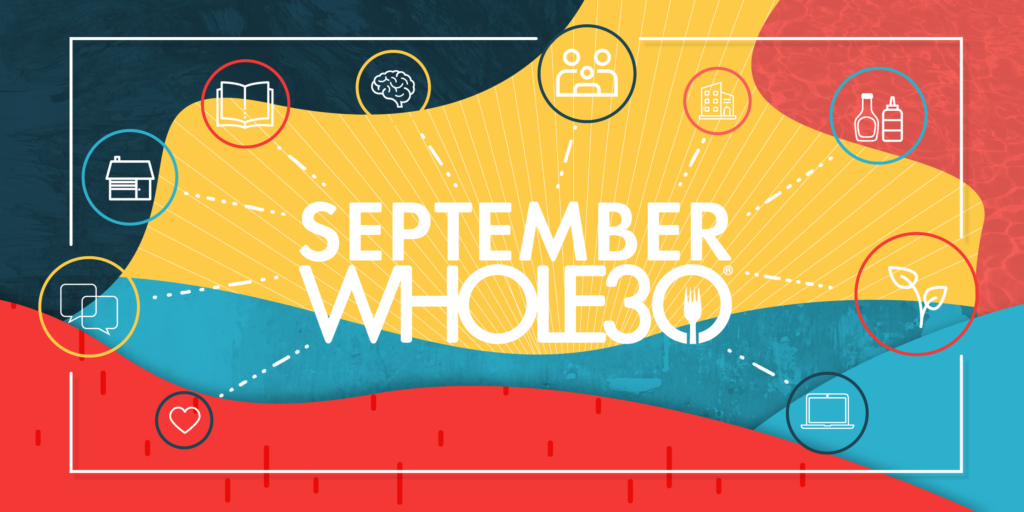 This year, the September Whole30 starts on Monday, September 14.
Are you joining us? This is an annual tradition for our community, but in light of the events of this year, I see the program and our community in a new light this time around.
In April 2020, as the U.S. learned we'd be spending the next several weeks sheltering in place, we launched an impromptu Whole30 called the #Whole30atHome. It was a period of incredible uncertainty, stress, and anxiety, but we heard many of you say you were leaning on your Whole30 habits to help you manage that stress and care for your physical and mental health. We were also feeling the pain of disconnection while physically separated from family and friends. In a desire to bring our community even closer together and provide much-needed support for your own self-care efforts, the #Whole30atHome was born.
I did the #Whole30atHome, and found that it was the most affirming, uplifting, connecting Whole30 experience I've ever had. It made one thing clearer than ever; the Whole30 is about food, but it's about so much more than just food. How you show up for the Whole30 is how you show up everywhere, and the benefits you see during your Whole30 carry over into every area of your life. I found this to be true even in my 11th year of Whole30-ing, and so many Whole30'ers reported the same self-discoveries, sense of stability, and personal growth through the program.
And now, we find ourselves in a new season, stuck in the exact-same-and-yet-all-new cycle of uncertainty. The only thing that's clear almost six months into this pandemic is that there is no "going back to normal." Normal has considerably shifted, and where it will settle in a month, a season, or a year is a mystery to all of us.
And yet, now more than ever, we desire a sense of control and some normalcy. To hold a commitment to self-care for our own health, and the health of our families. To create capacity to show up for our loved ones, our communities, and the social justice work to which we are so deeply invested. To create a foundation of familiarity, connection, and support on which to build our new "normal." Oh, and great sleep, steady energy, and a stable mood would be nice.
So here we are, launching our annual September Whole30, in a different September than any of us have ever experienced. And that is exactly why we want you to join us, starting Monday, September 14th.
On this page, you'll find custom resources and offerings to guide you through a successful September Whole30. Make sure you're on our email list (register below) as we'll be announcing brand new initiatives in the upcoming weeks, some of which have been years in the making. Join us. We've got you.
Co-Founder & CEO
Get daily support for your September Whole30
Need to get a hold of someone from our team?
Sign Up for Free September Whole30 Emails
Need to get a hold of someone from our team?
Click Here