Do you have leftover St. Patrick's Day Corned Beef to use up? Or just need an easy Whole30 egg-free breakfast? This Whole30 Corned Beef Hash is perfect for all of the above!
This hash uses up leftover corned beef, potatoes, and carrots from a Corned Beef recipe such as this one. Using up leftovers is a great way to save money. Also, it helps avoid food waste – which is better for your wallet AND the planet.
Leftovers Remade
As this recipe uses meat and potatoes that are already cooked, it comes together fast. A great breakfast for a busy morning. Additionally, this can make a great easy dinner as well!
The ingredients to this recipe are based on leftovers you might have from your Corned Beef dinner. But, they are also ones you could find at the store if you want to make this from scratch.
Just be sure to note that the potatoes in this recipe are already cooked. So, if you are not using leftovers, steam the potatoes first before using them in this recipe. You can do this easily in a reusable bag like a Stasher bag – add chopped potatoes and ¼ cup water, seal most of the way, and microwave on high for 5 minutes. Then, proceed with the recipe as written.
This Whoele30 Corned Beef Hash gets added nutrition and uses up leftover carrots by having riced carrots in the hash. If you have leftover cooked carrots, like the ones we use in our Corned Beef and Cabbage recipe, you can just finely chop or food process them into small riced pieces. If you don't have leftover carrots, you can rice them by processing them until finely chopped in a food processor. No need to cook them first; the small riced pieces will cook within the hash. Riced veggies are a great way to add veggies that your picky eaters are ok with.
Eggless Breakfast Win
For Whole30ers, you either love eggs, or you are burnt out on them and need egg-free breakfast ideas. This recipe works for both! If you need an eggless breakfast recipe, make this recipe as is. If you love eggs, add a fried egg on top or scramble an egg into this.
Want more egg-free Whole30 breakfast recipes? Check out these!
Whole30 Corned Beef Hash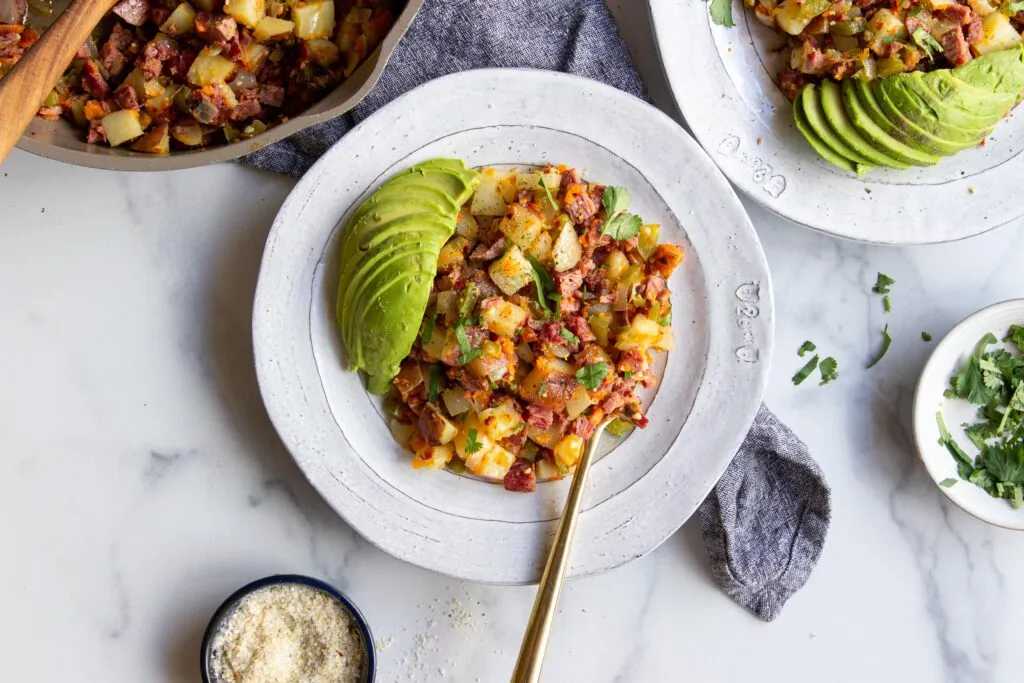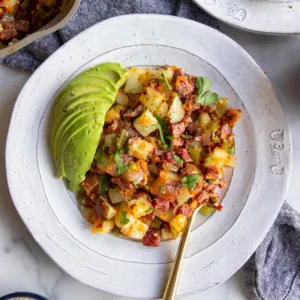 Whole30 Corned Beef Hash
This Whole30 Corned Beef Hash is simple and fast to make, turning corned beef leftovers into a delicious eggless breakfast.
Ingredients
1/4

cup

olive or avocado oil

1

medium onion

diced

2

tbsp

minced garlic

optional

1

green bell pepper

finely diced

1

large carrot or 12-14 baby carrots

riced

2-3

cups

2-3 cups cooked chopped potatoes

2-3

cups

2-3 cups shredded cooked corned beef

Salt or garlic salt

to taste
Optional Toppings
Salsa, fried egg, chopped parsley, cilantro, avocado
Instructions
HEAT oil in a large skillet over medium heat. Add onion, garlic, and green pepper. Cook for 5 minutes or until onion is started to soften and get translucent.

ADD carrots, chopped potatoes and beef. Cook for 10 minutes, flipping halfway through, until the outsides of the potatoes are crispy.

TOP with any desired optional toppings and serve.

FREEZE leftover hash in a sealed container for up to 3 months.
Autumn Michaelis
Recipe Creator | Whole Food for 7
Autumn Michaelis is an ACSM Certified Exercise Physiologist, with a B.S. in Exercise Science from BYU. Though exercise was her first love in the health world, nutrition has become her passion. She created the blog Wholefoodfor7, sharing easy and budget-friendly Whole30, Paleo, and gluten-free + dairy-free recipes for families. In August 2022, Autumn released the newest Whole30 Endorsed cookbook, Whole Food for Your Family. She is mom to 5 boys (yes 5!) and when not in the kitchen can be found adventuring, hiking, and tearing up the dance floor.