Delicious any time of the year, Whole30 Corned Beef and Cabbage gets its time to shine, usually around St. Patrick's Day. Here is a Whole30-compatible version!
This is a meal with minimal prep and simple ingredients. We love the speed and ease of cooking it in the Instant Pot. But it works well in the slow cooker too! And this dish is naturally gluten-free, dairy-free, nut-free, and egg-free.
What is Corned Beef?
If you've never cooked corned beef, this is a good place to start. Corned beef is meat that has been cured in a salt solution. Though any type of meat could be cured this way, in the U.S., it's usually beef brisket. Traditionally, corned beef is made with a tough, kosher cut of meat that is cured to help tenderize it.
St. Patrick's Day, as we know it today in the U.S., comes from the early Irish Americans. In honor of their heritage, it was a day of celebration in which they would splurge on meat, and corned beef was accessible. They would serve it with traditional potatoes and affordable cabbage.
Why is it called Corned Beef, and where do I find it?
It's called corned beef, thanks to the large "corns" (large rock salt) used during the preservation process. In some countries, they call it "salt beef" instead. (It does not contain any corn or corn products.)
Corned beef can be found in the fresh meat section of many grocery stores. Just double-check the ingredients for Whole30 compatibility. It usually comes with a seasoning packet (that is often compatible), but you can also make your own with a recipe like this one.
Why is Corned Beef pink?
No matter how long you cook it, corned beef remains pink in the middle. So, don't use the color to determine doneness with this cut of meat! You will know it's done when the meat is tender. It's pink even after cooking due to the pink salt used in curing. The salt prevents the beef from spoiling during the curing process.
Don't have an Instant Pot trivet? You can just lay the beef on the bottom of the instant pot and follow the instructions otherwise. The trivet just helps the meat get cooked by steaming (instead of boiling) for a fuller flavor.
Whole30 Corned Beef and Cabbage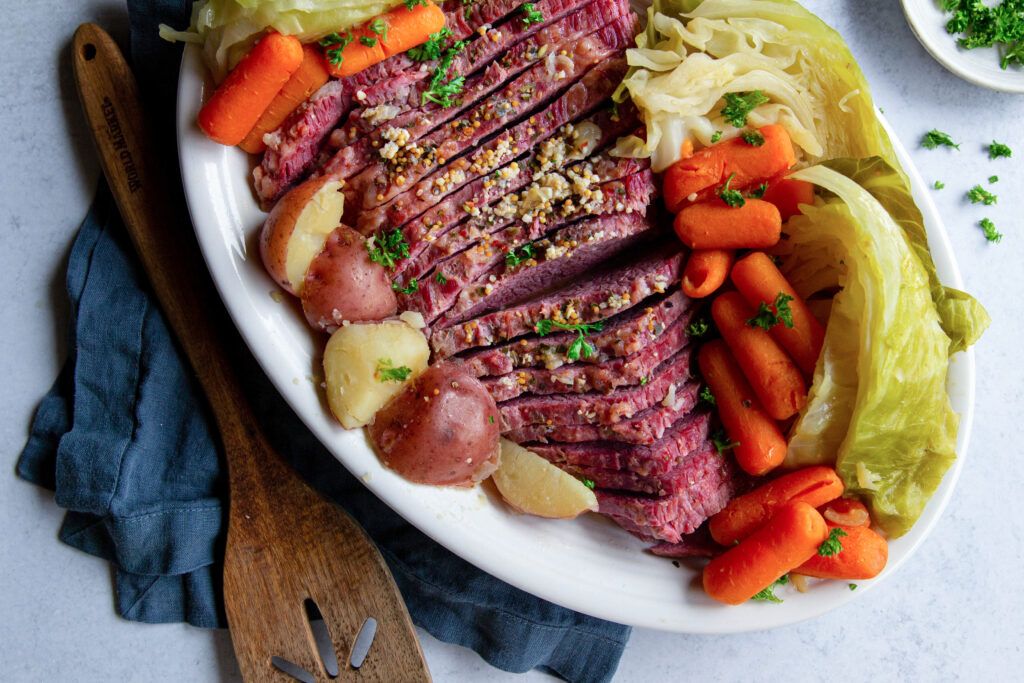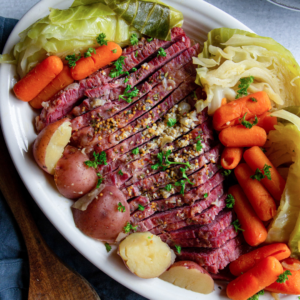 Whole30 Corned Beef and Cabbage
Equipment
1 Slow Cooker OR Instant Pot
Ingredients
3

lbs

corned beef brisket with seasoning packet

3

cups

beef broth or bone broth

1

yellow onion

peeled and sliced

2

tbsp

minced garlic

8

red potatoes

quartered

1 (12)

oz

bag baby carrots, or 4 large carrots peeled and cut into 2" pieces

peeled and cut into 2" pieces

1

head of cabbage

stem cut off and cut into wedges
Instructions
Instant Pot
RINSE corned beef under cold water. This removes the excess salt and brine.

PLACE your trivet inside the Instant Pot. Lay beef on top of trivet and sprinkle with seasoning packet. Sprinkle with minced garlic and lay sliced onion on top. Pour the beef broth on top.

SEAL Instant Pot and cook on High pressure for 90 minutes. When done, quick release the pressure (turning the valve to release pressure as soon as cooking time is done).

REMOVE beef and set aside. Cover with foil until you are ready to slice it. Remove Instant Pot trivet.

ADD sliced potatoes, carrots, and cabbage wedges into the Instant Pot and broth. Seal Instant Pot and cook on High for 3 minutes. Quick release and remove from broth. Broth can be removed and stored for a future soup.

SLICE corned beef against the grain into thin slices. Serve with cabbage wedges, carrots, and potatoes.
Slow Cooker
PLACE carrots, potatoes and onion in the bottom of a large slow cooker. After rinsing beef, lay it on top of the vegetables. Sprinkle it with seasoning and top with garlic and onion. Pour beef broth over all. Cook on high for 5 hours or low for 8 hours. Add cabbage wedges during the last hour if cooking on high, or last 2 hours if cooking on low.
Autumn Michaelis
Recipe Creator | Whole Food for 7
Autumn Michaelis is an ACSM Certified Exercise Physiologist, with a B.S. in Exercise Science from BYU. Though exercise was her first love in the health world, nutrition has become her passion. She created the blog Wholefoodfor7, sharing easy and budget-friendly Whole30, Paleo, and gluten-free + dairy-free recipes for families. In August 2022, Autumn released the newest Whole30 Endorsed cookbook, Whole Food for Your Family. She is mom to 5 boys (yes 5!) and when not in the kitchen can be found adventuring, hiking, and tearing up the dance floor.