Today's recipe is a delightful mashup from two of our Whole30 Approved partners: Yai's Thai and Model Meals.
The crew at Yai's Thai created a line of Thai-inspired sauces and salsas that make everyday recipes flavorful and special. Their products are made from pure, simple ingredients, without the soy, sugar, or additives found in most commercially-available Thai condiments. But Thai salsa isn't a common ingredient, and we figured not all of you would know how to use them in your Whole30 cooking.
Enter Danika Brysha, and the recipe geniuses at Model Meals. We asked their team to create a simple Whole30 recipe featuring Yai's Thai, and they rose to the challenge with this meatloaf recipe. Pair this with recipes from The Whole30, like our Cauliflower Mash (page 270), Cauliflower Rice (page 272), or Green Beans with Onions, Mushrooms, and Peppers (page 280), and you have a quick and simple yet flavorful weeknight Whole30 meal.
To purchase your own Yai's Thai sauces, visit their website.
[Tweet "Yai's Thai + Model Meals = Whole30 meatloaf masterpiece"]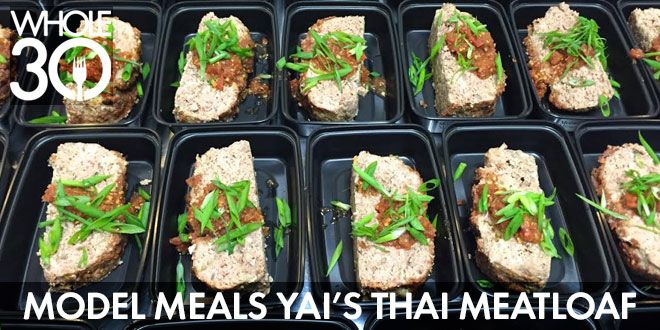 Thai-Inspired Meatloaf
Ingredients
6 oz Yai's Thai Relish
16 oz Yai's Thai Salsa*
3 eggs, beaten
2 lbs ground beef
1 lb ground pork
1 onion, minced
4 cloves garlic, minced
2 tsp fresh ginger, grated
2 tsp chili flakes
1 oz coconut aminos
1 oz sesame oil
1 tsp Chinese 5-Spice
Salt and pepper to taste
*We used their Medium salsa, but they also have a Hot and a Thai Hot!
Ingredients
PREHEAT oven to 325 degrees.
MIX ground pork and beef together in a large bowl.
ADD the eggs, onion, garlic, ginger, coconut aminos, sesame oil, chili flakes, 5 spice, and salt and pepper to taste. Mix gently until combined. Add the Yai's Thai relish. Mix again.
FORM the mixture into a loaf.  Place loaf on a parchment-lined sheet pan, or press mixture into a loaf pan, if you prefer.
TOP with Yai's Thai salsa and bake for 50 minutes.
---
If you live in Orange County or Los Angeles County, check out Danika Brysha's Whole30 Approved Model Meal delivery service, with fresh, innovative menu offerings each week.
Melissa Urban
Co-Founder / CEO
Melissa Urban is a 7x New York Times bestselling author (including the #1 bestselling The Whole30) who specializes in helping people establish healthy boundaries and successfully navigate habit change. She has been featured by the New York Times, People, the Wall Street Journal, Forbes, The Today Show, and Good Morning America, and is a prominent keynote speaker on boundaries, building community, health trends, and entrepreneurship. She lives in Salt Lake City, UT with her husband, son, and a poodle named Henry.