Ready for your new favorite potato recipe? These Duck Fat Potatoes with Gremolata are show-stoppingly good. Plus, we've tested a new cooking method to take roasted potatoes to a new level of crispy with a few easy key ingredients. An easy, elegant side dish sure to add a classy, delicious touch to any meal!
This recipe can be made in an air fryer or oven. We prefer the air fryer for a quick cooking time and the crispiest potatoes. But thanks to a few steps shared below, these turn out tasty and crispy regardless of the cooking method. And we love that these Duck Fat Potatoes are not only Whole30; they are gluten-free and naturally dairy-free, egg-free, and nut-free.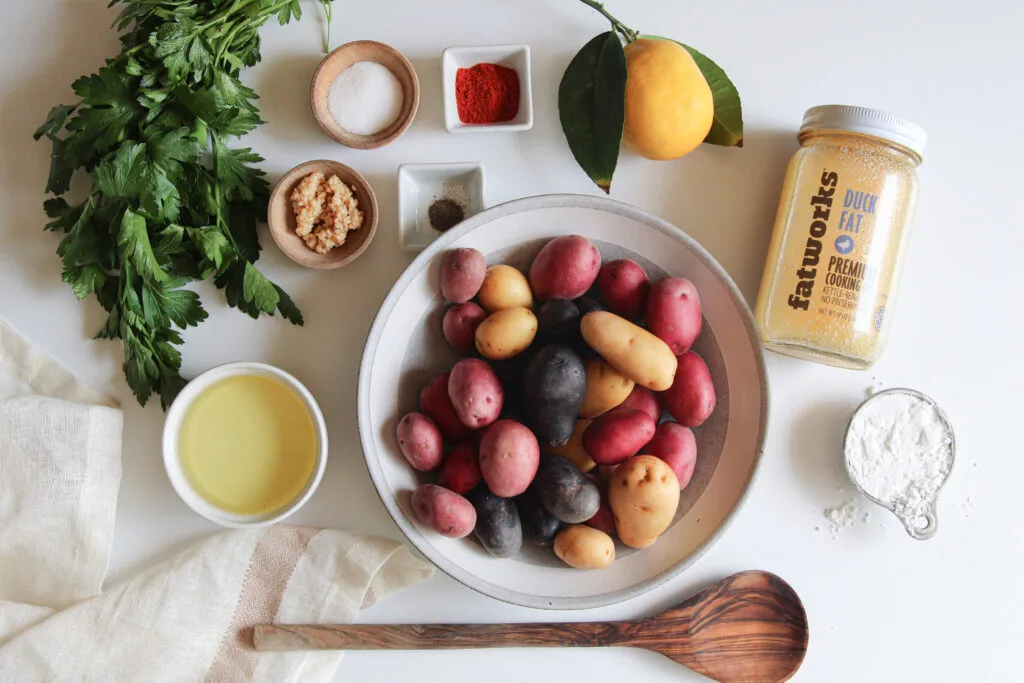 Cooking with Duck Fat
Duck fat has a subtle flavor and a high smoke point. It adds a rich flavor and great texture to any dish. For potatoes, it helps add a golden crust, unlike other fats. It can be a great alternative to other cooking oils. Duck fat is becoming more common at mainstream grocery stores. We found it at our local Walmart in the oil aisle.
What is Gremolata?
Gremolata is a zesty Italian herb sauce made of parsley, garlic, and grated lemon zest. Commonly served with potatoes, meat, or fish, it's an easy way to elevate this side dish.
Have you ever wished your roasted potatoes were crispier?
There are a few things we incorporate into this dish to help you get crispy potatoes you will love. First, we steam the potatoes. Not only does that make for a quicker cooking time, but it also roughs up the surface of the potatoes to provide more crispness. Second, using duck fat creates that amazing golden crust on your potatoes. Finally, we toss the potatoes with a compatible flour to give them even more crunchy texture. Though this step is optional, all who tried these in testing preferred the potatoes tossed with flour.
Duck Fat Potatoes with Gremolata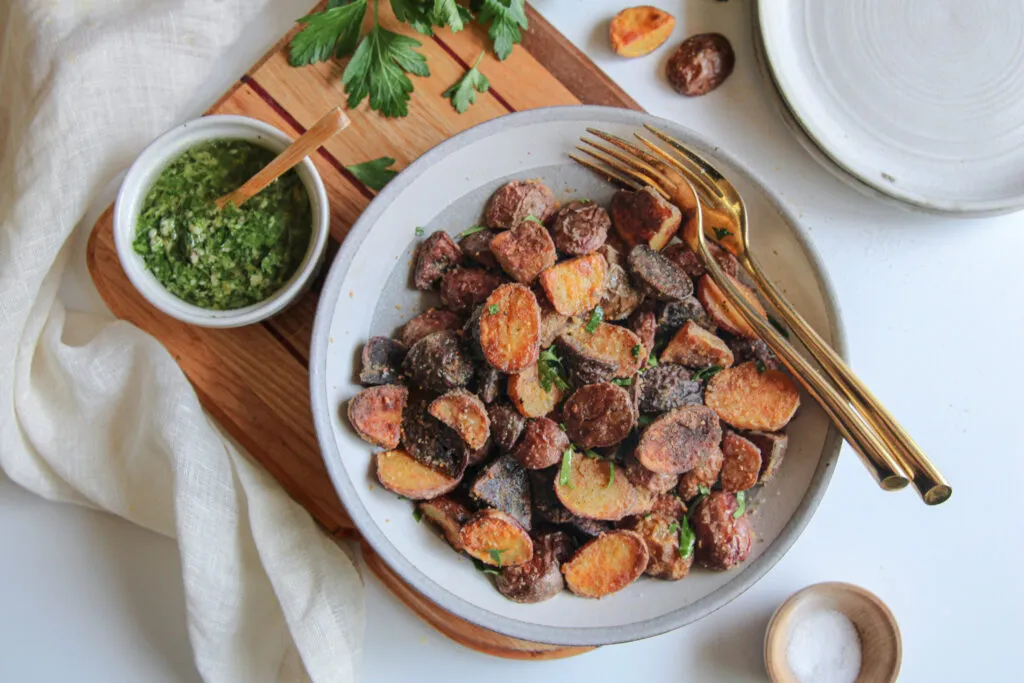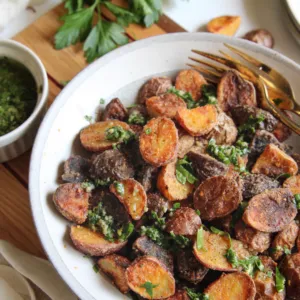 Whole30 Duck Fat Potatoes with Gremolata
Ready to take your roasted potatoes to a new level? Two key ingredients give these potatoes an amazing golden crust, while a simple Gremolata sauce adds bright, zesty flavor and a gorgeous pop of color.
Ingredients
2

lbs

yellow potatoes or baby potatoes

cut into small 1/2-1" pieces

1/4

cup

duck fat

2

tsp

salt

1

tsp

paprika

1/4

cup

tapioca, arrowroot, potato starch or potato flour

optional
Gremolata
bunch flat-leafed Italian parsley

leaves only

1

tbsp

finely minced garlic (about 2 cloves)

2

tsp

lemon zest (about one medium lemon)

3

tbsp

lemon juice

1/4

tsp

tsp salt

1/8

tsp

pepper

1/3

cup

olive oil
Instructions
Oven Method
PREHEAT oven to 450 degrees. Place a rimmed baking sheet into the oven while it preheats. This will help the potatoes get even crispier.

STEAM the cut potatoes with your preferred steaming method. We do this by adding the potatoes and ¼ cup water into a reusable stasher bag, sealing most of the way, and cooking for 5 minutes in the microwave. Drain any excess water from the steaming.

TOSS potatoes with duck fat. Add salt, paprika, and flour (if using) and stir until well combined. Remove hot pan from oven, line with parchment paper, and spread out coated potatoes evenly, cut side down.

BAKE at 450 for 25 minutes. Don't stir them while cooking, to help them crisp.

MAKE gremolata while potatoes are roasting. We do this by combining all the ingredients except the oil in a food processor, pulsing until well combined. Once well chopped, pour in the oil and gently stir to combine. If you do not have a food processor, finely chop the parsley by hand or with kitchen shears and then combine in a small bowl with other ingredients.

SERVE the potatoes with the gremolata drizzled on top and enjoy!
Airfryer Option
To air fry the potatoes, follow the instructions above through tossing the potatoes with oil and seasonings. Then, add to your air fryer and air fry at 450 for 6 minutes, toss, and then another 6 minutes, or until crispy.
Autumn Michaelis
Recipe Creator | Whole Food for 7
Autumn Michaelis is an ACSM Certified Exercise Physiologist, with a B.S. in Exercise Science from BYU. Though exercise was her first love in the health world, nutrition has become her passion. She created the blog Wholefoodfor7, sharing easy and budget-friendly Whole30, Paleo, and gluten-free + dairy-free recipes for families. In August 2022, Autumn released the newest Whole30 Endorsed cookbook, Whole Food for Your Family. She is mom to 5 boys (yes 5!) and when not in the kitchen can be found adventuring, hiking, and tearing up the dance floor.