Our @whole30recipes Instagram feed brings you delicious, Whole30 compatible recipes all day, every day. And, in our series, The Best of @Whole30Recipes, we bring our favorites to the blog. Looking for Whole30 Shareable Bites, Part One? Click here.

Earlier this week, we reminded you that we usually don't recommend a full during-the-holidays Whole30. But we never like to leave you hanging, so we also provided an alternate holiday game plan in Melissa's new book, Food Freedom Forever, to support your healthy habits during the holidays. Take some time to read and work through the steps (starting on page 138), so you can navigate all of the gatherings, parties, and special events in a way that's sustainable and healthy for you.
[Tweet "Five #Whole30 shareable bites recipes perfect for your upcoming holiday parties. #whole30recipes."]
One simple strategy we often suggest is to contribute a protein-rich Whole30 dish to your holiday parties, so no matter what the rest of the buffet looks like, you know you'll have something healthy and hearty to eat. (Bonus: This also earns you "brownie" points with the host or hostess.) Plus after tasting one of these delicious Whole30 dishes, you might have every guest at the party asking how they can get in on the Whole30 action, too.
Bacon Plantain Turkey Bites with Cilantro Aioli from @SophisticatedCaveman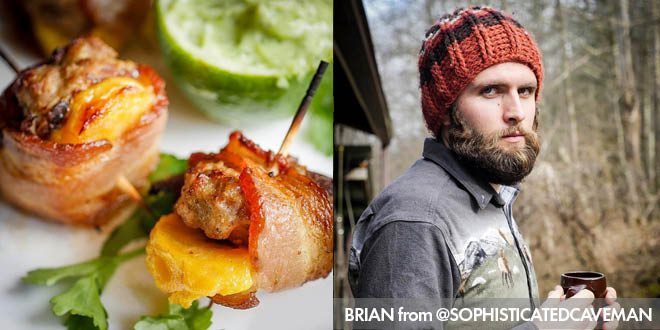 INGREDIENTS
FOR THE BITES
1 ripe plantain, sliced into rounds
1 pound bacon (make sure it's Whole30 compatible), strips cut in half
1 pound ground turkey
1 egg, beaten
2 tablespoons red onion, minced
2 tablespoons red pepper, minced
2 tablespoons coconut aminos
1 tsp all-purpose herb seasoning (read your labels!)
1/2 tsp garlic powder
1/2 tsp sea salt
1/4 tsp black pepper
1 tablespoon coconut oil
FOR THE AOLI
2 egg yolks
1 garlic clove
1 handful fresh cilantro (about 1/2 cup)
juice from 1/2 a lime
large pinch sea salt
1 cup avocado oil
INSTRUCTIONS
FOR THE AOLI
COMBINE all the ingredients except for the avocado oil in a blender or food processor. Pulse until combined, then turn to a constant low speed. Slowly drizzle the oil in until the mixture is emulsified. Transfer to an airtight container and refrigerate.
FOR THE BITES
PREHEAT oven to broil. In a large mixing bowl, combine the ground turkey, onion, pepper, egg, and spices.
BRING a large skillet to medium high heat and melt the coconut oil. Working in batches, drop tablespoonfuls of the turkey mixture into the skillet, pressing down with the backside of a spoon to form fun little patties. Cook just like a burger, flipping them once, until no longer pink.
STACK a mini turkey patty on a slice of plantain. Wrap with half a slice of bacon and secure with a toothpick.
PLACE the bites on a broiler pan or baking sheet lined with a rack and place in the oven. Broil until the bacon is crispy, turning them once or twice.
SERVE with the aioli and enjoy!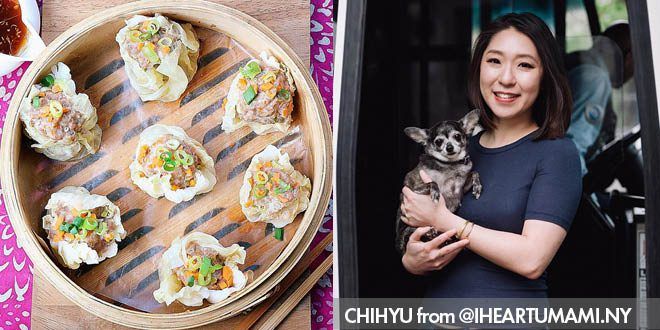 INGREDIENTS
1 lb of ground pork
1 small size cabbage
PORK SEASONING
1 ½ tbsp grated ginger
1 egg white
1 ½ tbsp toasted sesame oil
2 tbsp coconut aminos
2 stock of scallions, thinly sliced
6 tbsp finely chopped carrots
1 tsp sea salt
½ tsp white pepper
UMAMI DIM SUM DIPPING SAUCE
2 tbsp coconut aminos
1 tbsp organic rice vinegar (Whole30 compatible).
1 tsp toasted sesame oil
1 tsp grated ginger
INSTRUCTIONS
REMOVE the cabbage core. Fill-in a pot with cold water just enough to cover the entire cabbage. Once the water starts boiling. Turn the heat down to low boil. Remove the leaves as they separate. Set aside to cool.
COMBINE the ground pork with "pork seasonings." Mix well. Line a bamboo steamer with a thin layer of parchment paper. Alternately, use a steaming basket set over a pot of boiling water.
SELECT a small cabbage leaf. Form a small cup shape with a leaf in your hand and spoon about 1 tbsp of meat filling into the leaf wrapper.Gently squeeze the cabbage leaves and the meat filling to make sure they cohere nicely.
PLACE them in the steamer. Put one next to each other so they won't fall apart in the steamer. Steam over high heat for about 25-30 mins until fully cooked. The water should be more than simmering but not quite boiling. Enjoy with my signature umami dipping sauce!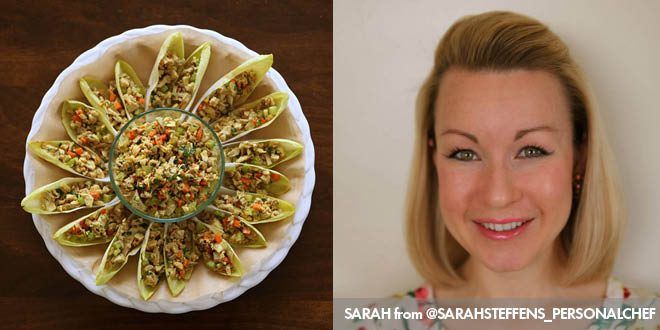 INGREDIENTS
2 whole endives (or enough to have about 20 leaves)
1-2 lbs. cooked chicken thighs, cooled and finely chopped*
1 carrot, peeled and finely chopped
2 celery stalks, finely chopped
2 Tbs. olive or avocado oil
1/2 cup of fresh parsley, finely chopped
Juice from 1/2 lemon
Sea salt to taste (about 1/2 Tbs.)
*Note: I prefer to cook chicken with a tablespoon of ghee and a teaspoon of sea salt on low heat in a sauce pan with a lid on. This method keeps the chicken tender.
INSTRUCTIONS
IN a large mixing bowl, add the olive (or avocado) oil, lemon juice and sea salt and mix with a whisk until sea salt is dissolved. Add the rest of your ingredients (cooked chicken, carrot, celery and parsley).
TOSS with a baker's spatula until it is evenly coated by the oil, lemon juice and sea salt.
PEEL the leaves of your endive and pat dry with a paper towel.
FILL each leaf with the chicken salad. If you have leftover chicken salad, just add it to a bowl and place in the middle of a serving tray. Arrange the stuffed leaves around the bowl and there you have it! A simple and delicious meal or appetizer that you can enjoy and share with your loved ones. Bonus: this is AIP friendly, too!
USE this recipe as a base idea and make it with your favorite fresh herbs and spices. Options are limitless.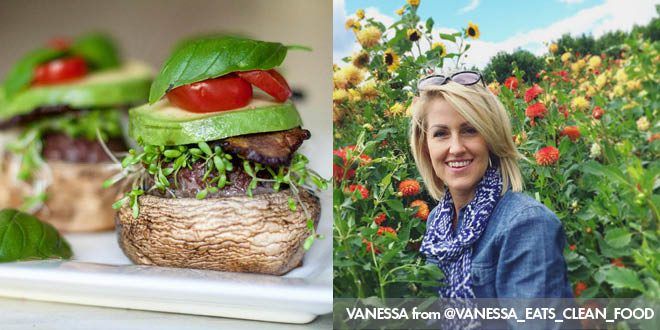 INGREDIENTS
1 pound grass fed ground beef
Herbs and spices of choice*
8 large mushrooms
4 slices of sugar free-nitrite free bacon, cooked
2 small tomatoes, sliced
1 avocado, sliced
Alfalfa sprouts
Fresh basil leaves
INSTRUCTIONS
PREHEAT oven to 400. Line a baking sheet with parchment paper or foil. Clean mushrooms by brushing dirt off with dry cloth. Carefully remove the stems from the mushrooms. Evenly arrange mushrooms on the baking sheet.
IN a bowl, add ground beef and season with any of the following to suit your personal taste buds: sea salt, smoked paprika, onion powder, garlic powder, dried oregano, black pepper, cumin, etc. Mix well. Form into 8 meatballs, and place inside the mushrooms. Bake uncovered for 20 minutes or until no longer pink.
MEANWHILE, prepare other ingredients. When the meatballs are done, stack up with the ingredients you love. I like to use cooked bacon, tomato slices, avocado, alfalfa sprouts and fresh basil. Use your imagination. Serve with knife and fork! A side of oven-roasted potatoes fries would be a match made in heaven.
Whole30 Orange-Sesame Chicken Meatballs from @JustPlainPaleo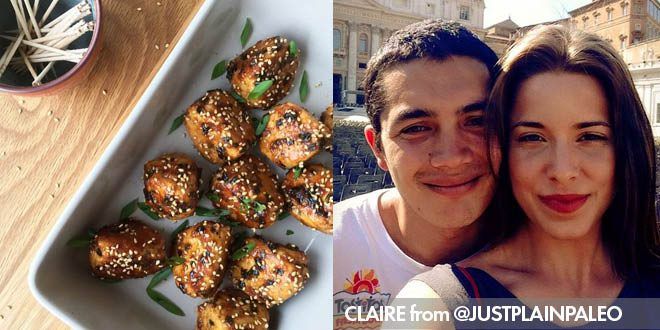 INGREDIENTS
FOR THE MEATBALLS
1 pound ground chicken
1 egg + 1 egg yolk
1 tablespoon coconut aminos
2 tablespoons almond meal
2 tablespoons green onion, finely chopped
1/4 teaspoon garlic powder – make sure it's just garlic, no funny business!
1/2 teaspoon salt
Drizzle of olive oil
FOR THE GLAZE
1 teaspoon ghee or coconut
2 cloves fresh garlic, minced
1/2 teaspoon fresh ginger, finely grated
1/3 cup green onions, chopped
1/3 cup coconut aminos (Coconut Secret is nice)
1 tablespoon orange juice
1 teaspoon tomato paste – watch that label!
1 teaspoon black sesame oil
1/4 teaspoon white vinegar
The tiniest pinch of finely grated orange zest – seriously, a little goes a long way and too much can add a lot of bitterness.
INSTRUCTIONS
MAKE THE MEATBALLS
THROW everything in a mixing bowl and stir it up. The mixture will be fairly wet, so you can place it in the refigerator for 25 minutes to firm it up if necessary. It results in a nice soft-textured meatball.
USE a small ice cream scoop or a heaping tablespoon also works to load balls of the mixture into a hot cast iron skillet coated with a nice layer of ghee. Roll them a quarter turn every 20 seconds or so. Cook through, remove and set aside.
MAKE YOUR GLAZE
IN a small stainless saucepan or skillet, heat up your cooking fat and sauté the garlic, ginger, and green onions. Fry them up for a minute or so, then add the coconut aminos, orange juice, tomato paste and orange zest. Let this simmer for a few minutes until it thickens a bit, but be aware that the glaze will thicken as it cools.
FINISH with the sesame oil and white vinegar. Salt to taste, but the coconut aminos are salty already!
TOSS the meatballs with your glaze and sprinkle with toasted sesame seeds. Serve on a platter with a small jar of toothpicks; enjoy!
Save
Save
Save
Save
Save
Save
Save
Save