Need an easy appetizer everyone will love? This Whole30 7-layer Dip is just the thing! Only 10 minutes of cooking is all it takes for a crowd-pleasing dish that comes together in under 30 minutes.
This 7-Layer Dip is not only Whole30 but also gluten-free, dairy-free, and egg-free. A Whole30 take on a party favorite. We love pairing it with homemade tostones, though it's just as delicious served with raw veggies.
Layer Upon Layer
The first layer of this dip starts with Whole30 Approved Kitehill Plain Cream Cheese. This dairy-free cream cheese alternative is super creamy and flavorful. We mix that with ranch and taco seasoning for a delicious dip base layer.
Next, we layer on taco meat, guacamole, salsa, shredded lettuce, olives, pico de gallo, jalapenos, and ranch or chipotle ranch dressing. For the taco meat, we used ground beef cooked with our Homemade Whole30 Taco Seasoning. However, you can use whatever ground meat works for you – pork, turkey, chicken, or bison.
Kite Hill Whole30 Approved Cream Cheese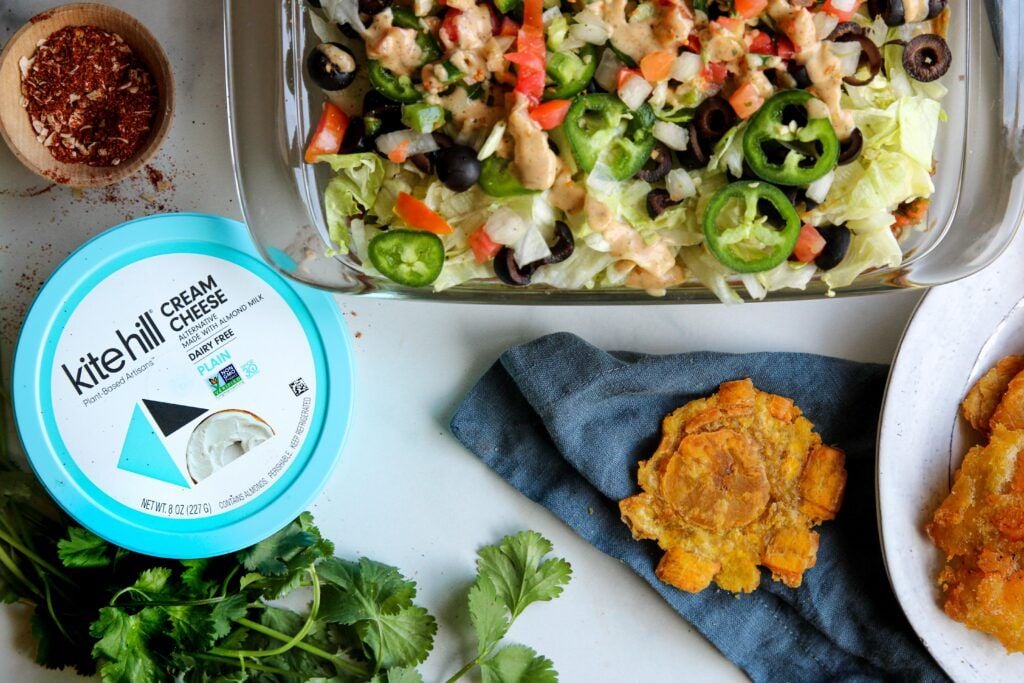 If you're looking for something to seriously enhance your Whole30 recipes, look no further than Kite Hill's Whole30 Approved Cream Cheeses and Ricotta. Since they're Whole30 Approved, you know they're an additive and dairy-free option for dipping, spreading, and stirring into your favorite dishes.

Made with California-grown almonds, Kite Hill Cream Cheeses add a velvety smooth creaminess to dips and casseroles but also make a fantastic option for dunking veggies, filling for stuffed peppers and jalapeno poppers, or paired with a meat stick to make Melissa Urban's favorite snack. It's no wonder they're the #1 Plant-Based Cream Cheese brand!
The Cream Cheeses are available in Plain, Chive, Everything, and Garden Veggie, making them perfect condiments to add variety to your January Whole30 snacks and meals.

Click here to save $2-off your next Kite Hill purchase! (Offer valid through 6/15/23.)
Flexible to Your Needs
Feel free to make the guacamole and salsa yourself, or save time and buy a compatible version at the store. You can also speed up the prep time with bagged shredded lettuce instead of cutting it yourself or using a canned of diced jalapenos instead of fresh.
Plus, we adore that this dip is flexible to your preferences and accessibility. Don't like olives or jalapenos? Leave them off! Want extra meat? Double that layer. We used a 9×9 pan for this, but you can also use a large pie pan or 11×7 dish.
We love serving this dip with raw veggies or tostones. Tostones are twice-cooked green plantains common in Latin American and Caribbean cuisine. They are crispy and perfect for scooping up this dip! You can find easy instructions here if you haven't made tostones before.
Want to make it ahead?
You can prepare this dish up to 24 hours ahead of time. Layer the cream cheese layer, taco meat, guacamole, and salsa. Hold off on chopping and adding the chopped lettuce, olives, jalapeno, and ranch or chipotle ranch until just before serving to keep the lettuce crisp.
Whole30 7-Layer Dip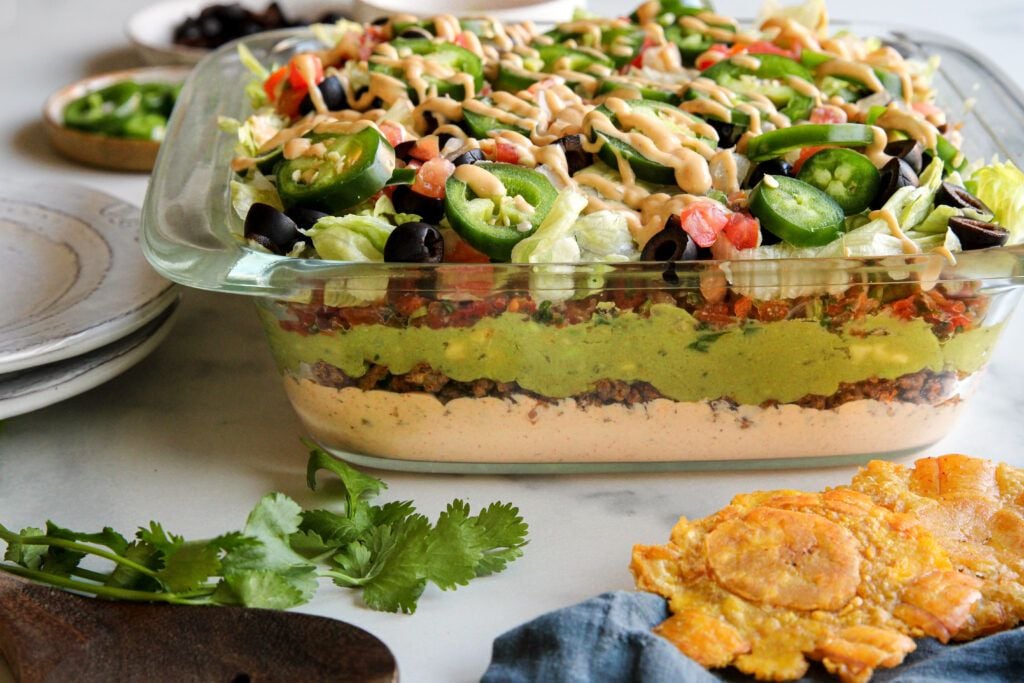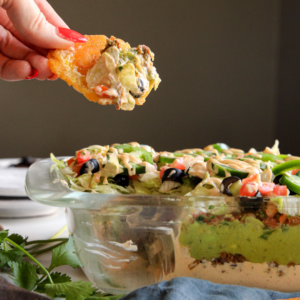 Whole30 7-Layer Dip
Only 10 minutes of cooking is all it takes for this crowd-pleasing Whole30 7-Layer Dip that comes together in under 30 minutes.
Ingredients
3.5 tbsp taco seasoning
1 lb ground meat of choice
1 (8) oz package Kite Hill Original Cream Cheese
1/2 cup compatible ranch
15 oz or about 2 cups guacamole
15 oz or about 2 cups picante salsa
1 head of iceberg or romaine lettuce thinly sliced
1 (2.25) oz can sliced olives, or 1/3 cup sliced olives
2 fresh jalapenos thinly sliced
1 cup pico de gallo
Optional
top with ranch or chipotle ranch dressing
Instructions
HEAT a medium saucepan to medium heat. Add ground meat and 2 ½ tablespoons taco seasoning. Cook until browned through, about 10 minutes.

COMBINE in a small bowl the cream cheese, ranch, and remaining 1 tablespoon taco seasoning. Whisk until well combined.

BUILD your 7-layer dip in a 9×9 dish. Start with the cream cheese mixture, then the ground meat, guacamole, salsa, lettuce, olives, jalapeños, pico de gallo, drizzling with ranch or chipotle ranch if desired.

SERVE with raw vegetables or tostones.
Autumn Michaelis
Recipe Creator | Whole Food for 7
Autumn Michaelis is an ACSM Certified Exercise Physiologist, with a B.S. in Exercise Science from BYU. Though exercise was her first love in the health world, nutrition has become her passion. She created the blog Wholefoodfor7, sharing easy and budget-friendly Whole30, Paleo, and gluten-free + dairy-free recipes for families. In August 2022, Autumn released the newest Whole30 Endorsed cookbook, Whole Food for Your Family. She is mom to 5 boys (yes 5!) and when not in the kitchen can be found adventuring, hiking, and tearing up the dance floor.