Whether you've been part of the Whole30 community since the beginning or are just joining us (welcome!), chances are you know and love Autumn Michaelis. Whole30 Digital Content Producer and mom of five (yes, five!) boys, Autumn, has been sharing budget- and family-friendly Whole30 and Paleo meals on Wholefoodfor7 for years—and in August 2022, she released the latest Whole30 Endorsed cookbook, Whole Food For Your Family.

Whole Food For Your Family comes complete with more than 100 recipes that everyone will love. Autumn's book also shares tips for saving time and money when feeding a family and hacks for tackling picky eaters. We're confident it'll be your go-to every day of the week, but if you need convincing, this Whole30 Enchilada Dip Bake will surely seal the deal.
---
This gluten-free, dairy-free, Whole30, and paleo recipe is a simple one-dish entree solution to dinner. It's also a fantastic egg-free and nut-free option!
With only 15 minutes of prep time, it pulls together quickly and easily. In addition, the casserole fills a 9 x 13-inch pan, making it big enough to feed a crowd.
Plus, I can find all six ingredients needed at my local Walmart!
Whole30 Enchilada Dip Bake Recipe Notes:
Dairy-free cheese is allowed on Whole30 if the ingredients are Whole30 compatible. (Learn more about why on this Whole30 post under the "nut cheese" section.) I can't find any "cheddar" shreds in my area that are Whole30 compatible. But never fear! The cheese shreds are optional, and this dish is still delicious without them!
Coconut cream comes in a can and is usually next to the canned coconut milk. It has a higher fat content than coconut milk, which allows for creamy results. Using coconut milk (even just the solid part of a chilled can of coconut milk) is not recommended and will result in a watery, soupy dish.
If you are new to "nutritional yeast," it's not used the same way as baker's yeast. This yeast is inactive and used as a flavoring. It usually comes as thin yellow flakes, enhances the flavor (many feel it adds a vegan "cheesy" flavor to dishes), and is typically found in the condiment or spice section of the grocery store.
I steam my chicken in the Instant Pot and then shred it using my hand mixer or standing mixer. (You can find a video and detailed instructions on this easy shredded chicken method on my Instagram HERE).
Make-ahead tip: I always prep extra steamed, shredded chicken and then freeze it for when needed. You can also use canned shredded chicken if that's accessible to you. Just make sure it is Whole30 compatible.
We love this recipe scooped with my Homemade Tostones like sliders (how my boys devour it!), or it's also tasty on top of steamed cauliflower rice. When served on top of steamed cauliflower rice or my Cilantro Lime Cauliflower Rice, this checks all the Whole30 meal template boxes with protein (shredded chicken), coconut cream (healthy fats), and veggies (cauliflower).
Want more budget and family-friendly recipes and tips? I put all of my best money-saving strategies and recipes into Whole Food for Your Family, the newest Whole30 Endorsed cookbook. Order your copy here!
Whole30 Enchilada Dip Bake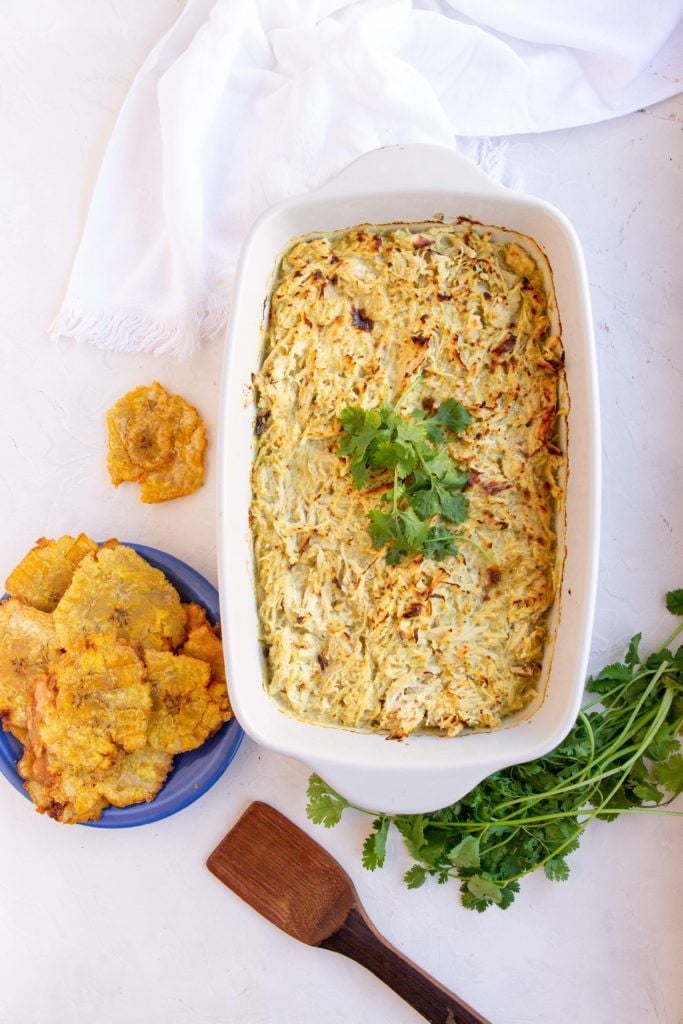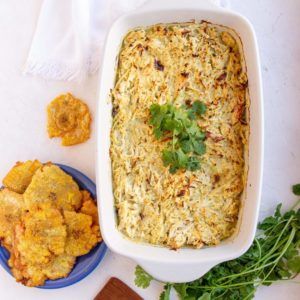 Whole30 Enchilada Dip Bake
This six-ingredient recipe from the upcoming Whole30 Endorsed cookbook Whole Food For Your Family feeds a crowd in a flash on busy weeknights and is loaded with creamy, "cheesy" enchilada-inspired goodness you'll want to scoop up straight out of the pan.
Ingredients
1

(13-ounce) can of chilled coconut cream

solid part only (see instructions)

1

(16-ounce) jar salsa verde

1/4

cup

nutritional yeast

1

tsp

garlic salt

5

cups

cooked and shredded chicken

(about 1.5 pounds)

1/2 to 1

cup

Whole30-compatible, dairy-free cheddar cheese shreds

(optional)
Instructions
PREHEAT the oven to 350°F.

OPEN the can of chilled coconut cream. Drain and set aside the cloudy liquid (you can use this in smoothies or just toss it), reserving the solid white coconut cream.

COMBINE the coconut cream, salsa, nutritional yeast, and garlic salt in a blender or food processor and blend until creamy.

SPREAD the mixture over the bottom of a 9×13-inch pan and sprinkle with dairy-free cheese (if using).

BAKE for 30 minutes, or until the mixture is bubbling around the edges. (If desired, prepare the tostones while the dip bakes.)

SWITCH the oven to Broil and continue cooking until the top of the casserole browns.

REMOVE the pan from the oven and let it cool for 10 to 15 minutes. (The sauce will thicken as it cools.)
Notes
Pro tip: For simple-as-possible shredded chicken, steam it in the Instant Pot and then use a hand or stand mixer to shred it up.
You Might Also Like…
Some links used in this post are affiliate links, meaning Whole30 makes a small commission off of purchases made via our link. Thank you for supporting our Whole30 partners.
---
Autumn Michaelis
Recipe Creator | Whole Food for 7
Autumn Michaelis is an ACSM Certified Exercise Physiologist, with a B.S. in Exercise Science from BYU. Though exercise was her first love in the health world, nutrition has become her passion. She created the blog Wholefoodfor7, sharing easy and budget-friendly Whole30, Paleo, and gluten-free + dairy-free recipes for families. In August 2022, Autumn released the newest Whole30 Endorsed cookbook, Whole Food for Your Family. She is mom to 5 boys (yes 5!) and when not in the kitchen can be found adventuring, hiking, and tearing up the dance floor.