This post is part of our Traditional Cooking Oils 101 series. To learn more about eating and cooking with animal oil, click here.
The Whole30 community's number one animal oil question, according to our (very unofficial) social media survey: "How do I cook with them?" What was once common knowledge just a few generations ago is now an art lost to decades of seed oils and margarine (we're lookin' at you, the '70s, '80s and '90). Trust us, your great-great grandma knew what to do with lard.
We asked fat aficionado Bob Bernotsky to create Whole30-compatible recipes with his five favorite Whole30 Approved Fatworks products: Leaf Lard, Lamb Tallow, Pure Tallow (beef), Chicken Schmaltz, and Duck Fat. Consider these your gateway fats to cooking with animal oil. From there, your taste buds will gladly take the wheel and guide you to a delectable future of culinary exploration.
In today's post, Bob is demonstrating his favorite uses for Lamb Tallow and Leaf Lard. Stay tuned for part four, where we'll dive into Pure Lard, Chicken Schmaltz, and Duck Fat.
[Tweet "A #Whole30Recipe Exclusive: Cooking with @Fatworks oils, featuring @That_Paleo_Guy. #Whole30Recipes"]
An Introduction to Animal Fats, from Bob Bernotsky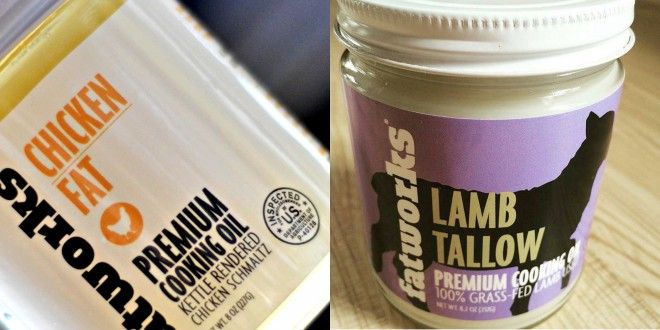 You've seen them all over social media—people are once again cooking with animal fats and talking about how yummy their meals are. But, you haven't yet pulled the trigger on buying them because you're not sure how to cook with them. You keep cycling between ghee, coconut oil, or olive oil for all of your meals. Deep down, your taste buds are longing for new flavors. I can hear their plea. Can you?
I'm here to give your palate something to write home about. Animal fats are extremely versatile with high smoke points, so in many ways they are no different than cooking with the common fats I mentioned above. Once you start experimenting, you won't want to cook without them; they add a rich dimension of flavor to foods that can't be duplicated by any other fat. (Upscale restaurants have long known this, but they're not always quick to give up their secrets.)
If you're looking for a delicious lean protein that you can have ready in 5 minutes, say hello to lamb tenderloins. They're tender like a filet mignon, they cook in minutes, and they're incredibly flavorful with nothing more than salt and pepper.
Seared Lamb Tenderloin with Sauteed Rainbow Chard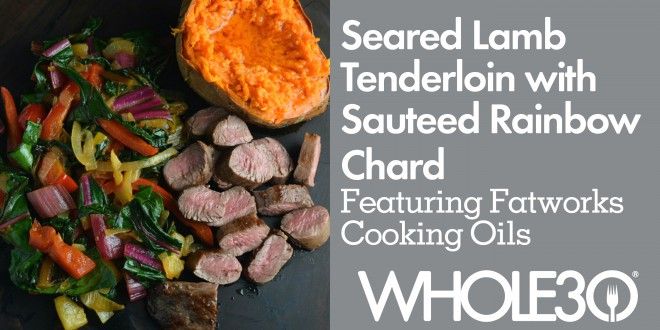 Serves 2-3
For the Lamb:
Ingredients
Instructions
PREHEAT a large skillet (cast iron if you have one) on just above medium heat. Add the Lamb Tallow once the skillet gets good and hot.
RUB the tenderloins with salt and pepper while the skillet is heating to temp.
LAY the tenderloins flat in the skillet and sear for 1 to 2 minutes. Flip with tongs and sear the other side for another 1 to 2 minutes.
That's it – they're done! Sprinkle with a little fresh rosemary (optional) and enjoy!
Recipe note: Lamb tenderloin is very lean and doesn't need much time on the heat. My tenderloins were about 2.5 oz each and cooked to a perfect medium-rare with just 90 seconds on each side.
For the Rainbow Chard:
Ingredients
1 bundle of Rainbow Chard
1 medium Sweet Onion, sliced
3/4 cup Pineapple, diced
1 Red Bell Pepper, sliced
1.5 Tbsp Fatworks Leaf Lard
1 tsp Coconut Aminos
Salt & Pepper to taste
Instructions
PREHEAT a large skillet over medium heat. Add the Leaf Lard and onion and cook for about 6 to 7 minutes until the onion starts to slightly brown.
WHILE the onion is cooking, cut the leaves off the chard stalks and slice the stalks into 1/2″ wide slices. Slice the leaves too but keep them separate from the stalks. Add the stalk slices to the skillet and cook for another 5 minutes.
ADD the sliced red pepper, diced pineapple, coconut aminos, and spices. Cook for another 5 minutes or until the peppers begin to soften.
LASTLY, add the sliced leaves to the skillet, stir everything up, and cook for another 2 minutes.
[Tweet "#Whole30 Seared Lamb Tenderloin with Rainbow Chard featuring @fatworks and @that_paleo_guy."]
Be sure to keep your eyes out for Part 4 of our Traditional Cooking Oil series with Fatworks, where Bob shares his strategy for straining and reusing animal oil to make your jars (and dollars) last twice as long.
---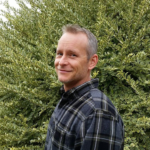 Bob Bernotsky of Simply That Paleo Guy is a Paleo foodie, fitness enthusiast, and lover of the outdoors. Connect with Bob: Blog | Instagram.
Melissa Urban
Co-Founder / CEO
Melissa Urban is a 7x New York Times bestselling author (including the #1 bestselling The Whole30) who specializes in helping people establish healthy boundaries and successfully navigate habit change. She has been featured by the New York Times, People, the Wall Street Journal, Forbes, The Today Show, and Good Morning America, and is a prominent keynote speaker on boundaries, building community, health trends, and entrepreneurship. She lives in Salt Lake City, UT with her husband, son, and a poodle named Henry.