Hola! I'm Cristina Curp of The Castaway Kitchen, and I'm super excited to kick off Caribbean Heritage Month here with my Whole30 Chicken Adobo with Potatoes and Mojo!
Growing up in Miami, Fl, as a Cuban-American meant weekends with my Abuelos. This recipe is a traditional adobo chicken with potatoes and mojo. This one-skillet recipe is the kind of thing my Abuela would make on a Sunday afternoon.
Pro tip: always keep some mojó on hand for a flavor boost! Just as it is, it's totally Whole30 compatible without any modifications. That's actually true for many Cuban dishes (hello, plantains)!
Choosing Your Ingredients
All of my recipes are super flexible because I think it's important to create dishes that folks can make, no matter where they live. Here are a few ingredient options, as well as my recommendations for specific ingredients.
Boneless skinless chicken thighs are my choice, but chicken breasts will work too.
Any kind of potato will work, but if using russet potatoes, peel them first. If you can't do nightshades, use white sweet potato.
Adobo is a seasoning blend made with garlic powder, turmeric, black pepper, and oregano. You can mix your own or buy a quality brand. I prefer Loisa because it's a small business, it's organic and it doesn't have any additives.
Cooking oil is such an important part of your Whole30. The switch to healthier fats is foundational for health. I like to use extra virgin olive oil or avocado oil for this recipe. However, ghee will work too.
One-Skillet Meal
If you make the mojo ahead of time, this definitely classifies as a one-skillet meal. It's important to note that the mojo recipe makes a lot of mojo, so you will definitely have leftovers! Add it to fried plantains, steaks, or just about anything.
I like using a 12- or 15-inch cast-iron skillet for this recipe. Cast iron is a non-toxic cooking option that's affordable and cooks great! The potatoes crisp up fast and the chicken gets a great sear on it. This big skillet with a 2-inch rim is where I make most of my meals, a veritable workhorse. If you don't have a skillet that big you may want to split the recipe in two or brown the chicken in batches and then put everything in the skillet to simmer.
Chicken Adobo with Potatoes and Mojo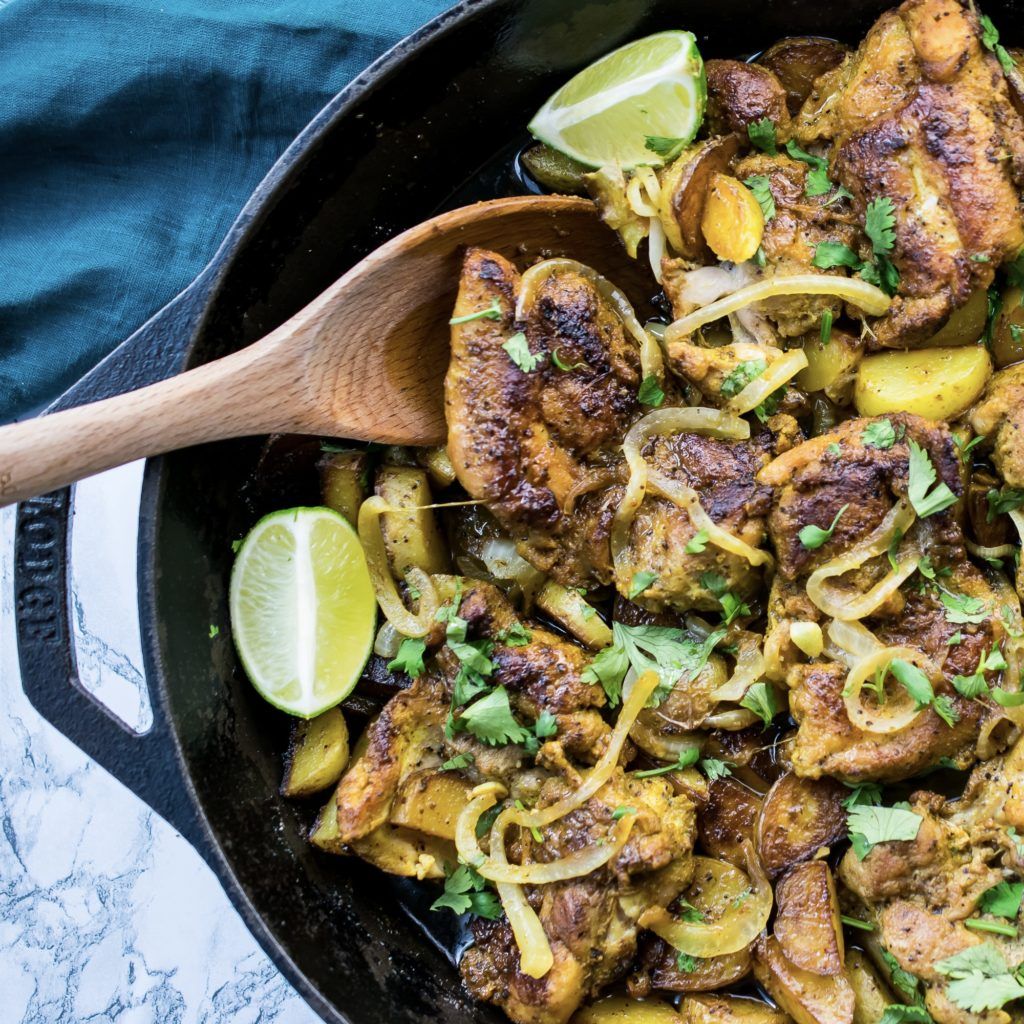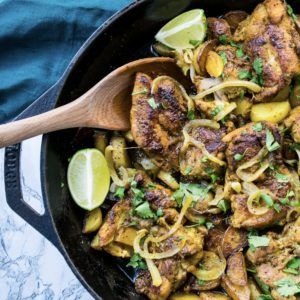 Chicken Adobo with Potatoes and Mojo
Packed with bright, zesty flavor, Castaway Kitchen's Chicken Adobo is the mouthwatering, one-skillet recipe you've been waiting for.
Equipment
1 12- or 15-inch cast iron skillet

(optional)
Ingredients
Mojó

1

large onion

sliced

2

cloves garlic

sliced

1

navel orange

juiced

2

lemons

juiced

1/2

tsp

salt

1

cup

olive oil
Potatoes

2

tbsp

olive oil

3-4

Yukon gold potatoes

1

tsp

salt

1

tsp

garlic powder

1

tsp

black pepper
Adobo Chicken

6-7

boneless, skinless chicken thighs

2

tsp

Adobo seasoning (additive-free)

1/2

tsp

fine salt

1

tbsp

olive oil

1/4

cup

lemon juice or bone broth

limes and cilantro to garnish
Instructions
Combine the onion, garlic, citrus juices and salt in a heat-safe bowl (tempered glass).


In a small sauce pot heat the olive oil over medium heat, until it comes to frying temperature. Then pour it over the onions and cover with a lid. Let it sit for 10 minutes.


Heat a large skillet over medium-high heat. Drizzle in the olive oil and once it's hot add in the potatoes and spread them out.


Cook undisturbed for 3-4 minutes to crisp up, then turn over. Add the seasonings. Let them keep cooking while you season the chicken.


Combine your chicken thighs, adobo, salt and olive oil in a large bowl and toss well.


Use a spatula to mix/ toss the par-cooked potatoes and then transfer the potatoes to a plate. Put the chicken thighs down in the hot skillet, making sure they don't overlap.


Cook here, undisturbed for 5 minutes. Then turn over and cook for 2 minutes, then put the potatoes over the chicken thighs.


Top with a few heaping spoonfuls of mojo making sure to get plenty of onion and sauce.

Cover with a lid and lower the heat to medium-low. Cook here for 5-8 minutes.


Open the lid and pour in 1/4 cup of lemon juice or bone broth. Turn over the chicken thighs and cover again, cooking another 2-3 minutes.


Serve hot and garnish with minced cilantro and sliced limes.
Cristina Curp
Recipe Creator | The Castaway Kitchen
Cristina Curp founded The Castaway Kitchen in 2015 to chronicle her personal health journey. Living with chronic inflammatory symptoms and autoimmune disease for many years, she took to the kitchen to improve her quality of life. This journey birthed her popular food blog, two best-selling cookbooks, and a career as a holistic nutritionist. When she's not in the kitchen you can find her at the beach with her family or trying out a new restaurant.