Our friend Maria Barton of Maria Makes is a meal-prep wizard, and from time to time she shares her meal planning and prepping tips with us. (Click here for her instructions on how to meal prep Whole30 taco salad.)

Today, she's sharing her delicious recipe for Whole30 Buffalo Chicken Salad, and the clever way she keeps it fresh all week long for quick grab-and-go Whole30 lunches.
From Maria: "Sundays are for meal prep. For me, that means figuring out what to make for lunches that will both travel well (to the office) and last until the end of the week!

I love this Whole30 Buffalo Chicken Salad because you can start with whatever chicken you have on hand. Throw a whole chicken in the Instant Pot or oven to roast; boil a few chicken breasts; or keep it easy by purchasing a compatible rotisserie chicken from the grocery store." You can even use canned chicken if that's what you have on hand!

Whole30 Buffalo Chicken Salad From Maria Makes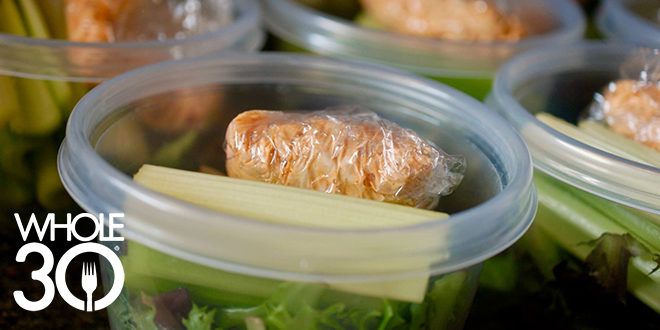 Ingredients
4 cups cooked and chopped/shredded chicken breast
2-3 stalks celery, finely chopped
1/2 red onion, finely chopped
1/3 – 1/2 cup Frank's Red Hot (to taste)
1/2 cup Whole30 Approved or compatible mayo (We like Primal Kitchens mayo, or you can make your own)
To Pack for Lunch:
Plastic wrap
Washed and dried greens
Carrot and celery sticks
Instructions
COMBINE shredded chicken with celery and onions in a medium bowl. Mix in mayonnaise and hot sauce, adjusting as desired for consistency and taste.

PACK for lunch by laying out on the counter-top 8 squares of plastic wrap. Divide the chicken salad mixture evenly among the 8 squares, placing a scoop of chicken salad directly in the middle of the square. This recipe should yield about eight 1/2 cup scoops of chicken salad.

FOLD in the corners of each square of plastic wrap to form a tightly-wrapped bundle of chicken salad.

IN reusable food containers, portion out 2 cups of greens. Add carrot and celery sticks, and one chicken-salad bundle. Place the lid on the container and store in the refrigerator for grab-and-go lunches.
---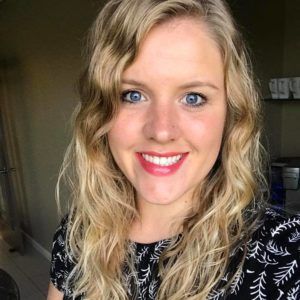 Maria Barton is a home chef, blogger, DIY-er, gardener, wife, and dog mom who is working on finding balance in her life after Whole30. You can find more delicious recipes at MariaMakes.com and connect with her at @mariamakesstuff on Instagram or on Facebook.
Melissa Urban
Co-Founder / CEO
Melissa Urban is a 7x New York Times bestselling author (including the #1 bestselling The Whole30) who specializes in helping people establish healthy boundaries and successfully navigate habit change. She has been featured by the New York Times, People, the Wall Street Journal, Forbes, The Today Show, and Good Morning America, and is a prominent keynote speaker on boundaries, building community, health trends, and entrepreneurship. She lives in Salt Lake City, UT with her husband, son, and a poodle named Henry.