This is the third post in our Whole30 Taco recipe series. Maria Barton of Maria Makes shares some of her favorite taco-fied recipes to spice up your week.
Does anyone remember that amazing taco salad your aunt used to make when you were growing up? The one that made an appearance at every family gathering; the one with the iceberg lettuce, creamy French dressing, and Doritos? (No, just me?)
[Tweet "Taco Salad: A #Whole30 compatible spin on an old family favorite. #whole30recipes."]
Whether you remember it or not, you will want to make this new and improved grown-up Whole30 version. It features a homemade creamy French dressing and special bonus avocados, and since you're not eating Doritos during your Whole30, I added fresh jalapeño slices for some crunch. If you're making this recipe for a crowd, I recommend serving it the "traditional" way, all tossed together in a big bowl. If you're trying to suit different tastes, you could also set up a make-it-yourself taco salad bar.
MEAL PREP TIP: Use this recipe to prep lunches for the whole week. Just wait for the taco meat to cool, scoop it into the bottom of your containers, top with salad fixings, and store in the fridge, keeping the dressing separate until ready to serve.
There are lots of steps to this recipe, but don't let that intimidate you! All of the steps are simple and the end result is so worth it. – Maria
Party Taco Salad from Maria Makes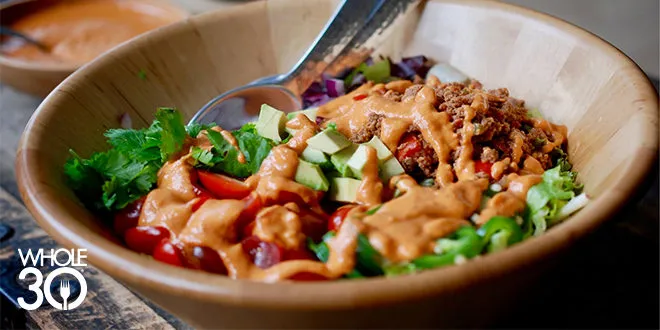 1 | Make the Taco Meat
Ingredients
1 green bell pepper
1 medium sweet onion
2 lbs ground beef, turkey, or chicken
15oz can petite diced tomatoes, drained
2 Tbsp chili powder
1 Tbsp cumin
2 tsp garlic powder
2 tsp onion powder
2 tsp salt
1 tsp cayenne pepper (optional)
Olive oil
Instructions
ADD a drizzle of olive oil to a large skillet and heat over medium-high.
CHOP bell pepper and onion and add to the skillet along with the ground meat.
COOK and break up the meat until it is mostly cooked through and hardly any pink remains, 7-10 minutes.
ADD drained petite diced tomatoes along with all seasonings (chili powder through cayenne pepper).
COMBINE and continue to cook until all meat is seasoned and everything comes together (about 5 minutes).
2 | Make the Creamy Red Pepper French Dressing
Ingredients
4 pitted dates
2 Tbsp water
⅓ cup sweet onion, chopped
⅓ cup apple cider vinegar
⅓ cup extra light olive oil
¼ cup roasted red peppers (the kind from a jar – be sure to check labels!)
3 Tbsp tomato paste
3 Tbsp Whole30 mayonnaise
2 Tbsp dijon or spicy brown mustard (check labels!)
1 tsp dried mustard
1 tsp paprika
Juice of half a lime or lemon
¼ tsp salt
⅛ tsp black pepper
Pinch of cloves
Instructions
CHOP the dates and add to a small bowl with 2 Tbsp of water. Microwave for 1 minute until dates are softened.
ADD dates and ALL other ingredients to the container that came with your immersion blender OR to the pitcher of your regular blender!
BLEND using your immersion blender or your regular blender until dressing is smooth and creamy.
TASTE and adjust seasonings as needed. Dressing will thicken some in refrigerator, so you may want to thin it a bit more with water, especially if you like a thinner dressing.
[Tweet "Whole30 taco tip: toss it in a bowl for the full flavor without the mess #Whole30"]
3 | Assemble the Taco Salad
If you're tossing everything together, mix up only what you plan to eat for this meal!

Ingredients
8-12 cups salad greens of your choice (I like baby mixed greens)
2 cups halved cherry tomatoes
1-2 avocados, diced
½ a red onion, finely chopped
4 jalapeños, thinly sliced
fresh cilantro
Taco Meat
Creamy Red Pepper French Dressing
Instructions
FILL a large salad bowl with mixed greens or salad greens of your choice.
TOP with cherry tomatoes, avocado, red onion, sliced jalapeños, and cilantro.
ADD taco meat and some of the dressing, then gently toss to combine. Start with less dressing than you think, you can always add more!
For another fun way to serve this to a crowd, leave all ingredients separate and let guests build their own salads! Everyone might not appreciate the raw jalapeños.
ENJOY!
Melissa Urban
Co-Founder / CEO
Melissa Urban is a 7x New York Times bestselling author (including the #1 bestselling The Whole30) who specializes in helping people establish healthy boundaries and successfully navigate habit change. She has been featured by the New York Times, People, the Wall Street Journal, Forbes, The Today Show, and Good Morning America, and is a prominent keynote speaker on boundaries, building community, health trends, and entrepreneurship. She lives in Salt Lake City, UT with her husband, son, and a poodle named Henry.