As you settle into a #SeptemberWhole30 routine, you'll most likely find yourself cycling through 8-10 favorite recipes each week. This is actually a smart Whole30 success strategy; you're establishing new habits that will become part of your food freedom long after your 30 days are over.
But, it's equally important that you don't become bored with your Whole30 food. And with all of the delicious, fresh produce, protein, herbs, and spices that are in line with the Whole30 program rules, you shouldn't have to! Every Friday throughout the #SeptemberWhole30, we'll publish a few inspiring and creative Whole30 recipes. If you find yourself with a little time this weekend to experiment with new recipes, try one of the dishes below from Michelle Smith of the thewholesmiths. Maybe one of them will become a new Whole30 staple.
[Tweet "Three recipes from @theWholeSmiths to inspire your #SeptemberWhole30, on the #Whole30 blog"]
Chicken Pesto Cups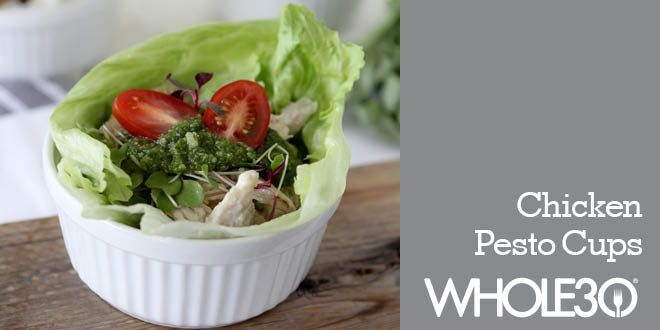 For the Chicken: Ingredients
2 C. shredded chicken
1/4 C. compatible mayo, like Primal Kitchen Mayo
1 C. cherry tomatoes halved
1 C. sprouts
1 head of iceberg lettuce (or top on a bed of spinach as an option)
Paleo pesto (see recipe below)
Salt & pepper to taste
For the Chicken: Instructions
TOSS shredded chicken with mayo and salt and pepper to taste, set aside.
PEEL one leaf of iceberg lettuce off and arrange into a small bowl.
FILL bowl with chicken and mayo mix.
TOP with cherry tomatoes, sprouts and desired amount of pesto (I recommend 1 Tbsp. for each serving).
For the Pesto: Ingredients
2 C. basil
1/2 C. olive oil
1/4 C. salted cashews
1/4 C. toasted pine nuts
2 cloves of garlic
salt to taste
For the Pesto: Instructions
ADD all ingredients into a blender and pulse until combined, not too chunky and not too smooth
[Tweet "Chicken Pesto Cups from @thewholesmiths, on the #Whole30 blog today #SeptemberWhole30 #whole30recipes"]
Chicken Tortilla-less Soup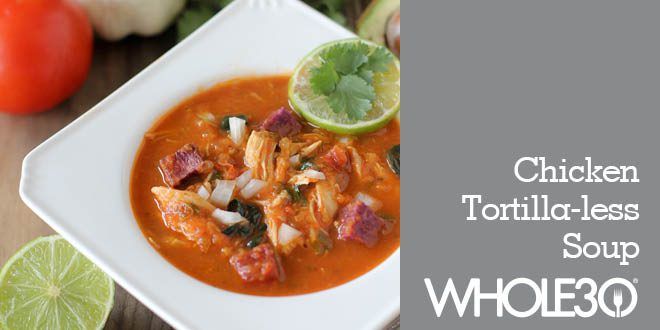 Ingredients
1 Tbsp ghee / cooking oil
1 onion diced
1/4 C. poblano peppers finely chopped
1 red pepper diced
3 cloves of garlic minced
1 Tbsp Mexican seasoning
16 oz diced tomatoes (I prefer San Marzanos)
1 4 oz can diced green chiles
4 C. shredded chicken
32 oz organic chicken broth
2 C. chopped kale
1 sweet potato diced and roasted
1/4 C. chopped cilantro + more for garnish
Instructions
HEAT a large stock pot to medium heat and add ghee or oil. Once oil is heated, add onions and cook until translucent and lightly browned.
WHEN onions are cooked though add poblano peppers, red peppers and cook until softened. Once soft, add the garlic and cook until tender making sure not to burn.
ADD in mexican seasoning and toss to coat, then add can of diced tomatoes and green chiles and cook for 3 minutes.
ONCE cooked, add shredded chicken and chicken broth/stock and bring pot to a boil.
WHEN boiling, turn heat down, add kale and simmer for 10 minutes
ADD sweet potatoes, cilantro, and stir, heating for another 5 minutes.
LADLE into bowls and enjoy!
Olive Braised Chicken Thighs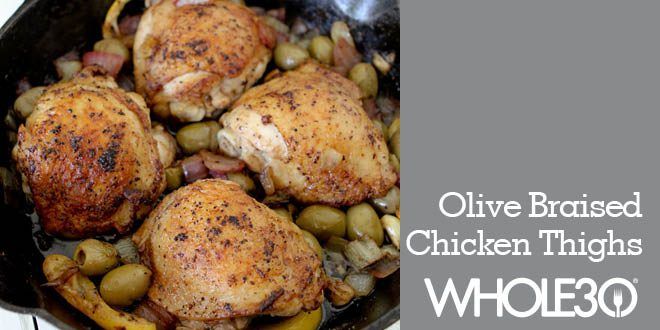 Ingredients
6 chicken thighs, bone-in and skin on
1/4 C. avocado oil
1.5 C. onion, chopped
2 lemons, sliced
4 cloves of garlic, smashed
2 C. green pitted olives
Salt and pepper to taste
Instructions
PREHEAT oven to 400 F.
GENEROUSLY season chicken thighs with salt and pepper.
HEAT a large oven-proof skillet on medium-high heat. Once hot, add avocado oil.
WHEN oil is hot, place chicken thighs skin side down and sear skin for roughly 3 minutes, until skin is crispy and golden brown.
FLIP chicken thighs and arrange onions, lemon slices, garlic and olives around chicken thighs.
PLACE skillet into oven and bake until chicken has an internal temperature of 165 F.
ONCE 165 F, remove from oven and let rest for 5 minutes prior to serving.
---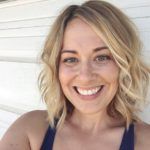 Michelle Smith is a food blogger and a Whole30 veteran. She is a frequent contributor to the Whole30 community, blogging recipes, kitchen tips, and healthy lifestyle inspiration on the whole smiths blog and her Instagram feed.
Save
Save
Save
Save
Jen Kendall
Whole30 Approved Program Manager
Jen Kendall, our Whole30 Approved Program Manager, is a born and raised Floridian who now lives in Utah with her husband Quinn and their two-year-old boy Easton. She graduated the University of Florida in 2010 from the College of Journalism and Communications and has a strong interest in nutrition, health and exercise. Jen has an insatiable appetite for travel and adventure and also loves books, spending time in the kitchen cooking and experimenting with recipes, Crossfit, and enjoying as many days as possible in the outdoors year-round.