This 4-part Soup Sunday cooking series comes from Ali Rakowski of intersectioncoaching.com, and the author of Bowls of Love. If you'd like to submit a recipe, helpful tip, testimonial, or Whole30 article for consideration, email it to [email protected].
Bowls of Love
Background: I love soup so much that I wrote a cookbook called Bowls of Love that is full of dozens of seasonal Paleo (and Whole30-compatible) soup recipes.
I wanted my book to showcase the essence of what soup means to me, so I reached out to 49 special people all over the world who have impacted my life in some way. I asked them to each send me a special bowl of any size, shape, and design. Every recipe in my cookbook is dedicated to one of these special people and photographed in the bowl that they gave me. It's so special to share love through food and healthy cooking, and I encourage you to whip out your favorite pot and wooden spoon and get cooking!
Whole30 (hearts) Soup
Last January, I shared my Bowls of Love recipe for Whole30 Piping Parsnip & Pear soup. Now that the weather is cooling off, I wanted to share a few more soup recipes with the Whole30 community. For the next few (chilly) months, I will post soup and stew recipes to warm your hearts and bowls all fall and winter long! Of course, you can eat soup any day of the week, but I think there's something appealing about a warm, nourishing bowl of soup on a lazy Sunday afternoon. We'll post the recipes on Thursdays to give you plenty of time to gather ingredients before the weekend.
It is officially soup season, and it's time to get cooking!
[Tweet "#Whole30 is celebrating Soup Season with @AliRakowski #SoupSunday #bowlsoflove"]
Soup is the perfect addition to a Whole30 for so many reasons:
It's affordable with a lot of nutritional bang for your buck
It can easily be made ahead (and frozen) so emergency meals are handy
Leftovers are great to bring for lunch at school/work
It's a sneaky way to convince picky kids (and spouses) to eat lots of veggies
It is a warming food, both for your belly and your hands while you hold your bowl or mug
A hot pot of soup on the stove fills your house with great smells and extra coziness
This first Soup Sunday post is a non-traditional recipe full of beautiful purple ingredients. This recipe is totally flexible. Feel free to change up the types of potatoes, the color of the cauliflower, substitute the leek for more onion, etc. Think of this recipe as a foundation for your canvas, but you get to be the artist. Enjoy, and see you again in a few weeks!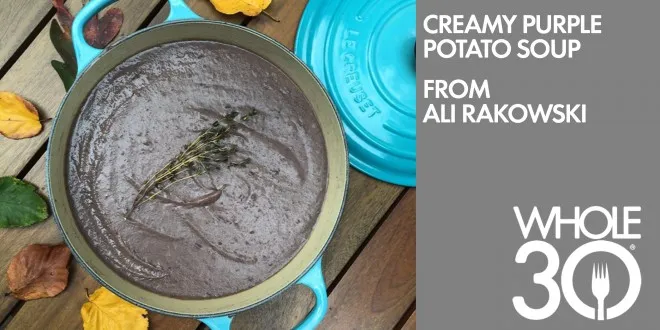 Creamy Purple Potato
Serves: 6
Prep time: 20 minutes
Cook time: 75 minutes
Ingredients
6 medium purple potatoes (or potato of choice), chopped
1 large head purple (or white) cauliflower, chopped
1 large onion, chopped
4 cloves garlic, diced
3 Tbsp. olive oil, divided
Salt & pepper
Fresh thyme
Fresh rosemary
2 shallots, diced
1 large leek (white parts only), sliced
4 cups broth (beef broth, chicken broth, vegetable broth, etc.)
Instructions
PREHEAT oven to 400 degrees.
TOSS potatoes, cauliflower, onion, and garlic with 2 Tbsp. of the olive oil, and top with salt, pepper, and a couple of sprigs of thyme and rosemary.
ROAST for 45 minutes (tossing every 15 minutes) or until vegetables are cooked through.
WHILE your veggies finish roasting, add remaining 1 Tbsp. of olive oil to your soup pot. Add shallots, leeks, and a pinch of salt and sauté for 5-10 minutes until soft.
REMOVE roasted veggies from the oven, discard the herbs, and add all veggies to the soup pot. If you have any crispy/sticky residue on the bottom of your roasting pan, add a little bit of stock to the pan so you can scrape it all off and add it to your pot – this is where the flavor lives!
ADD the rest of the stock to the pot, and bring the pot to a boil.
REDUCE heat and let simmer for about 15-20 minutes.
BLEND the soup with an immersion blender or in batches in a blender or food processor.
Don't forget to check out the other entries in this 4-part Soup Sunday cooking series from Ali Rakowski (coming soon)!
Article photos courtesy of Ali Rakowski

---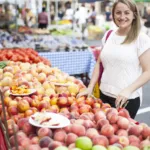 Ali Rakowski is a Stamford, CT health coach and author of the Whole30-friendly cookbook Bowls of Love. You can find more Whole30-compatible recipes on Ali's website www.intersectioncoaching.com, and you can share your #bowlsoflove with her on Instagram @ali_kristen and on Twitter at @alirakowski.