We're one week into the #JanuaryWhole30; you're probably on the hunt for flavorful and easy Whole30 recipes. Here's our gift to you: a little sneak-peek recipe from the new The Whole30 Slow Cooker.
Add this recipe for Chicken, Kale and Sausage Stew to your meal prep for the week week. Besides being delicious, it's also a perfect winter meal to prepare when the weather outside is anything but warm.
[Tweet "Chicken, Kale and Sausage Stew from The Whole30 Slow Cooker on the blog today! #JanuaryWhole30"]
Chicken, Kale and Sausage Stew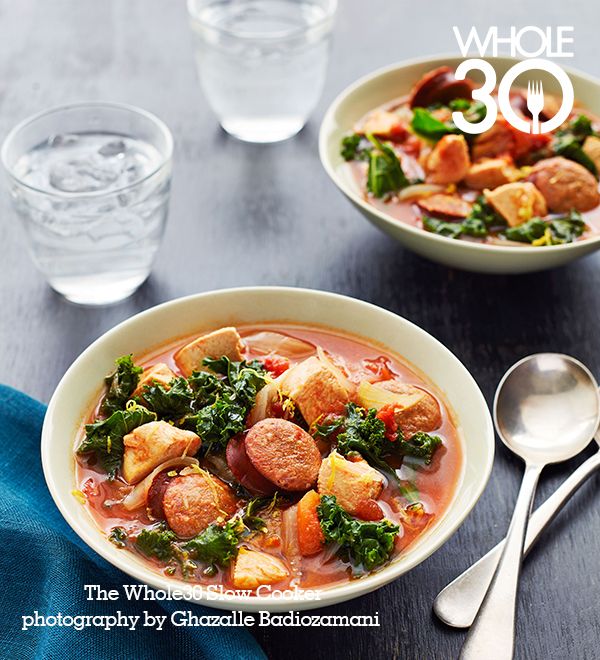 SERVES 4 | PREP: 20 minutes | SLOW COOK: 6 hours (Low) or 3 hours (High) | TOTAL: 6 hours, 20 minutes
Ingredients
Fennel and lemon are frequently paired up—they just seem to like each other a lot. Use a mortar and pestle to crush the fennel seeds, or place them in a plastic bag and roll over them with a rolling pin.

1 pound boneless, skinless chicken breast, cut into 1-inch pieces
4 cups Whole30-compatible chicken broth or Chicken Bone Broth
1 can (14.5 ounces) Whole30-compatible re-roasted diced tomatoes, undrained
1 large yellow onion, cut into thin wedges
2 cloves garlic, minced
2 teaspoons grated lemon zest, plus extra for serving
1 1⁄2 teaspoons fennel seeds, crushed
8 ounces Whole30-compatible smoked kielbasa or chicken-apple sausage, sliced into 1⁄2-inch pieces
2 cups packed chopped fresh kale
Instructions
IN a 6-quart slow cooker combine the chicken, broth, tomatoes, onion, garlic, lemon zest, and fennel seeds.
COVER and cook on low for 6 to 7 hours or on high for 3 to 31⁄2 hours. Add the sausage and kale. Cover and let stand for 5 minutes or until the sausage is heated through and the kale is wilted.
SERVE, topped with additional lemon zest if desired.
Order The Whole30 Slow Cooker

Excerpted from The Whole30 Slow Cooker. Copyright © 2018 by Melissa Hartwig Urban. Used by permission of Houghton Mifflin Harcourt. All rights reserved. Photography by Ghazalle Badiozamani. Whole30 is the legally registered trademark of Thirty & Co. LLC.

Melissa Urban
Co-Founder / CEO
Melissa Urban is a 7x New York Times bestselling author (including the #1 bestselling The Whole30) who specializes in helping people establish healthy boundaries and successfully navigate habit change. She has been featured by the New York Times, People, the Wall Street Journal, Forbes, The Today Show, and Good Morning America, and is a prominent keynote speaker on boundaries, building community, health trends, and entrepreneurship. She lives in Salt Lake City, UT with her husband, son, and a poodle named Henry.