On Monday, Melissa answered your questions about Vital Proteins products, which ones are Whole30 Approved, and how they support and compliment your Whole30 and food freedom. Today, we're sharing three recipes from Kelsey Preciado, the blogger and recipe developer behind Little Bits of Real Food.
[Tweet "Three #Whole30 recipes from @mylittlebitsof and @vitalproteins #collagen #septemberwhole30 #ad"]
Want your own Vital Proteins Collagen Peptides, Beauty Greens, or one of their other Whole30 Approved products? Shop their Whole30 Approved products online, including their special Whole30 Starter Pack (available only through October 4th). Or, scroll to the end of this post to find out how to win a one year supply of their Collagen Peptides!
Note: Their Vital Proteins Organic Whey and Collagen Whey products are NOT Whole30 Approved.
Beauty Green Goddess Dressing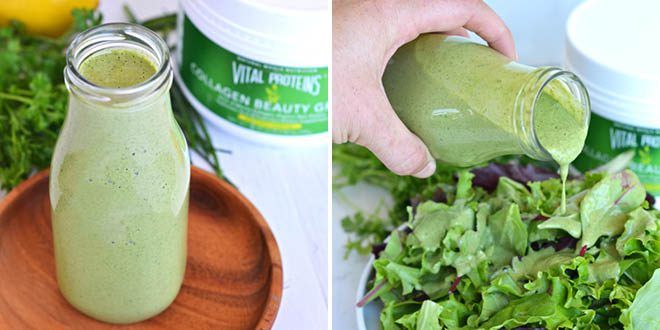 Ingredients
3 canned anchovies, drained
1 small garlic clove, minced
¾ cup mayonnaise (homemade, or a Whole30 Approved option like Primal Kitchen mayo)
½ cup water + 1 scoop Vital Proteins Beauty Greens (combined until dissolved)
1/2 cup chopped parsley
1/4 cup chopped fresh tarragon (or 3 Tbsp dried tarragon)
3 Tbsp chopped chives
½ cup chopped basil
2 Tbsp lemon juice
Salt and pepper to taste
Instructions
PLACE all of the ingredients in the bowl of a blender or food processor and blend or pulse until you get an evenly smooth dressing, about 1 – 1 ½ minutes.
SERVE as a dip, or toss with salad greens for a dressing. Store the dressing up to one week in the fridge.
Bacon Butternut Soup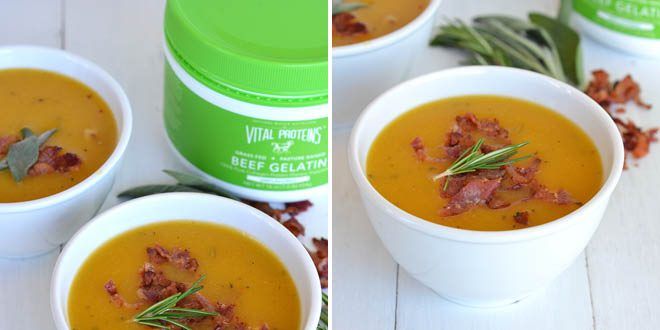 Ingredients
24 oz. chopped butternut squash
1/2 cup reduced fat coconut milk
1 Tbsp coarsely chopped sage leaves
1 tsp coarsely chopped rosemary
4 slices bacon*
4 cups chicken broth or stock*
4 scoops of Vital Proteins Beef Gelatin + ½ cup water
2 Tbsp arrowroot powder + ¼ cup water
*Check your labels to make sure these ingredients are Whole30 compatible. See our Whole30 Approved page for our preferred bacon and bone broth brands.
Instructions
PLACE chopped butternut squash in a microwave safe bowl and cover with a damp paper towel. Microwave on high for 8-12 minutes or until cooked through and fork tender. Add the squash to your food processor with the blade attachment and pulse until smooth. Add coconut milk and herbs to the food processor and blend until combined.
PLACE large pot over high heat and crisp 4 slices of bacon, chop it and then set it aside. Pour all but 1 tablespoon of the bacon grease out of the pot, then add chicken broth or stock. Bring broth to a boil and add in butternut squash mixture, whisking to combine. Cover and let simmer for 15 minutes.
ADD Beef Gelatin to the ½ cup of cold water until combined, and add that mixture to the pot. Bring to a boil again. To make the soup thicker, in a small bowl combine 2 tablespoons of arrowroot to ¼ cup of cold water, then add that to the pot while whisking. Bring to a boil again and let simmer for another 5 minutes. Serve in a bowl with crumbled bacon on top.
Greek Kale Frittata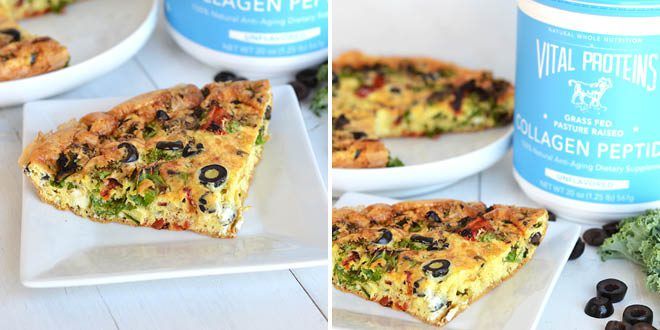 Ingredients
1 tsp extra-virgin olive oil
1 packed cup chopped kale
¼ cup sun-dried tomatoes
¼ cup chopped pitted black olives
8 eggs
2 scoops Vital Proteins Collagen Peptides
½ tsp salt
A few shakes pepper
½ tsp garlic powder
Instructions
TURN your oven's broiler on high. In a medium bowl whisk together eggs, collagen peptides, salt, pepper and garlic powder.
PLACE a non-stick 8 inch skillet over medium high heat. Add olive oil and kale to the pan and let kale wilt slightly. Then add sun-dried tomatoes and olives to the pan.
POUR in the egg mixture and stir slightly just to spread out ingredients into a single layer. Cover and let cook for 7 minutes or until the bottom and sides are set.
UNCOVER and place pan under the broiler for about 2-3 minutes or until the top is set and cooked. Slice and enjoy!
Win Your Own Vital Proteins Collagen Peptides
Today on the Whole30 Instagram feed, Vital Proteins is giving away a one-year supply of their popular Collagen Peptides to one Whole30'er. Follow us on Instagram for your chance to win!
This featured post is sponsored by Vital Proteins. This post contains affiliate links, meaning we make a small commission from items purchased. Thank you for supporting our partners.
---
Kelsey Preciado is a recipe developer, food photographer and blogger. She runs the Little Bits of Real Food blog, where she shares her real food recipes and perspective on health and nutrition. She is also shares her recipes on Instagram, and is a contributor to the Whole30 community.
Save
Save
Save
Save
Save
Melissa Urban
Co-Founder / CEO
Melissa Urban is a 7x New York Times bestselling author (including the #1 bestselling The Whole30) who specializes in helping people establish healthy boundaries and successfully navigate habit change. She has been featured by the New York Times, People, the Wall Street Journal, Forbes, The Today Show, and Good Morning America, and is a prominent keynote speaker on boundaries, building community, health trends, and entrepreneurship. She lives in Salt Lake City, UT with her husband, son, and a poodle named Henry.