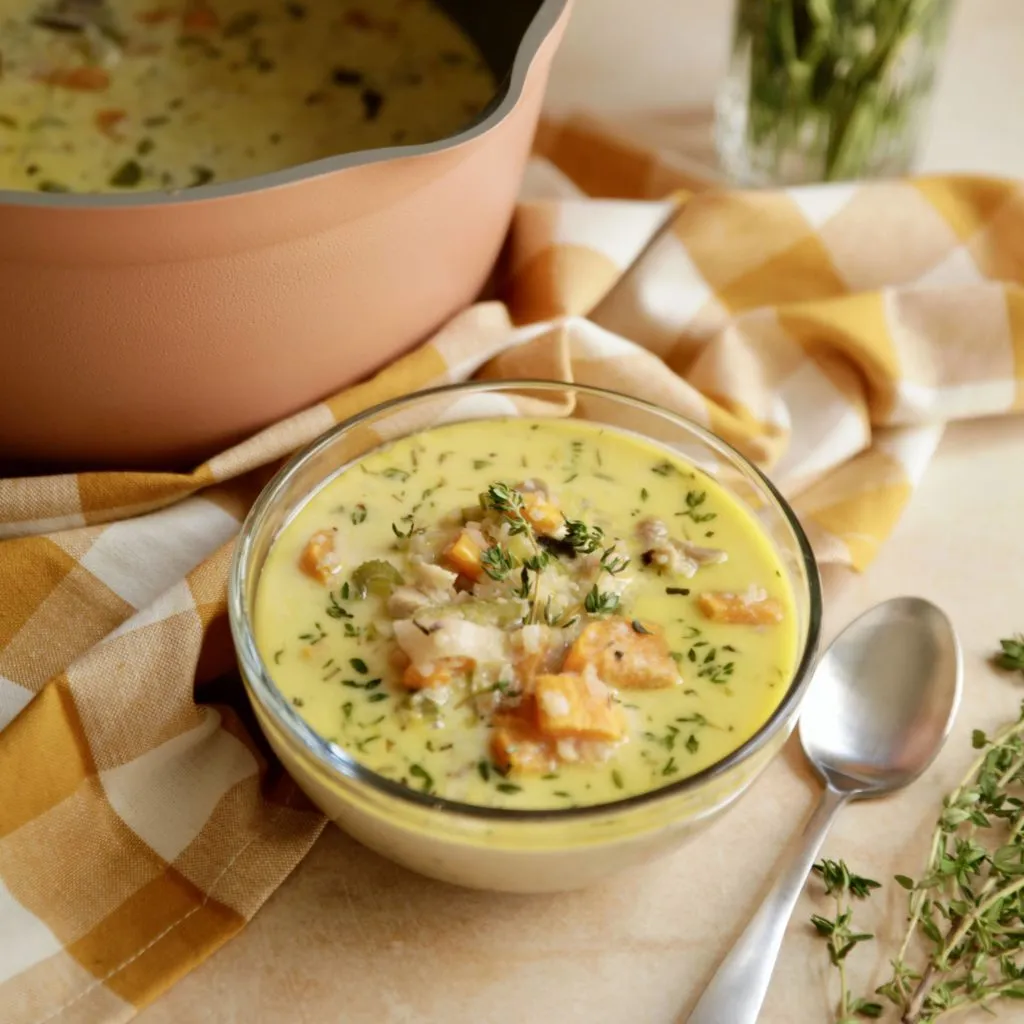 We recently got our hands on the Our Place Perfect Pot, and our first thought was one-pot meals, so we immediately made this One-Pot Creamy Chicken and "Rice" Soup. One-pot meals are convenient (fewer dishes to wash) and cozy (think Whole30 comfort food). The Perfect Pot has several features that make this kind of cooking a breeze: a rack that can be used for roasting or steaming; a snug-fitting lid, great for braising; a perfect-pour spout and built-in strainer; and a built-in spoon rest to keep the mess to a minimum.
This One-Pot Creamy Chicken and Cauliflower Rice Soup is like a Whole30 hug in a bowl. Make a big batch and serve it to your family as a cozy fall meal, or portion it out for your weekly meal prep.
One-Pot Creamy Chicken and Cauliflower Rice Soup
Recipe & Photo By: Sarah Steffens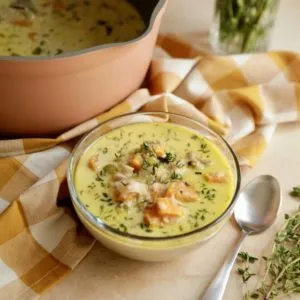 Whole30 Creamy Chicken & Cauliflower Rice Soup
Coconut cream emulsifies with chicken stock in this recipe, creating a satisfying and nourishing soup, perfect for fall. Enjoy this convenient one-pot meal.
Equipment
Our Place Perfect Pot, or an oven-safe pot or dutch oven with a roasting rack.
Ingredients
1

tbsp

ghee

1

medium

yellow onion

peeled and diced

1

tsp

sea salt

1/2

tsp

black pepper

2

medium

celery stalks

diced

2

small

carrots

peeled and diced

1

medium

sweet potatoes

peeled and diced

1

lb

boneless and skinless chicken thighs

diced

1

cup

cremini mushrooms

wiped clean and sliced

2

cups

riced cauliflower

1

14.5 oz can

coconut cream

4

cups

chicken stock or bone broth

2

sprigs

fresh thyme
Instructions
HEAT ghee in your pot over medium-low heat.  Add onion and garlic and season with sea salt and black pepper and sauté until soft, about 5 minutes.  Add celery and carrot and continue to sauté another 5 minutes.  

ADD diced sweet potato and diced chicken thighs and stir well in the pot with all of the veggies.  Continue to sauté until the chicken has browned a little, about 5 minutes.

ADD the sliced mushrooms and cauliflower rice and continue to sauté with a lid on until soft, about 5 minutes.

ADD coconut cream and chicken broth and reduce heat to a simmer with the lid off for 15 minutes.

TURN off the heat and serve between 4, garnishing each with bowl with fresh thyme, storing any leftovers in the fridge for up to 3 days.  
You Might Also Like…
Our Place is a Whole30 affiliate partner, meaning we make a small commission from purchases used via our links. Thank you for supporting Whole30 and our partners.
---
Sarah Steffens
Recipe Developer
Sarah Steffens, our Recipe Developer, has a B.A. in Business Administration, Public Relations from The Master's University in Southern California. After years of experimenting with nutrition and recipes in her own kitchen, she now works as a Personal Chef and Food Photographer in Sacramento, creating meals that support her client's intention to physically and mentally thrive. She has catered several independent film sets, making it her goal to optimize the energy and well-being of each creative crew. You can find many of Sarah's recipes in various Whole30, Paleo and Keto cookbooks. When Sarah is not cooking and styling recipes, you can find her enjoying a long walk, working on creative projects with loved ones or exploring beautiful Northern California.