Today's special guest post is from our friend Ali Rakowski, author of Bowls of Love. And yes, we know it's not Sunday, but we thought we'd give you a few days to prepare. You're welcome.
Soup Sundays
You've completed another week of your Whole30, and you are probably contemplating what foods you should cook to keep your next week on track. By this point you have probably already learned my mom's favorite lesson: "proper planning prevents poor performance." Planning ahead has always been the number one thing to help me stay on track with the Whole30 (and following a healthy lifestyle in general). And there is no better way to stay on track (especially in the winter!) than to celebrate Soup Sunday each week.
I may be a little crazy over soup after publishing my first cookbook Bowls of Love: Paleo Soups for the Seasons, but to me there is nothing better than a pot (or two) of soup cooking on Sundays filling the house with warmth and deliciousness. For most of us who are meal planners, we use Sunday to plan out our food for the week, go shopping, and spend a few hours in the kitchen. To me that means I am cooking in very large batches so I have enough food to last the whole week.
My go-to routine is making two huge soups on Sunday, usually something hearty with meat and big chunky vegetables like my Butternut Beef Chili, and then a smooth vegetable puree with some fun garnishes. I then portion out the soups in individual containers, often reserving the heartier soup for lunches and the veggie puree as a side dish for weeknight dinners or emergency snacks. The soups are extremely filling, incredibly nutritious, and they keep you stocked up all week. The most time consuming part of making soup is chopping vegetables, but if you can do that (or find a food processer to do it for you), you'll have your soup prepared in no time, and if you have any leftovers at the end of the week, you can freeze them so you have additional meals handy.
To get your Soup Sundays started off right, I am sharing with you one of my all-time favorite soups from my cookbook, Piping Parsnip and Pear. It is so easy to make and has such a great combination of flavors. I highly recommend doubling the recipe so you don't run out.

Piping Parsnip & Pear
Serves: 4-5
Prep time: 20 minutes,
Cook time: 75 minutes
Ingredients:
1 Tbsp. olive oil or other oil/fat of your choice
1 large sweet onion, chopped
3 cloves garlic, chopped
2 pears, peeled & chopped
2 stalks celery, chopped
2 large parsnips (1 ½ lb.), peeled & chopped
3 cups bone broth or Whole30-approved broth/stock
1 tsp. olive oil or other oil/fat of your choice
½ cup raw, organic pumpkin seeds
½ tsp. cinnamon
½ tsp. paprika
½ tsp. cumin
Salt & pepper to taste
Instructions:
Heat 1 Tbsp. olive oil over medium heat.
Add onion and garlic, and sauté about 10 minutes until fragrant.
Add pears, celery, and parsnips. Stir well to combine and cook another 5 minutes.
Add stock and bring to a boil.
Cover and reduce heat. Cook for 1 hour.
Meanwhile, heat 1 tsp. olive oil in a small pan over medium heat.
Add pumpkin seeds and toss to combine.
After 1-2 minutes, add cinnamon, paprika, and cumin.
Cook for another 2-3 minutes until fragrant, and then let cool.
When soup is done, let cool slightly and blend with immersion blender or food processor.
Season with salt and pepper to taste. Serve piping hot with 1 Tbsp. of spiced pumpkin seeds on top.
I hope you enjoy this recipe and the tradition of Soup Sundays in your home for you and your family. Stay warm!
---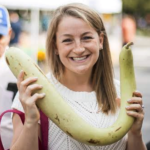 Ali Rakowski is a Stamford, CT based health coach and author of the cookbook Bowls of Love. For a special bonus recipe from Ali, sign up for our free bi-weekly newsletter, Wholesome. We'll feature her Butternut Beef Chili in the mid-January edition.
Melissa Urban
Co-Founder / CEO
Melissa Urban is a 7x New York Times bestselling author (including the #1 bestselling The Whole30) who specializes in helping people establish healthy boundaries and successfully navigate habit change. She has been featured by the New York Times, People, the Wall Street Journal, Forbes, The Today Show, and Good Morning America, and is a prominent keynote speaker on boundaries, building community, health trends, and entrepreneurship. She lives in Salt Lake City, UT with her husband, son, and a poodle named Henry.