Today's guest recipe post is from Justin Schwartz, an executive editor at Houghton Mifflin Harcourt, the editor extraordinaire of The Whole30 (our newest book), and a legit kitchen ninja. You guys are going to want to follow him on Instagram. Trust us. @justcooknyc
Justin's Recipe Notes
I'd made this recipe from Season with Authority (by acclaimed chef and frequent judge on Food Network's Chopped, Marc Murphy) once before with the blue cheese on top as called for in the original, so I knew how flavorful it was that way. But while I was doing my first Whole30, I had a hunch it would work just fine without the cheese. It turned out my instincts were right — still totally delicious.
The only other substitution I made to the original, reflected in the recipe below, is to substitute marinated artichoke hearts for the roasted red peppers. As always when doing the Whole30, carefully check the ingredients on the jar, to be sure it's compatible. By the way, I used a stovetop grill pan to cook the steak, and it turned out great. If you're lucky enough to have leftover steak like I did, enjoy it with eggs and tomatoes the next morning for breakfast.
Grilled Skirt Steak with Watercress Salad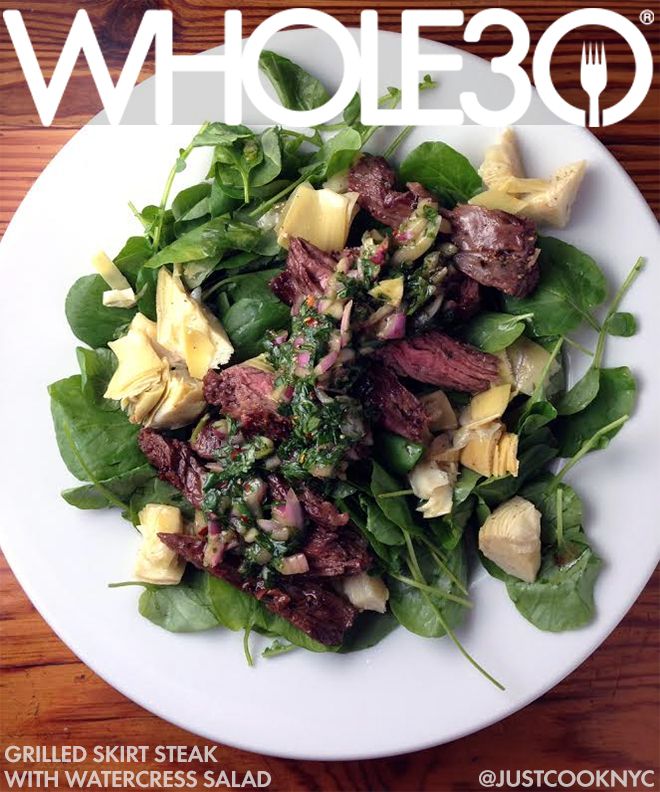 SERVES 4
For the Skirt Steak:
1/2 cup olive oil, plus more for oiling the grill
1/4 cup fresh thyme leaves
2 garlic cloves, minced
2 teaspoons freshly ground black pepper, plus more as needed
2 pounds skirt steak
Kosher salt
For the Chimichurri Vinaigrette:
1/4 cup extra-virgin olive oil
2 tablespoons finely chopped fresh flat-leaf parsley
2 tablespoons finely chopped fresh cilantro
1 small garlic clove, minced
1/2 small red onion, finely diced
1 teaspoon red pepper flakes
1 teaspoon kosher salt
1/2 teaspoon freshly ground black pepper
2 tablespoons sherry or red wine vinegar
For the Watercress Salad:
3 bunches (about 12 cups) watercress
1 cup drained marinated artichoke hearts
Kosher salt
Freshly ground black pepper
MARINATE THE STEAK:
In a large bowl, combine the olive oil, thyme, garlic, and pepper. Add the steak, toss to coat, cover, and refrigerate for at least 1 hour or preferably overnight. You can also do this in a large resealable plastic bag.
GRILL THE STEAK:
Preheat a grill or heat a grill pan over moderately high heat until hot.
Lightly dip several paper towels in oil and carefully wipe the grill grate. Remove the steak from the marinade, scraping off any excess. Just before cooking, season the steaks liberally with salt and pepper. Place the steak on the grill and cook for 3 to 4 minutes per side for medium-rare and 1 to 2 minutes longer for medium. Transfer the meat to a cutting board, tent with foil, and let stand for 10 minutes before slicing.
MAKE THE CHIMICHURRI VINAIGRETTE:
While the steak is resting, combine the olive oil, parsley, cilantro, garlic, onion, red pepper flakes, salt, and black pepper in a medium bowl. Right before serving, add the vinegar and whisk to combine.
MAKE THE WATERCRESS SALAD AND ASSEMBLE THE DISH:
Right before serving, toss the watercress, artichoke hearts, and Chimichurri Vinaigrette in a large bowl. Season to taste with salt and black pepper and divide among four large serving bowls. Slice the steaks against the grain into bite-size pieces and arrange over the watercress salad.
Reprinted and adapted with permission by Houghton Mifflin Harcourt from Season with Authority by Marc Murphy. Photo credit: Justin Schwartz
---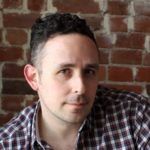 Justin Schwartz is an executive editor for Houghton Mifflin Harcourt. He has acquired and published books over the span of his career such as The Whole30 by Melissa Urban and Dallas Hartwig, How to Cook Everything by Mark Bittman, So Easy by Ellie Krieger, Gluten-Free Girl Every Day by Shauna James Ahern, and Seriously Delish by Jessica Merchant. You can follow along with his NYC cooking adventures on Instagram and Twitter, and on his blog, Just Cook NYC. Justin recently completed his first Whole30 and basically feels awesome.
Melissa Urban
Co-Founder / CEO
Melissa Urban is a 7x New York Times bestselling author (including the #1 bestselling The Whole30) who specializes in helping people establish healthy boundaries and successfully navigate habit change. She has been featured by the New York Times, People, the Wall Street Journal, Forbes, The Today Show, and Good Morning America, and is a prominent keynote speaker on boundaries, building community, health trends, and entrepreneurship. She lives in Salt Lake City, UT with her husband, son, and a poodle named Henry.