You probably know our Whole30 Digital Content Producer, Autumn Michaelis, as Wholefoodfor7. For years, Autumn has shared the budget- and family-friendly Whole30 and Paleo meals she relies on to feed her big family (she's the mother of five boys!) on her blog and social media pages. In August 2022, she released Whole Food For Your Family, the first Whole30 Endorsed cookbook to come along in two years.

Autumn's book delivers everything you love about her content online. From her best tips for handling picky eaters to how she saves time and money when feeding a growing family, it's chock full of actionable advice—as well as over 100 recipes that'll please everyone at your kitchen table.
This Cilantro Salsa Slaw is one of Autumn's go-to side dishes when her family is craving the flavors of Mexican cuisine.
Autumn is the first to admit that, prior to her first Whole30, she struggled to get in a single serving of veggies every day—let alone in every meal! Her Cilantro Salsa Slaw is one of the many recipes she's since created as an "add-on" to family meals to ensure everyone gets their fair share of vegetables—and enjoys every bite of them.
This slaw is inspired by Mexican food (a personal favorite of Autumn's family) and combines classic coleslaw ingredients (think shredded cabbage and carrots) with Mexican staples like pico de gallo, avocado, cilantro, and jalapeño. Instead of the usual mayo, an incredibly creamy DIY Cilantro Lime Ranch dressing—which we promise is easy to whip up—ties all of the freshness together with a little bit of zing, as well as healthy fats that make it extra satiating and nutritious.
Quick and easy.
As with Autumn's other recipes, her Cilantro Salsa Slaw comes together in a flash. Since it uses packaged slaw mix and pico, you only have to chop the avocado and jalapeño. (The dressing requires just five minutes and a blender—and we definitely recommend making extra to stash in the fridge because you'll want to drizzle it on everything.) The simplicity of the ingredients also means it's budget-friendly, costing just a dollar or two per serving.
In addition to eating it as a side, try this slaw as a base for a Whole30 burrito bowl or in lettuce-wrapped tacos. It provides all the crunch you need!
Note: The dressed slaw won't keep for long, so only dress as much slaw as you plan on eating immediately and stash the rest of your slaw ingredients and dressing separately in the fridge until you're ready for more.
Whole30 Cilantro Salsa Slaw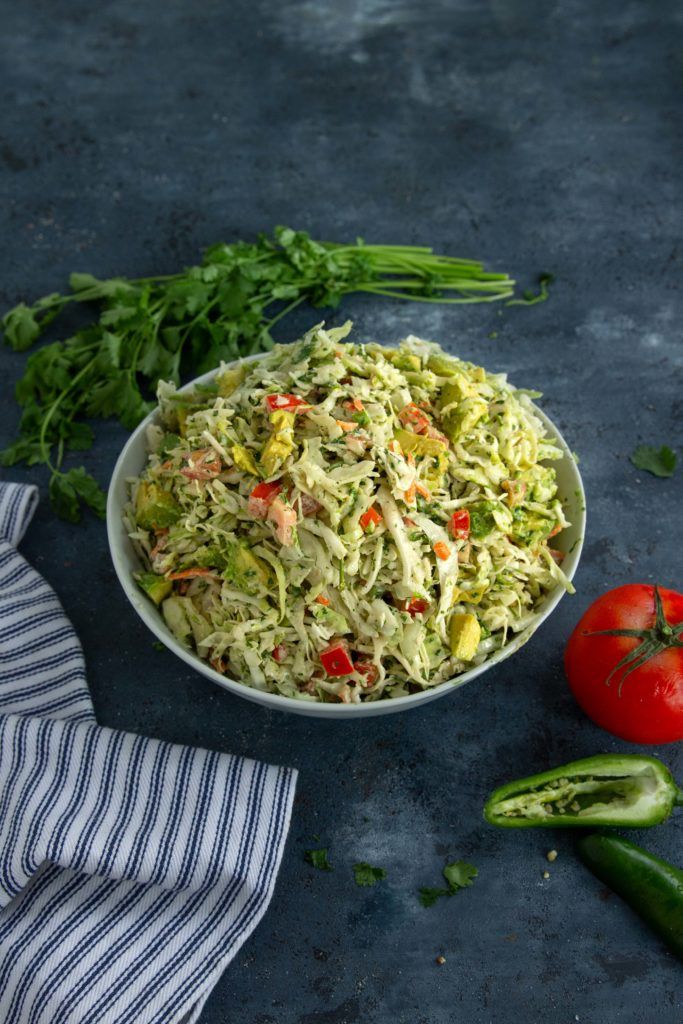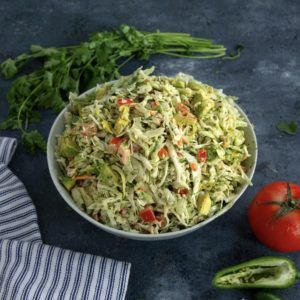 Cilantro Salsa Slaw
Whether we're enjoying it solo, using it as a base for Whole30 burrito bowls, or adding some crunch to lettuce-wrapped tacos, this Cilantro Salsa Slaw has become one of our favorite ways to pack more veggies into meals.
Ingredients
Cilantro Salsa Slaw
1

14-ounce bag classic coleslaw (shredded green cabbage and carrots)

1

cup

pico de gallo

1/2

cup

Cilantro Lime Ranch

1

large, fresh avocado

1/2

cup

cup fresh, finely chopped cilantro

1/2

small jalapeño

seeded and finely chopped

1/2

tsp

garlic salt
Cilantro Lime Ranch
1

cup

Whole30-compatible mayo

1

tsp

garlic powder or 2-3 cloves, minced

1

tsp

onion powder

1

tsp

dried dill

1

tsp

apple cider vinegar

1/2

bunch of cilantro (1 cup packed)

1-2

tbsp

fresh lime juice, to taste

1/2

cup

almond or coconut milk, to adjust consistency, if desired

salt & pepper, to taste
Instructions
COMBINE all Cilantro Lime Ranch ingredients in a blender or food processor (can also use an immersion blender) and blend until well combined. Adjust consistency as desired with more coconut milk. Season with salt & pepper to taste.

STORE leftover Cilantro Lime Ranch in a sealed container in the fridge for up to 2 weeks).

ADD all Cilantro Salsa Slaw ingredients to a medium bowl, and stir until well combined.
You Might Also Like…
Some links used in this post are affiliate links, meaning Whole30 makes a small commission off of purchases made via our link. Thank you for supporting our Whole30 partners.
---
Autumn Michaelis
Recipe Creator | Whole Food for 7
Autumn Michaelis is an ACSM Certified Exercise Physiologist, with a B.S. in Exercise Science from BYU. Though exercise was her first love in the health world, nutrition has become her passion. She created the blog Wholefoodfor7, sharing easy and budget-friendly Whole30, Paleo, and gluten-free + dairy-free recipes for families. In August 2022, Autumn released the newest Whole30 Endorsed cookbook, Whole Food for Your Family. She is mom to 5 boys (yes 5!) and when not in the kitchen can be found adventuring, hiking, and tearing up the dance floor.