By Shanna Keller, who daydreams about a good green curry at least three times a week. Recipes and photography by Sarah Steffens, in-house Whole30 recipe creative.

You know that feeling you get when you've been reading labels in the grocery store for six minutes straight, and the very last item you pick up happens to be Whole30 compatible? If you're anything like me, that feeling is so intense that you can't help but exclaim "YEAHHHHHHHH BABY!" in a loud voice while fist pumping and tossing eight cans of the item into your cart.
You and that randomly-compatible item are getting married now. And you're planning to have a very happy life together.
[Tweet "Introducing @YaisThai #Whole30Approved Coconut Curry Sauces + three recipes #Whole30"]
That was how I felt when I sampled Yai's Thai Coconut Curry sauces at Expo West in March. They're flavorful and convenient, made from Whole30-compatible ingredients by a fantastic Whole30 Approved company. It's a unique product that can help you quickly pull together a flavorful, healthy meal, and that's something to fist pump about. I imagine keeping a few jars on hand for those busy evenings when I have 15 minutes to make three zucchinis and a pound of ground pork into an actual Whole30 meal. Did somebody say LIFESAVER?
There's really no limit to what you can create with these sauces, but we asked Sarah, our in-house recipe creative, to get you started with three simple Whole30 recipes.
Want some Yai's Thai Coconut Curry Sauces of your own? Click here to snag yours.
Seared NY Strip Steak over Yellow Thai Coconut Curry Zoodles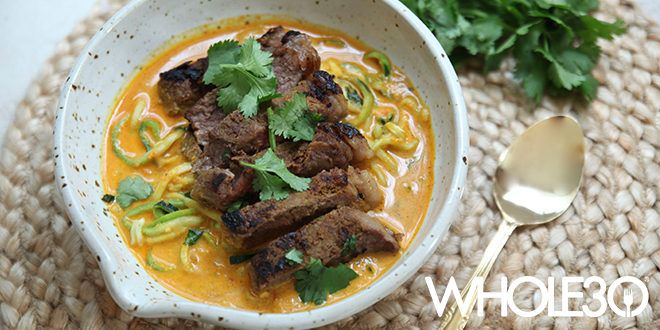 Ingredients
1 to 1.5 lbs of NY strip steak
2 Tbs. of coconut aminos
1 tsp. of sea salt
1/2 tsp. of garlic powder
1/4 tsp. of white pepper
2 Tbs. of ghee
4 cups of zoodles
1 jar of Yai's Thai Yellow Thai Coconut Curry Sauce
1/2 cup of fresh cilantro, torn into small pieces
Instructions
MARINATE your steak in the coconut aminos, sea salt, garlic powder and white pepper for 15-30 minutes (and up to overnight) prior to searing it.
HEAT a cast iron skillet to medium-high and add the ghee. Sear your steak for 4 minutes per side and transfer to a cutting board to slice.
WARM your yellow curry sauce in a saucepan and gently toss in the zoodles. Divide between four shallow bowls. Layer each bowl of zoodles and sauce with sliced steak and garnish with fresh cilantro.
Green Thai Coconut Curry Shrimp and Veggie Bowl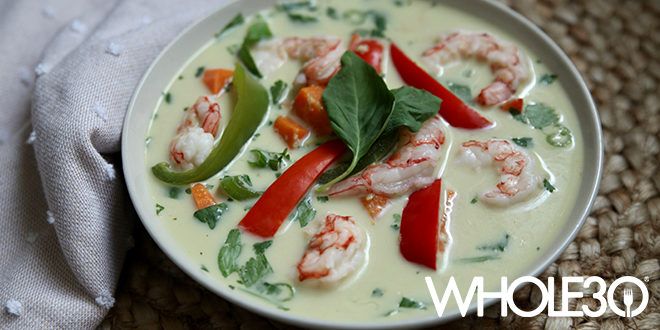 Ingredients
2 red bell peppers, cored and sliced
1 green bell pepper, cored and sliced
1 cup of mushrooms, wiped clean and sliced
2 medium sweet potatoes, peeled and diced
1 to 1.5 lbs. of wild-caught frozen shrimp, tails removed and deveined
2 cups of chicken broth
1 bottle of Yai's Thai Green Thai Coconut Curry Sauce
8 fresh basil leaves
Instructions
PLACE all veggies in a steamer basket and steam until soft, about 8 minutes. Add the chicken broth and green curry sauce to a saucepan and bring to a simmer. Add the shrimp and simmer for 3 minutes. Turn off the heat.
GENTLY toss in the steamed veggies. Divide between four bowls and garnish with two basil leaves each.
Red Thai Coconut Curry Bowls with Pork and Crispy Fishy Shallots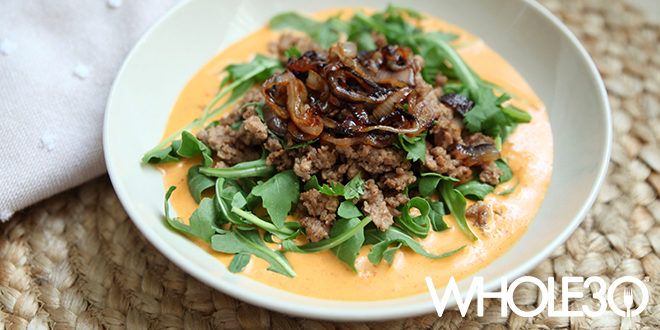 Ingredients
1 Tbs. of ghee
2 shallots, peeled and thinly sliced
1 Tbs. of Red Boat fish sauce
1 to 1.5 lbs. of ground pork
1 tsp. of sea salt
1 bottle of Yai's Thai Red Thai Coconut Curry Sauce
4 large handfuls of arugula
1/2 cup of fresh cilantro, torn into small pieces
Instructions
HEAT a nonstick skillet to medium and add the ghee. Add shallots and fish sauce and saute until they have browned. Set aside in a small bowl.
ADD the ground pork to the same skillet and mince into very small pieces with a wooden spoon. Season with sea salt and cook on medium-low heat until it has browned.
WARM your red curry sauce in a saucepan and divide between four bowls. Layer with a handful of arugula, ground pork, crispy shallots and fresh cilantro.
This post was NOT SPONSORED by Yai's Thai. We occasionally feature products we love from our Whole30 Approved partners, because we think you'll love them too.
---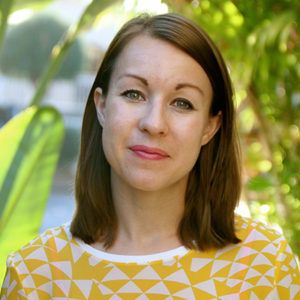 Sarah Steffens has a B.A. in Business Administration, Public Relations from The Master's College in Southern California. After years of experimenting with nutrition and recipes in her own kitchen, she now works as a Personal Chef in Los Angeles, cooking meals that support her client's intention to physically and mentally thrive. She has catered several independent film sets, making it her goal to optimize the energy and well-being of each creative crew. She is the in-house recipe creative for the Whole30, and the creator of the Savor and Fancy blog. When Sarah is not cooking Whole30 and Autoimmune Protocol meals, she is likely exploring mid-century sites in L.A., taking photographs, listening to an audio book or hiking at Griffith Park.
Save
Save
Save
Save
Save
Save
Save
Save
Shanna
Chief Content Officer
Shanna Keller, our Chief Content Officer, hails from Boise, Idaho, where she lives with her husband Alan and a poorly-behaved terrier named Olly. She has spent her career telling stories of life transformation on social, web, e-mail and print media platforms. In addition to celebrating Whole30 successes and stories online, Shanna loves to cook, read, and climb.