By now, you've likely seen the viral "butter board" trend going around, and we wanted to make our own Whole30 and dairy-free version by swapping out the butter and replacing it with nut "cheese." Joshua McFadden of @jj__mc originally created the idea, and when Justine Doiron of @justine_snacks reintroduced it, we just had to hop on board!
Butter boards are said to become the next charcuterie board and be the most popular dish at your holiday get-togethers. You can customize the board with your choice of ingredients, but we paired ours with roasted garlic, chili oil, fresh rosemary and lemon.
Whole30 Dairy-Free "Butter" Board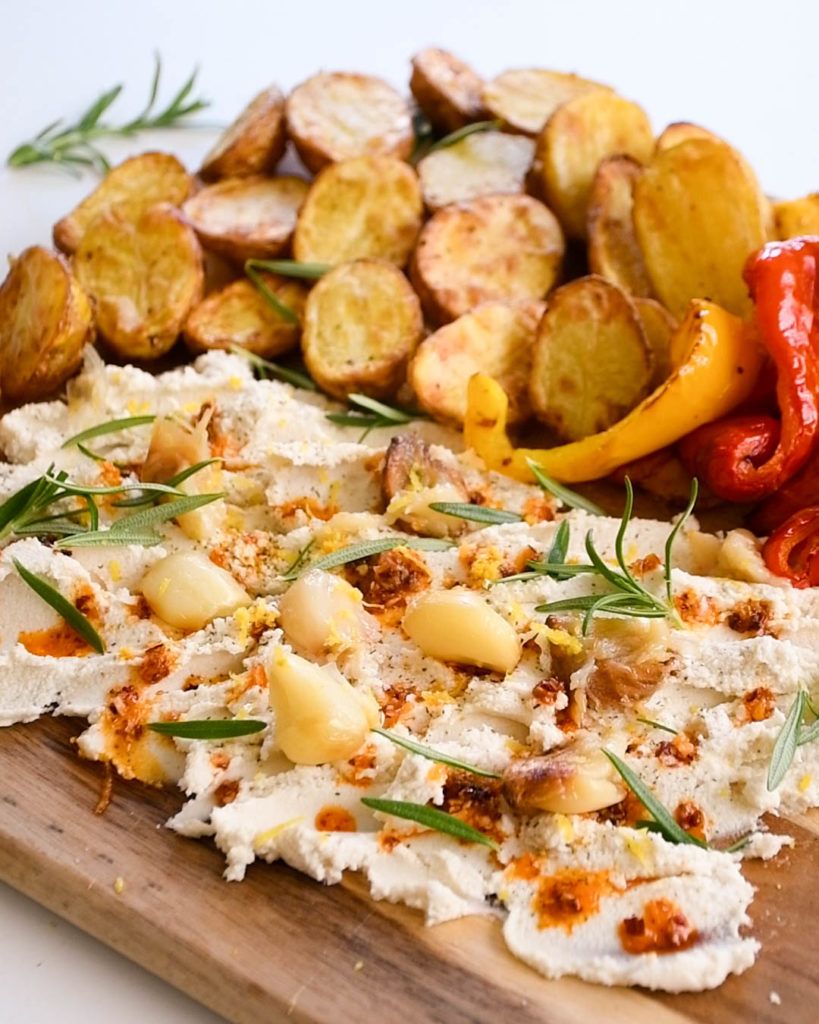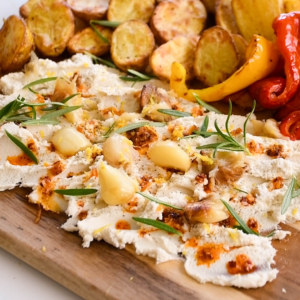 Whole30 Roasted Garlic "Butter Board"
Ingredients
1

head of garlic

olive oil

(enough to coat garlic)

8

oz

Whole30 compatible nut "cheese"

salt

add to taste

1.5

tbsp

chili oil with red pepper flakes

zest of 1 lemon

2

tbsp

fresh rosemary
Instructions
CUT the head of garlic on one side, and put into a piece of tin foil. Drizzle olive oil on the cut side and roast garlic in the oven on 400 degrees for 40-50 minutes or until soft and browned. Remove garlic from oven and allow to cool.

ON a cutting board, spread the nut "cheese" out on one side in dollops

ADD salt, chili oil with red pepper flakes, softened garlic, zest of lemon and fresh rosemary on top of the nut cheese.

SERVE with your favorite veggies for dipping. (We used roasted gold potatoes and roasted bell peppers.)
Stephanie Kelley
Social Media Content Manager
Stephanie Kelley, our Social Media Content Manager, lives in Denver, CO and is a wife, mom and wanna-be shredding guitarist with an immense love for meeting and connecting with people. She thrives on sharing her life experiences, whether it's writing a blog post about overcoming a personal struggle, creating a new song with her drummer husband, or simply sharing what she's making for dinner. These experiences all matter to her, especially if she's using her creativity and making meaningful connections along the way.