Since we launched our Whole30 Approved affiliate partnership with ButcherBox last spring, thousands of Whole30'ers have signed up for the subscription service. In fact, it's one of our most popular initiatives ever! Through ButcherBox, you'll get the highest-quality grass-fed beef, pastured pork, and free range chicken available, on a budget and delivered to your doorstep on your schedule.
[Tweet "$20 off your first @butcherbox, FREE BACON + free shipping, PLUS 3 summer-y #Whole30 recipes #ad"]
The team at ButcherBox is all about flexibility. You can customize your box to suit your needs (Want more chicken this month? No problem!), or you can receive one of their curated boxes. And, you can schedule your monthly or every-other-month delivery for the date that's most convenient for you.
This week,
ButcherBox
is extending a special offer to our Whole30 community. Today through Thursday, 5/24 at midnight, you can get $20 off your first box, free shipping,
and
a free pack of of Whole30 Approved bacon with your order.
Want to see three delicious Whole30 dishes you can make with ButcherBox meats all summer long? We asked our recipe creative Sarah Steffens to create recipes with three of ButcherBox's most popular items: New York strip steaks, ground beef, and of course, bacon!
Seared New York Strip with Black Pepper Plantains & Cilantro Pesto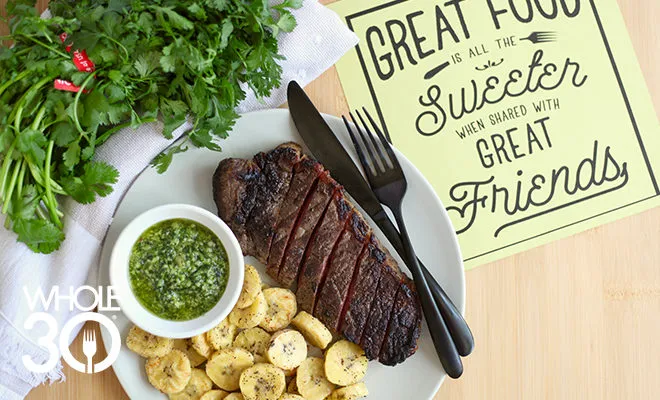 Ingredients
For the Steaks
2 Butcher Box New York strip steaks
2 Tbs. ghee
1 tsp. garlic powder
4 Tbs. coconut aminos
1 tsp. Sea salt
1/2 tsp. Black pepper
For the Plantains
2 green or yellow plantains (but not spotted), peeled and sliced in ¼" discs.
2 Tbs. coconut oil
1/2 tsp. Sea salt
1/2 tsp. Black pepper
For the Pesto
2 cups fresh cilantro, chopped
1 tsp. Sea salt
1/4 cup pine nuts
1 medium clove garlic, peeled and minced
Juice from 1/2 lemon
1/2 cup olive oil
Instructions
IN a shallow dish or sealed plastic bag, add all strip steak ingredients except ghee and allow to marinate for 1 hour or overnight.
PREPARE your pesto while your steaks are marinating by placing all ingredients except olive oil in a food processor pulse until the cilantro is minced.
ADD in olive oil and continue to pulse until all is well combined. Store in a glass jar until ready to serve or in the fridge up to one week.
HEAT a cast iron grill to medium-high and add ghee. Place each strip steak on your cast iron and allow to sear for 2 minutes per side. Be careful not to move the steaks around once they are on the pan, as this will prevent an even searing. Once your steaks are cooked, transfer to two plates.
IN the same pan, add your coconut oil and sliced plantains. Season with sea salt and black pepper and allow to cook without stirring, for 2 minutes per side. Once soft and caramelized, serve alongside your steaks with cilantro pesto.
Grilled Burgers with Stone Fruit Salsa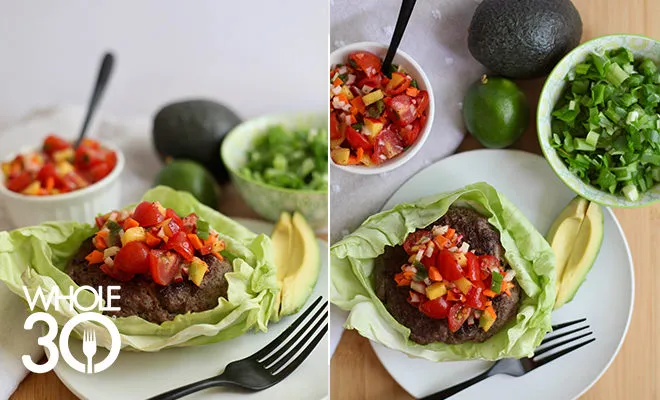 Ingredients
For the Burgers
1 lb. of Butcher Box ground beef
1 tsp. Sea salt
1/2 tsp. Black pepper
1 tsp. Garlic powder
4 strips of Butcher Box bacon
1 Tbs. ghee (if grilling on a cast iron)
4 large green or red cabbage leaves
1 avocado, sliced
For the Salsa
1 ripe yellow nectarine or peach (use the most seasonal), pit removed and diced
1/4 cup avocado oil
1 tsp. Sea salt
1/2 tsp. Black pepper
1/2 cup cherry tomatoes, quartered
Juice from 1/2 lime
2 radish, diced
1 medium carrot, peeled and diced
1 whole scallion, minced
Instructions
MINCE your bacon by chopping finely or running in a food processor until it is in small pieces. In a mixing bowl, gently toss with ground beef, sea salt, black pepper and garlic powder. With your hands, form 4 patties and set aside.
FIRE up your grill (or if using a cast iron, heat to medium-high heat with 1 Tbs. ghee) and grill burgers for 2 minutes per side (longer, if you prefer well-done burgers, less if you prefer rare) and serve inside cabbage leaves.
GARNISH with stone fruit salsa and sliced avocado.
Grilled Zucchini & Yellow Squash with Bacon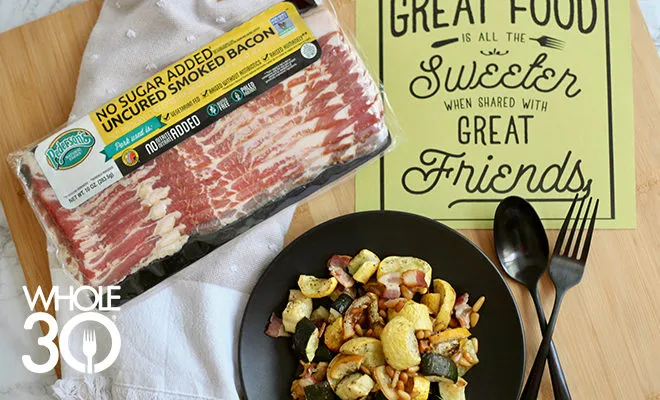 Ingredients
2 medium to large zucchinis, ends removed and sliced in 1/2" discs
2 medium to large yellow squashes, ends removed and sliced in 1/2" discs
1 lemon, sliced in 1/4" slices and seeds carefully removed
4 strips of Butcher Box bacon, chopped in 1/4" pieces
2 Tbs. avocado oil
1 tsp. Sea salt
1/2 tsp. Black pepper
1/2 cup pine nuts, toasted
Instructions
PREHEAT your oven to 375.
ARRANGE pine nuts on a baking tray and allow to toast in your heated oven, stirring a few times, for 5-10 minutes, or until they are golden. Transfer to a bowl and set aside.
ON the same tray, add sliced zucchini, yellow squash, sliced lemon, bacon, avocado oil, sea salt and black pepper.
PLACE in the oven and allow to roast until the vegetables begin to brown and you bacon is cooked through, about 20 minutes. REMOVE from the oven and serve with toasted pine nuts.
This post was sponsored by ButcherBox. Some links in this post are affiliate links, which means Whole30 makes a small commission on items purchased via these links. Thank you for supporting our Whole30 Approved partners!
---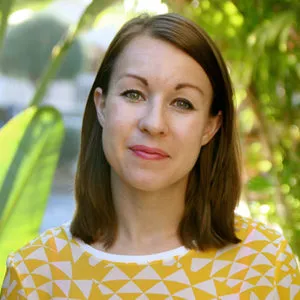 Sarah Steffens has a B.A. in Business Administration, Public Relations from The Master's College in Southern California. After years of experimenting with nutrition and recipes in her own kitchen, she now works as a Personal Chef in Los Angeles, cooking meals that support her client's intention to physically and mentally thrive. She has catered several independent film sets, making it her goal to optimize the energy and well-being of each creative crew. She is the in-house recipe creative for the Whole30, and the creator of the Savor and Fancy blog. When Sarah is not cooking Whole30 and Autoimmune Protocol meals, she is likely exploring mid-century sites in L.A., taking photographs, listening to an audio book or hiking at Griffith Park.
Shanna
Chief Content Officer
Shanna Keller, our Chief Content Officer, hails from Boise, Idaho, where she lives with her husband Alan and a poorly-behaved terrier named Olly. She has spent her career telling stories of life transformation on social, web, e-mail and print media platforms. In addition to celebrating Whole30 successes and stories online, Shanna loves to cook, read, and climb.