Shake up taco night with this fun Whole30 take on a tostada! Not only are these Whole30 Tostone Tostadas gluten-free, grain-free, dairy-free, egg-free and nut-free, they are so fun. A dish you eat with your hands that the whole family will love. A great weeknight easy dinner!
What is a Tostada?
A tostada is a flat crunchy tortilla shell. The word tostada means "toasted." Tostadas are a popular dish in Mexico and Latin America. No tortillas made with flour, even with compatible ingredients, are allowed on the Whole30, per The Pancake Rule. However, these have only one ingredient – plantains – and are allowed.
We made the plantains into large tostones as a tostada shell. Tostones are twice-cooked green plantains and are common to Latin American and Caribbean cultures. They are crispy and flat, making them a great Whole30 tostada base.
What do you put on a tostada? The options are as endless as taco toppings. Make it your own with your favorites! We used guacamole, ground beef seasoned with our Homemade Taco Seasoning, shredded lettuce, pico de gallo, with a drizzle of ranch and a pinch of fresh chopped cilantro.
About Plantains
Plantains are a starchy, tropical fruit related to the bananas. In fact, they look like large straight bananas. They are starchy when green and sweet when yellow with brown spots, similar to a banana. For this recipe, you will want your plantains green. If they aren't green, they won't get crispy and hard enough to build on like a tostada shell. Plantains are found in the produce section. They are often located close to the bananas.
Tips for making plantain tostadas:
Be sure not to cut your plantain pieces too big and to cook them on medium-low heat. Raw green plantains are dense and take a long time to cook through, so you don't want to cook on too high of heat. Low and slow is the way to go!
Plantains are a nice golden yellow color when cooked. Flip or rotate them in the pan until all sides are golden. Avoid letting them get brown, as that will make them too crunchy to flatten well.
If your plantains break apart or have a hard time smashing flat, they weren't cooked long enough.
Whole30 Tostone Tostadas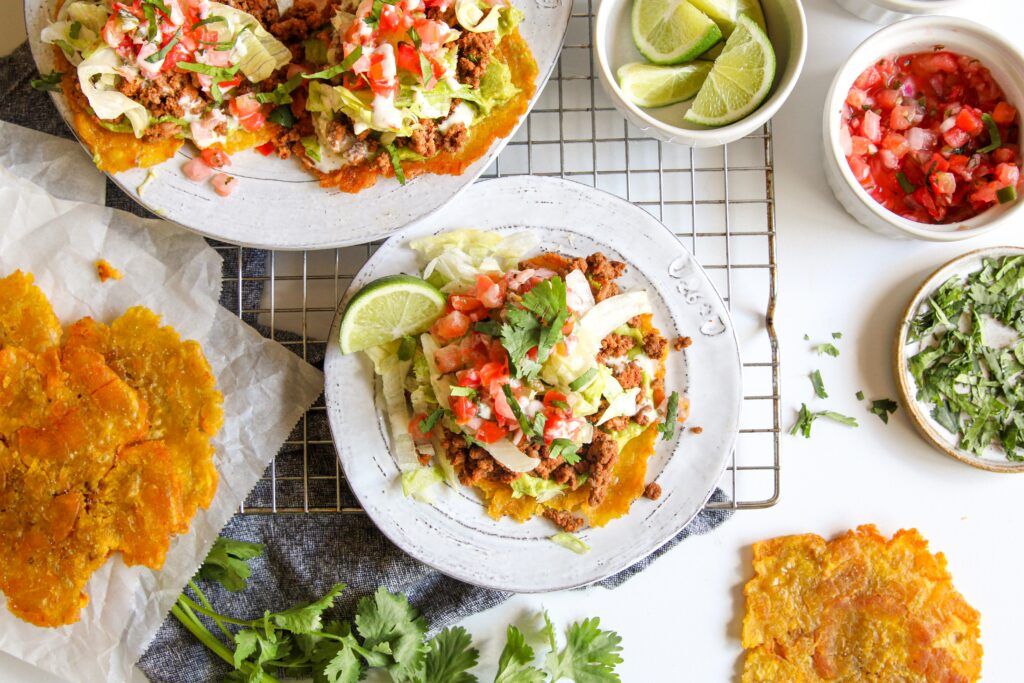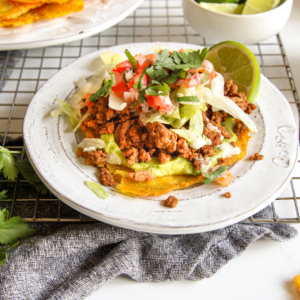 Whole30 Tostone Tostadas
Using smashed twice-cooked plantains as the base, these Whole30 Tostone Tostadas are a crowd-pleasing, fun way to shake up taco night!
Ingredients
3

large green plantains

peeled and cut into 1 ½" tall coin-shaped pieces

high heat cooking oil, like avocado or coconut oil

salt

1

lb

ground meat of choice

1

packet or 2 ½ tablespoons taco seasoning

1

head lettuce

shredded

2

2 cups guacamole

2

2 cups pico de gallo
Optional toppings
compatible ranch, chopped cilantro, jalapenos
Instructions
MAKE the tostone tostada shells by heating a shallow amount of oil (about ¼") in a medium saucepan. Cook the plantain slices until golden all over, rotating as necessary to get all sides golden. Try to avoid them getting brown. Depending on the size of your pan, you may need to do this in batches.

SMASH the cooked plantains while still hot with a kitchen mallet or the flat bottom of a mug until flat and thin. Cook again in the shallow oil over medium-low heat, about 3 minutes on each side until crispy. You will need to do this 2-3 at a time, depending on the size of your pan. Sprinkle tostone with salt immediately after cooking.

COOK the ground meat, sprinkled with taco seasoning, in a medium saucepan over medium heat. Cook for about 10 minutes, or until browned through.

BUILD your tostada by laying on top of the tostone with guacamole, taco meat, shredded lettuce, pico de gallo and other toppings of choice, such as a drizzle of ranch, chopped cilantro, and jalapeños.