Whether you need a Whole30 game day appetizer or just a fun date night in, these gluten-free and dairy-free Whole30 BBQ Chicken Wings are bound to be a fast favorite. Only five ingredients, 10 minutes prep, yet full of flavor! These wings are finger-licking good.
They start with our basic Salt and Pepper Wing recipe that uses baking powder as the secret ingredient to make the skin crispy without any flour. These wings are also egg-free and nut-free as well, and can be made in your oven or air fryer. If you are using an oven, we recommend using a wire cooling rack that can fit inside your rimmed baking sheet to help the wings cook more evenly and get crispy. Also, be sure to pat your wings nice and dry before you toss them with the seasonings. Getting wings dry before seasoning is another way to make sure the skin gets nice and crispy!
Tips and tricks:
Toss these wings with your favorite BBQ sauce of choice. Keep it budget-friendly and Whole30 compatible by making your own BBQ Sauce here. Or, purchase a Whole30 Approved BBQ sauce! You can find a complete list of all the Whole30 Approved condiment brands here. And we absolutely LOVE them dipped in a Whole30 compatible ranch.
Serve your Whole30 BBQ wings with homemade Sweet Potato Fries and BLT Salad for a full, hearty meal. If you aren't going to eat all the wings in one sitting, don't toss them all with the bbq sauce. Set aside the portion you want to save, then reheat and toss with bbq sauce just before serving. We love reheating ours in the airfryer for 3-4 minutes to get that crispiness back.
For ease of cooking, look for "party wings" that are already cut in sections. Buying whole wings can be more budget-friendly, so if you're up to the task, you can do it yourself by following the instructions here.
Can I make my Whole30 BBQ Wings ahead of time?
Yes! Follow the recipe as written, but don't add the sauce. Refrigerate for up to 3 days. When ready to re-crisp, bake them at 400 degrees for 10 minutes on a wire rack inside a baking sheet. Or, air fry them at 400 for 5 minutes. Then toss with the sauce and serve.
Whole30 BBQ Chicken Wings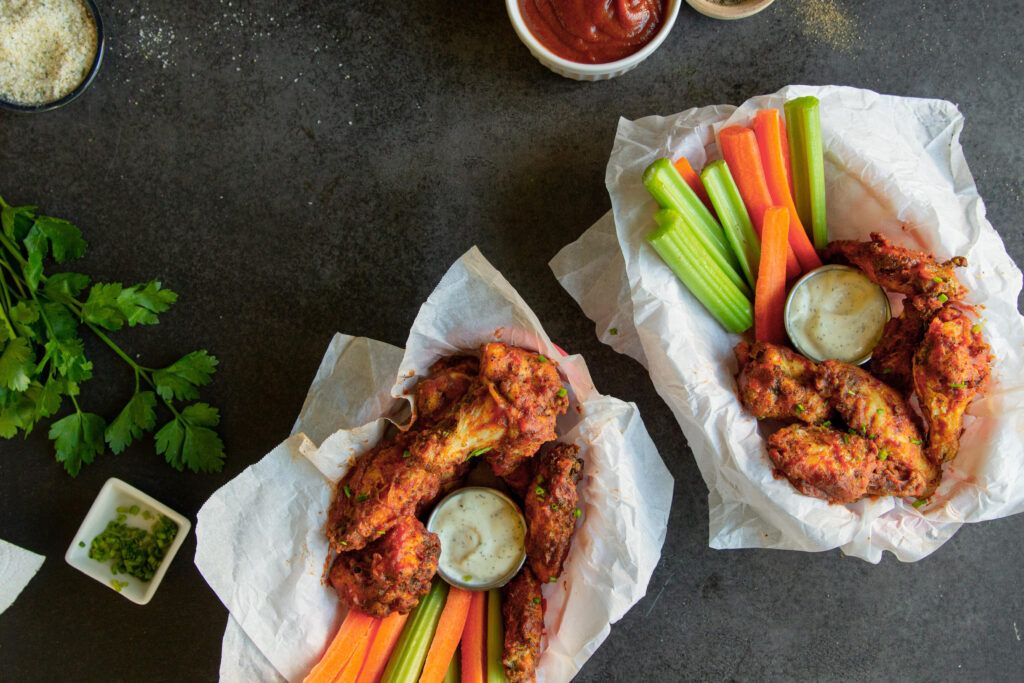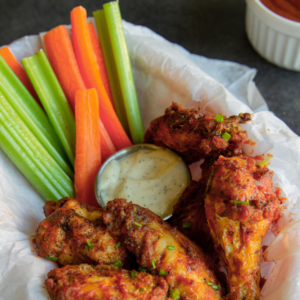 BBQ Chicken Wings
Ingredients
2

lbs

chicken wings

1

tbsp

baking powder

1

tsp

salt

1

tsp

pepper

cooking oil spray

1/2

cup

BBQ sauce

plus more if desired
Optional
Whole30-compatible ranch for dipping
Instructions
PREHEAT oven to 475 °F, if using the oven method. Line a rimmed baking sheet with parchment and set a cooling rack inside the baking sheet. Spray the baking sheet with cooking oil.

COMBINE chicken wings, baking powder, salt and pepper in a medium bowl.

PLACE coated chicken wings on a baking sheet or air fryer basket that has been sprayed with cooking oil. Spray wings generously with cooking oil.

OVEN: Bake at 475 for 15 minutes, until golden, flip, and then bake for another 15 minutes until golden brown and crispy.

AIR FRYER: Air fry at 400 degrees for 10-11 minutes until golden, flip or toss, and then air fry for another 10-11 minutes until crispy.

TOSS with 1/2 cup bbq sauce until all wings are covered with sauce. Add additional bbq sauce as desired, depending on how saucy you like it.
Autumn Michaelis
Recipe Creator | Whole Food for 7
Autumn Michaelis is an ACSM Certified Exercise Physiologist, with a B.S. in Exercise Science from BYU. Though exercise was her first love in the health world, nutrition has become her passion. She created the blog Wholefoodfor7, sharing easy and budget-friendly Whole30, Paleo, and gluten-free + dairy-free recipes for families. In August 2022, Autumn released the newest Whole30 Endorsed cookbook, Whole Food for Your Family. She is mom to 5 boys (yes 5!) and when not in the kitchen can be found adventuring, hiking, and tearing up the dance floor.