The first time Teri Turner of No Crumbs Left took over our Whole30 Recipes feed, we knew she was something special. The we love the tireless effort she puts into connecting with the Whole30 community; her elevated approach to whole food recipes; and her infamous Magic Elixirs.
That's why May 21st is our most anticipated date of the spring. It's the day that Teri's first cookbook hits the shelves of your favorite bookstore. No Crumbs Left: Recipes for Everyday Food Made Marvelous is a Whole30 Endorsed cookbook, packed with recipes to support your Whole30 and your life after.
These recipes will be a hit with anyone who loves delicious food made from real ingredients. There are dishes you can serve to your dad who will NEVER do a Whole30, and something to make for your best friend who eats vegan. You'll get a peek into how Teri navigates her Food Freedom, and the favorite non-compatible foods she includes in her meals. No Crumbs Left: Recipes for Everyday Food Made Marvelous provides endless inspiration for cooking beautiful food during your Whole30 and beyond.
Today, we're sharing a sneak-peek recipe from the book. It's one of the fabulous entree salads that Teri is known for. It's Whole30 compatible, but if you're currently in the Reintroduction phase of your Whole30, try testing dairy by adding blue cheese crumbles to the dish.
[Tweet "An exclusive preview of the No Crumbs Left cookbook, on the Whole30 blog today. Get the recipe for BLT Salad."]
BLT Salad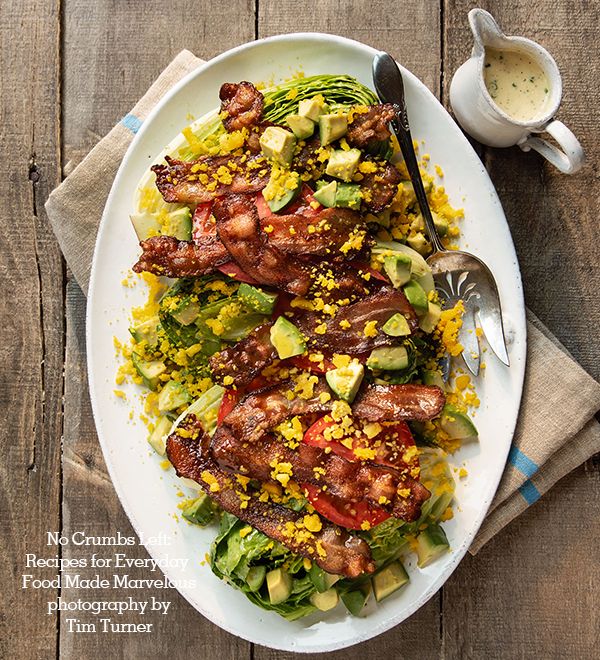 SERVES 4 | COOK TIME: 25 minutes
Ingredients
2 small romaine hearts (about 8 ounces total), halved lengthwise
1/2 cup Marinated Red Onion oil (see below)
2 medium tomatoes, each sliced into 6 pieces
8 slices Perfect Oven Bacon, or your favorite Whole30 compatible bacon
Yolks from 4 large hard-boiled eggs, grated
1 avocado, chopped
Creamy Horseradish Dressing (see below)
Instructions
PUT the lettuce halves on a large platter. Drizzle each piece evenly with the marinated onion oil.
ADD 3 slices of tomato and 2 slices of bacon to each lettuce half.
SPRINKLE the shredded egg yolks over the bacon. Do the same with the avocado chunks. Serve with the dressing.
For the Marinated Onion Oil
Ingredients
1 small, ½ medium, or ¼ large red onion, thinly sliced into rounds
¾ cup extra-virgin olive oil
1 tablespoon red wine vinegar
1 tablespoon dried oregano
Instructions
PUT the onion in a small, shallow bowl. In a separate small bowl, mix the olive oil, vinegar, and oregano together until combined well.
POUR the mixture over the onions. The marinade should completely cover the onions; if any are peeking out, then you have too many in the bowl.
COVER and let the onions marinate on the counter for at least 12 hours before using. They will keep for up to 3 days. Do not refrigerate. (But you may refrigerate the oil after the onions are gone!).
For the Creamy Horseradish Dressing
Ingredients
1 cup Whole30 Mayonnaise (page 286)
1/4 to 1/2 cup grated fresh horseradish
1 teaspoon Dijon mustard (check label for compliance if doing Whole30)
1 tablespoon red wine vinegar
1/2 teaspoon kosher salt
1/4 teaspoon freshly ground black pepper
2 tablespoons finely chopped fresh chives
Instructions
IN a food processor, combine the mayonnaise, ¼ cup of the horseradish, the mustard, vinegar, salt, and pepper. Process until the dressing is smooth and creamy.
TASTE and add up to ¼ cup of the remaining horseradish, as desired. Transfer to a bowl, add the chives, and stir to combine.
SERVE immediately or store in an airtight container in the refrigerator for up to 5 days.
No Crumbs Left: Recipes for Everyday Food Made Marvelous will be published on May 21, 2019 and is available for pre-order today. Click here to pre-order your copy, and get ready to celebrate your food freedom with more than XX family-friendly recipes!
---
This post contains affiliate links, which means we make a small commission from purchases made via the link. Thank you for supporting our Whole30 partners!
Excerpted from No Crumbs Left:Recipes for Everyday Food Made Marvelous © 2019 by Teri Turner LLC. Photography © 2019 by Tim Turner. Reproduced by permission of Houghton Mifflin Harcourt. All rights reserved.

Shanna
Chief Content Officer
Shanna Keller, our Chief Content Officer, hails from Boise, Idaho, where she lives with her husband Alan and a poorly-behaved terrier named Olly. She has spent her career telling stories of life transformation on social, web, e-mail and print media platforms. In addition to celebrating Whole30 successes and stories online, Shanna loves to cook, read, and climb.